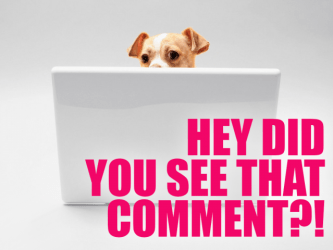 Hello, tiny acorns! How was your week?
We think it was a pretty good one considering Justin Bieber had a lesbian slumber party, Stephen Harper was voted out of office and Riese explained the plot of every lesbian movie ever.
Jasika Nicole wrote about the life-changing process of making her own clothes and Rachel talked U.S. politics and helped us help ourselves for the 15th time.
Also, Laura M. mused about animal superpowers, Lydia O gave us the scoop on denim shirts and the editors put out a call for more staff writers.
Okay, now go make your own passport and have some adventures this weekend!*
*After reading the Comment Awards, of course!
---
On 51 Of The Most Important Things You've Ever Fought About:
The Funnel Vision Award to Mik:

The Bananagrams Award to Rocío:

On The Autostraddle Insider: Issue Sixteen, October 2015:
The Season of Puns Award to Ellaria:

On Gal Pal Watch: Is Kristen Stewart Single Or What?:
The Let's Get Physicsal Award to Sally:

The NO. (But Yes) Award to queer girl:
The Beautiful Talented Gal Pal Award to Mary:
On Also.Also.Also: Daredevil Gal Pals, Angry Women, Chicana Feminist Authors, and More Stories for Your Betterment:
The Kermanht Erwerd Award to RachelwasHere:

---
See a clever, hilarious or thought provoking comment around this website-ship? Email it to me at: carrie [at] autostraddle [dot] com!