Justin Bieber has finally fulfilled his destiny as the invisible queen of a badass high femme queer girl gang. In the new "dance video" for his single "Sorry," he lets the gals take over the stage, and the result is a mesmerizing technicolor dance party that made me blush a lot. These girls are having the time of their lives and teaching us how to flirt. Who do I have to be to get into this party? One thing is obvious, they have a very elaborate dress code, and I think it's that you have to wear an outfit that your mother would hate, your best friend would envy, and that would look completely absurd except that you are a goddess on your way to world domination. The sunglasses! The crop tops! The Timberlands! The neon! It's what little me thought slumber parties would be like when I grew up, now with 100 percent more femme4femme glory.
Watching these gals pal around has given me a rush of style envy and inspiration, so I decided to figure out how to get fresh and weird enough to join them.
Part one: The perfect top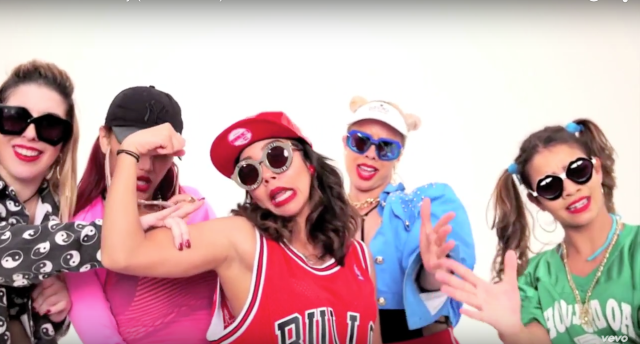 Whether your style is more mesh crop top or more oversized Chicago Bulls jersey, it seems like pretty much anything goes, as long as it's bold and makes you feel good. That duck pattern grandpa blazer you found at Goodwill? Perfect. The t-shirt from your high school Guys and Dolls production bedazzled and cropped? You're all set. Amazing jackets and other weird layering concepts abound, too. It's 2015, and wearing a sweatshirt around your waist is useful and hip.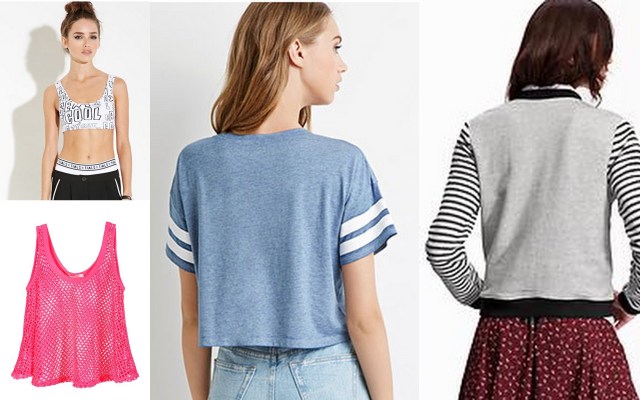 Forever 21 This Is a Love Song Crazy Sexy Bra/Beachcoco Women's Mesh Fishnet Crop Tank Top//Forever 21 Varsity Striped Crop Top//Old Navy French Terry Bomber Jacket
Part 2: Some ridiculous pants that shouldn't work but THEY DO
I have never seen so many colors and styles of what my mama would call hot pants in my life. Striped, two tone, covered in yin yangs, there are no rules!! But also, mom jeans and shiny leggings! Special shoutout to pigtail green shirt girl whose brief band is hanging out somewhere at her belly button while she expertly shimmies her entire behind. As long as it allows for very elaborate dance moves and makes your butt look great, you can wear it to this slumber party.
Asos Rivington Jeggings//H&M Patterned Shorts//Forever 21 Striped Faux Leather Shorts
Part 3: Kicks
The shoes in this video are basic and kickass. Most of the dancers (I mean, slumber party guests) are wearing classic Timberlands or black and white Nike skate shoes. You could pair them with some CRAZY SOCKS and become truly majestic.
Part 4: Shades, hats and red lipstick
The crew that protects their eyes from the sun's UV rays together stays together.
To complete your look, you might consider a rad snapback or a gold chain necklace. If you don't have your perfect red lipstick picked out, you must check out Aja's awesome mini-series Lick My Chops. But clearly the most important part of this posse's dress code is their impeccable sunglass game. Whether your style trends toward vintage cat eye, classic wayfarers or something a little campy, a great pair of shades is our ticket to this party of our dreams.
Alright, are you ready? Go forth, look great and love your friends!