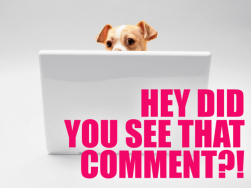 Hi cuties! I've been eating a lot of Cuties lately – you know, those mandarin oranges that come like 20 to a bag at Trader Joe's? Those tender, seedless little fruits seem to be less a food than they are a promise: you will get through this workday, this holiday, these house guests. These months can be hard on the heart and the immune system — whenever things start to feel overwhelming, take a breath and eat a Cutie. I promise you will be okay!
This week, Reneice made pumpkin pie!
'Tis the season for Holigay Gift Guides, and here's one full of amazing stuff from indie POC designers, from Carmen.
Jinghua went to Asia's biggest Pride march, and it looked amazing.
Kyle's cooking up an amazing Thanksgiving feast, with these recipes that embrace any and all dietary restrictions.
There's a new Doctor Who and she's a woman and she wears suspenders and I am FINE, everything is fine. Anyway, here are Alaina's best tips on how to dress like her.
I think that you should read this. You will need tissues.
And then there were your comments!
---
The Reneice's Pieces (of Pie) Award to Porsupah: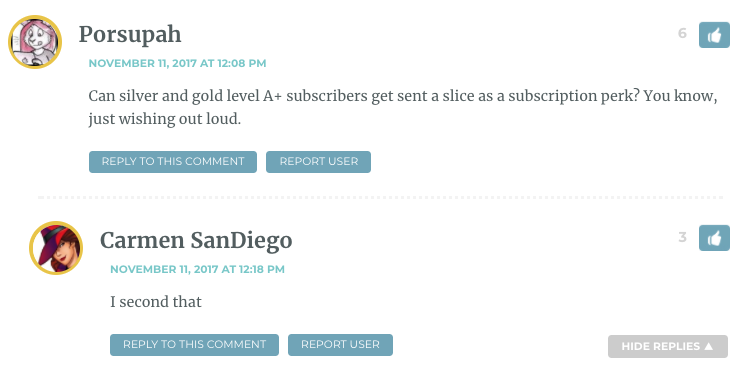 On Sunday Funday Is Full of Bisexual Luxury:
The Conscious Coupling Award to Katie:

On Boob(s On Your)Tube: Fresh Off The Boat's Very Special Coming Out Episode Is Very Good:
The Do You Giftwrap? Award to Carmen SanDiego and Kristana:
On Monday Roundtable: The Wildest Things We Did For Love:
The ISO Handkerchief Award to Analyssa:

On I Made You The Horror Trailer Cut of "Carol" We've All Been Waiting For:
The Star Trek: Discovery Award to Chandra:
On Holigay Gift Guide: I Saw Mommi Kissing Santa Claus:
The MMM Award to Snaelle: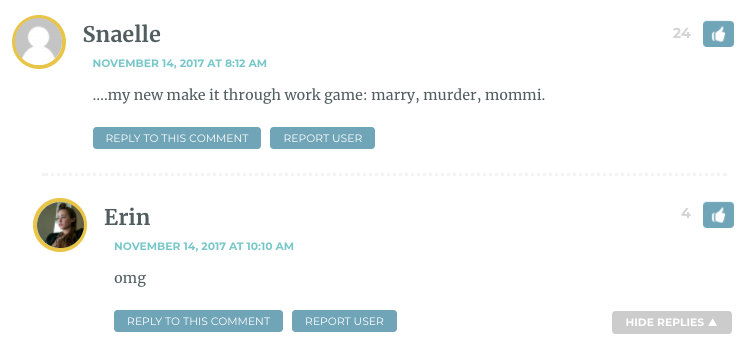 On Musicals Won't Save the World but "The Prom" Is Gonna Try Anyway:
The Barb + Nancy 4 Eva Award to Rous Rose:

And on Michigan Lesbian Lives Through "American Horror Story: Cult," But Also Hope Dies, So:
The Credit Where Credit Is Due Award to Sally: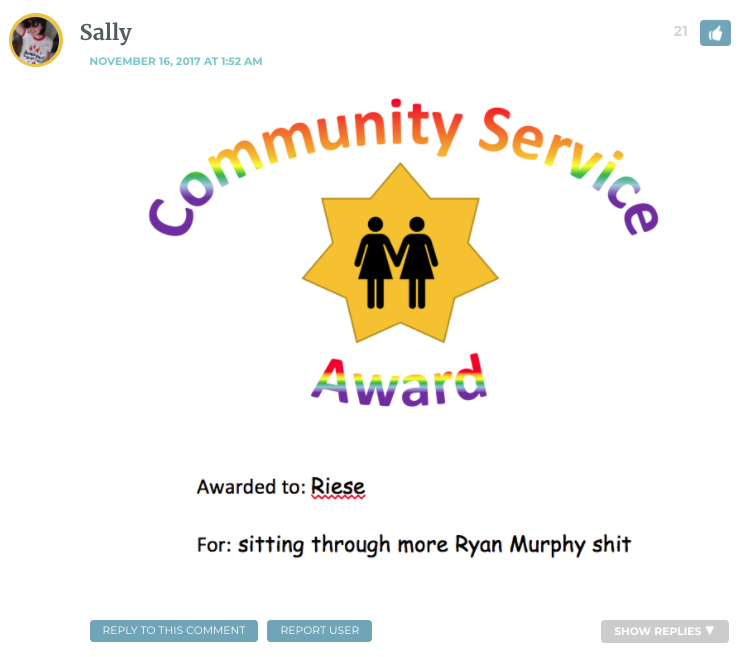 ---
See a funny or amazing comment that needs to be here? E-mail me at queergirlblogs [at] gmail [dot] com!