The Prom is a new musical from Alliance Theatre (Atlanta, Georgia) that's coming to Broadway in November 2018 and it's about lesbians and we need to talk about it right now.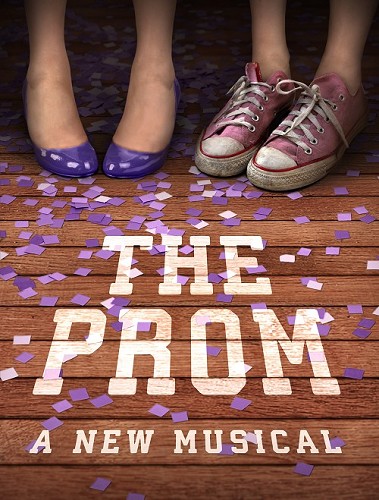 Emma Nolan, a teenage lesbian in Indiana, wants to go to prom with her girlfriend. She soon becomes the town outcast when her PERFECTLY REASONABLE request results in the PTA cancelling the prom for everyone. Because if the gays want it, the straights must destroy it. But do not despair! A bunch of ex-Broadway stars who want to show the world how amazing and selfless they are will save the day! Or at least, try to. That's when things get even more ridiculous.
Here is why you need to love this straight from my liveblog to myself:
There is a literal song where the girls sing to each other about how their lives went from black and white drab to full color BECAUSE THEY ARE LESBIANS AND IN LOVE

The straight couple just talks about how Broadway should still be alive and well and how sticking up for the kids in school makes work worth it and how to be better people its adorable

Coming out stories are great and I love them but it's beyond refreshing to see girls who just know they're gay and cannot be swayed from sticking to their truth

How many lesbian stories are there where
a.) The girls aren't physically harmed
b.) She gets to stay the protagonist in their own story
c.) THE LESBIANS GET TO LIVE AND BE HAPPY BY THE END
I'm gonna tell you how many off the top of my head and that answer is zero

I AM A MESS I CANNOT BELIEVE I AM WATCHING A MUSICAL WHERE TWO GIRLS ARE IN LOVE AND THEY ARE GOING TO PROM IM CRYING I CANNOT CALM DOWN HOLY SHIT AND THERE ARE ADULTS FIGHTING FOR THE KIDS AND THEYRE SINGING ABOUT HOW THEATRE IS IMPORTANT WHAT IS THIS AM I IN HEAVEN
I 100% believe that life can be made better with musical accompaniment and perfectly choreographed dance breaks, so I was all on board for this show. I had a hell of a high school experience and am always up for any story that lets me rewrite it (however temporarily) into something less tragic and ridiculous.
See, I'm advocating for this show cause I was a theatre kid and even though the runninng joke is that theatre is gay, it really isn't, it's just….less straight. If you think about it, there are very few musicals for lesbians. Playbill wrote about this and highlights how even when we're in shows (such as The Color Purple, Rent, and Falsettos), most of the characters are stereotypical, they don't stay together or even stay alive, or you've got to read between the lines to get your representation.
Though Fun Home, Alison Bechdel's musical based on her bestselling memoir of the same name, is a necessary masterpiece that avoids these pitfalls, it can still leave a young girl or non-binary kid wanting more than "when you grow up, it'll get better." Because sometimes you need to know that it can be a little more than bearable, right now. We all know that a lot of kids aren't staying alive long enough to even find out if it gets better. Is this musical going to change that? Probably not. But it can give someone hope. And I've seen hope do impossible things.
Theatre is about taking a chunk of life and turning everything up to the highest setting. I think the idea is to give people a safe space to dream and feel and be without worrying if they seem too dramatic or gay or just plain wrong. It gives you a chance to work through some shit. Are you going to come out to the entire school after a year and a half in the closet? Of course not (but if you do, more props to you)! But seeing it play out on stage lets you indulge in the fantasy, feel a ton of shit and then get to the other side of it so you can be rational and do what you need to do. It lets you figure out what you can do in reality. It may even convince you that it's the perfect idea and to go ahead with it. Theatre and this musical especially just gives you fucking options to the shit you don't know how to deal with. And when you're still in high school and everything feels like it's gonna end, that's some shit you need.