We asked you for your dietary restrictions this holiday season, and then turned them over to some very talented queer chefs for help. Kyle Cornforth, Director of the Edible Schoolyard Project, has taken six sets of dietary restrictions you submitted and planned an entire Friendsgiving menu around all of them! 
---
I am a cook, and Thanksgiving is my favorite holiday! I get five days off from work to prepare stupid amounts of side dishes and fuss over a turkey while using dangerous quantities of butter, salt, cream, and sugar for one meal. I've been hosting Friendsgiving since 1999, when I was in college at the University of Montana and friends drove in from Colorado, California, and Idaho to sit on the floor of my very cold house. I took a lot of notes that first year and I've kept copious notes ever since! I've gathered with friends and colleagues who are distant from their families either physically or emotionally for almost 20 years while maintaining a thick folder of menu planning, meal prep by day, notes about who came and what they brought, what recipes I prepared, and how everything turned out.
When I was asked to put this piece together, the request was to share a recipe that adhered to one set of these restrictions.
Dietary Restrictions:
1. No gluten, dairy, or soy
2. Gluten-free and vegan
3. Vegan and gluten-free with a tree nut allergy
4. No vegetables or heavy spices, and lactose-intolerant
5. Allergic to gluten, walnuts, and cantaloupe; dairy-free preferred
6. Vegetarian with allergies to nuts, sesame, coconut, and beans; soybeans/tofu are OK
I wanted to see if it was possible to build a menu that EVERYONE could eat as if I'd invited six perfect humans with these specific dietary restrictions to my home and we were sitting down to Friendsgiving together. While I personally eat all the things — with a special emphasis on meat, dairy, gluten, and sugar — I also believe that when humans sit down together to eat, something important happens that connects us to our humanity. It matters to me that everyone has enough, that individual recipes are delicious on their own, and that a plate of food has a balance of salty, sweet, sour, spicy, and bitter. I brainstormed a little and made a table of the restrictions against the menu I usually make.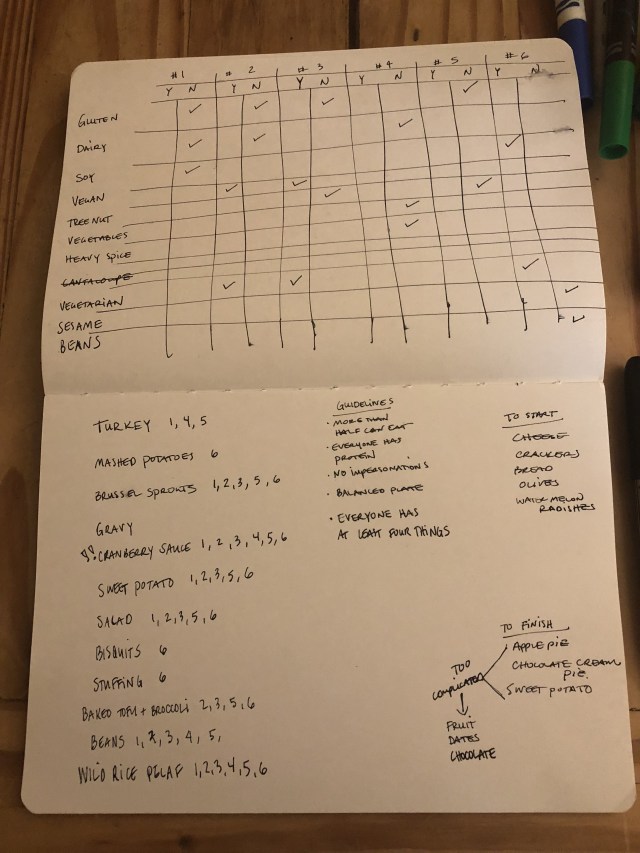 I grew up in a very WASPy family, so for me, the recipes, smells, and sights of this particular holiday are rooted in the "traditionalwp_postsThanksgiving: a massive turkey as the center star, supported by mashed potatoes, gravy, candied yams, stuffing, cranberry sauce, and hot fluffy white bread rolls with butter. I acknowledge that this is a diet of white colonizers and certainly isn't representative of the diet of Indigenous communities in the beautiful Bay Area where I live, or the myriad other cultures, diets, and rituals that continue to make up American traditions. "Traditional American" is code for "white American" and lots of folks did not grow up with this holiday and its particular holiday menu, where the whole goal is to stuff yourself until you fall asleep as a celebration of colonization. We can all agree that the entire idea of Thanksgiving being a peaceful coming together at a table and sharing between colonizers and Indigenous people is bullshit. I AM IN IT FOR THE COOKING and the feeling I get when I cook for days in order to sit and share food with people I love. So this menu and its recipes reflect the Bay Area seasonality and flavors of sage, thyme, cinnamon, bay, and cloves.
After tracking what these different folks needed against the menu that I usually make, I found that the only thing everyone could eat was the cranberries! I needed to go a little off-script, so I decided I needed some rules to work with in order to make decisions. Here they are in no particular order:
1. More than half the people can eat every dish.
2. Everyone has adequate protein.
3. No impersonations (I wanted all whole foods and nothing that was processed to be indistinguishable from its natural state, i.e. no cashew cheese. If you love cashew cheese, I love you and think you are perfect.)
4. Everyone has a balanced plate.
5. Everyone has at least four things they can eat.
6. Maintain the flavors of the Thanksgiving dinner I typically cook.
7. Lots of vegetables.
Once I had these parameters set, I used a different approach and tracked things I thought might be good on the menu to see if they met the criteria.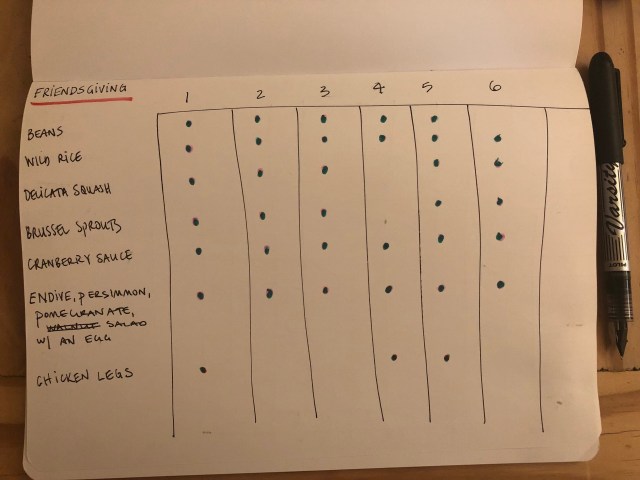 First off, only three out of six people could eat the turkey, so based on my guidelines, it wasn't worth the effort to make one, so voila! That was not going to be on the menu. The vegans could eat beans, so I started with that as a base to the meal. There was one eater (#6) who is a vegetarian that doesn't eat beans, so tofu was an option as a protein, but there was also someone (#1) who doesn't eat soy. If I chose tofu as an option that meant the vegan who didn't eat soy couldn't eat that protein. I decided to leave that alone and carry on to the grain.
The most typical gluten-based items in my usual menu are stuffing, biscuits, and pie. It was pretty clear that this wasn't going to be a biscuit and pie situation, so I didn't even bother trying to make that a thing. WE DON'T NEED BISCUITS AND PIE WE CAN LIVE WITHOUT THEM (sidenote: none of these restrictions included sugar which was an incredible miracle!). I thought a wild rice or rice situation would be nice. Rice has a nutty flavor and if I sautéed some wild mushrooms like chanterelles with garlic and olive oil, then tossed that with the freshly steamed rice, that would be a nice hearty and grounding addition to the beans. Plus, rice and beans make a complete protein which is important for forming the nine amino acids that the body can't produce (I will not go down this rabbit hole but it is a thing). Also, everyone at the table could eat the rice!
With the basic protein set, I thought about sides. Delicata squash is an almost nightly occurrence in our house from Halloween to Valentine's Day. They are super easy to make: cut the squash in rings, scoop out the inside of the rings/seeds with a spoon in a swooping motion, toss the rings in olive oil and salt, and cook at 400 for about 35 minutes or until they are brown and caramelly.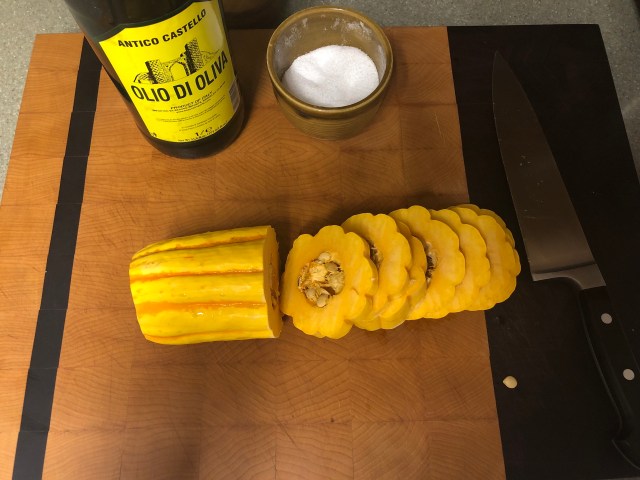 I also wanted Brussels sprouts. I think the stalks they grow on are weird and cute and I like having a long stalk of them across the dinner table that I can hack the sprouts off of all week. I wanted to include the cranberry sauce because I created a recipe for the beans that made them have the flavor of Thanksgiving turkey and I thought it would work okay to have cranberry sauce on top of them, so those made the cut.
Next up I wanted a really beautiful and colorful fall salad, one with hearty greens, persimmons and pomegranates, and a light dressing. This is another thing that everyone could eat. I still hadn't figured out what the vegetarian who doesn't eat beans could have as a protein but then ::snaps fingers:: I thought about a jammy egg. There is nothing more delicious to me than a jammy egg on almost anything. When an egg is boiled in water it cooks from the outside in. If you time it JUST right (8 minutes) you can pull the egg from boiling water when the white is fully set and the yolk is slightly set but still has a bit of give. I am obsessed with eggs that are cooked this way. Maybe it's a texture thing? I don't know, I just really like it. This was a protein that all but two people could eat.
At the last minute I added chicken legs to the menu, because the rules I made up were arbitrary and they were mine, so I could break them and also, old habits die hard. Sometimes we need to hold dear to moments in our childhood when we thought everything was always going to be okay.
SO! I present a menu that all six of these wonderful eaters could sit down together and enjoy — to celebrate what is good in the world, share stories about their lives, debate how we might fix the terrible state we find ourselves in in this country, get to the bottom of where we went wrong in the first place, and hold each other close in celebration. What can I get you to drink?
---
Kyle's Friendsgiving for Six
Friendsgiving Beans
Wild Rice with Chanterelles
Delicata Squash
Brussel Sprouts
Cranberry Sauce
Persimmon & Pomegranate Salad with Jammy Eggs
Chicken Legs
Dessert: Dates & Mandarin Oranges
Friendsgiving Beans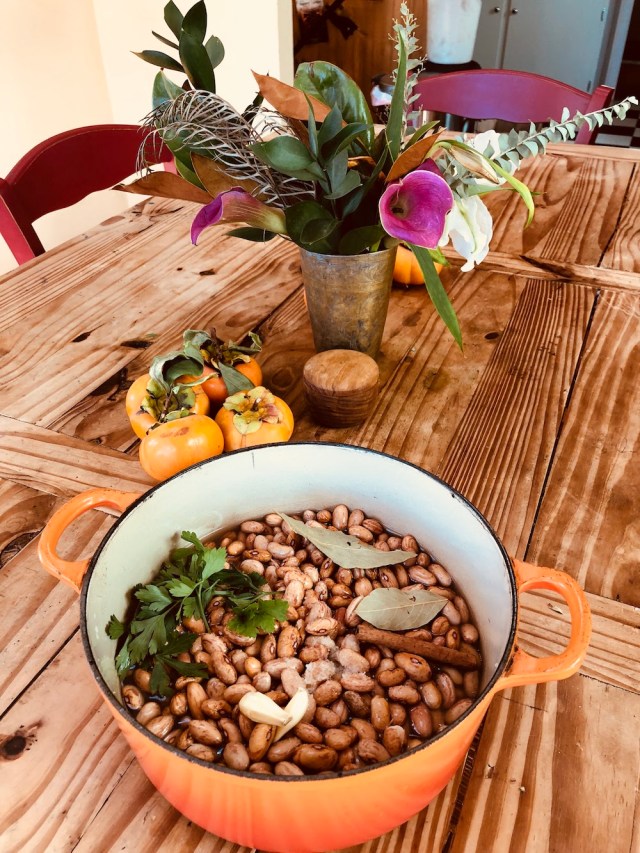 What is more exciting than a pot of beans? NOTHING is the answer. They are easy to make and can take you through a whole week of dinners. They're a blank slate of flavor, with dried beans absorbing the flavor of the cooking liquid — it's like magic! For this recipe I used Barlotti Beans, which originated in Columbia and were then bred in Italy to have a thicker skin. You could use any bean for this recipe, but I would suggest Barlotti, cranberry, garbanzo, or a broad white bean. It's important to soak dry beans overnight, so plan accordingly. ALSO GUESS WHAT! The flavors in this pot of beans made our house SMELL like we were making turkey!
Ingredients:
1 cup Barlotti beans
3 tablespoons olive oil
2 cloves garlic
2 bay leaves
1 cinnamon stick
1 quart vegetable stock
Salt to taste
Submerge beans in water and leave them overnight to soak. Dump out water and rinse beans, then cover with the vegetable stock. Add garlic, oil, bay, and cinnamon stick to the pot, along with a few hearty pinches of salt. Bring to a simmer over low heat and simmer for 2-3 hours, checking every half hour or so to add more water so there is always about 1-2 inches of liquid above the beans. After 1 hour, remove the cinnamon stick. Start checking for doneness at about 1.5 hours in, to see that they're soft and cooked through. Once the beans are cooked, you can add additional salt and pepper to your taste. DON'T be shy, the salt is what makes it taste good!
Salad with Persimmon, Pomegranate, Jammy Eggs, & Fall Vinaigrette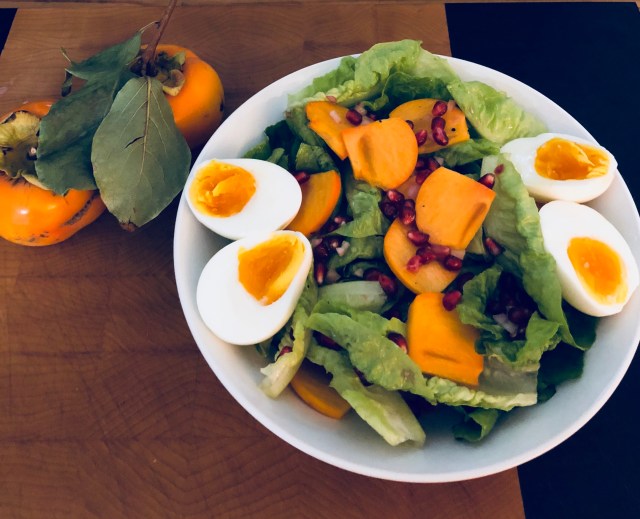 Ingredients:
1 tablespoon minced shallot
2 tablespoons red wine vinegar
Splash of apple cider vinegar
1 teaspoon Dijon mustard
6-7 tablespoons extra-virgin olive oil
In a small bowl or jar, pour the vinegar over the shallots and let macerate (the acid in the vinegar mellows out the strong flavor of the shallots) for for 15 minutes while you prep the other salad fixings. Wash the lettuce, cut the persimmon into small wedgy pieces, and get the pomegranate seeds out of their pith. There are so many ways that people have shown me how to do this: whack it with the back of a spoon, just crack the hell out of it, or do what I find easiest, which is to cut it in half and submerge one half in water and start turning it inside out. The seeds fall out and the pith rises to the top of the water so you can just scoop it out and the tiny red jewels lay on the bottom of the bowl. Once you have these things prepped you can turn your attention back to the dressing.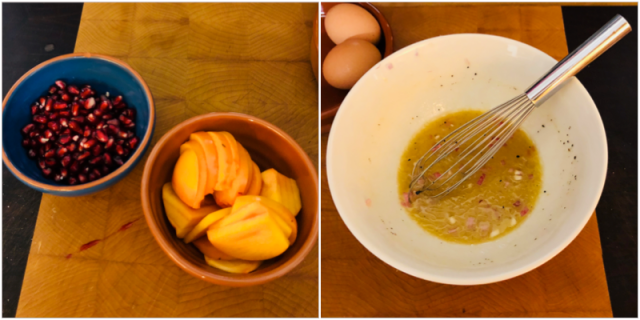 Add the mustard to the shallots and vinegar and whisk it until it is completely blended in. As slowly as you can, drizzle the olive oil into the bowl while whisking furiously. This has been explained to me a million times and there is some scientific explanation for how emulsification makes things that typically don't mix break down and not only mix but create something new and beautiful together, like salad dressing. All I can tell you is TAKE IT SLOW, You are breaking down the bonds of the oil and vinegar and they're creating new bonds with each other, so you need to let them talk amongst themselves. You'll know it worked if the dressing starts to look creamy in a way that surprises you. Once you've added about 6 tablespoons of oil, start to taste it. I like to do this by dipping a leaf of lettuce in and scooping some of the dressing out. Since the lettuce is the vehicle for the dressing, see how they play off each other. Add more olive oil and salt and pepper to taste. This recipe is a guide! You are the only one who can say if it's to your liking!
Jammy Egg
This is super easy! And delicious! And an egg is the most perfect food in the universe!
Choose a pot that can fit all the eggs you want cook. Fill it with water and bring it to a rolling boil on the stove. Once the water is boiling, carefully submerge the eggs and set a timer for 8 minutes. While the eggs are cooking, fill a mixing bowl with ice and water. When your timer goes off, immediately remove the eggs from the boiling water and plunge them into the ice water. This will halt their cooking and make the insides shrink from the shell so they are easier to peel. Once you've peeled them, slice them in half and sprinkle each half with a tiny amount of salt. Quick note about salt: kosher salt is not iodized and doesn't impart a metallic flavor on food. Salt is what makes us taste our food, so if you're looking for a way to step up your cooking game in the tiniest most affordable way, buy a large box of kosher salt and never look back.