We were supposed to be a one night stand. It was snowing. Kristan was wearing these big pearl earrings and It threw me off. Was she even a little bit queer? I wasn't sure. Eventually I just went for it, figuring we'd probably never see each other again because she was living in New Jersey and I in Mexico. Six years later, we're married and raising a kid. Neither of us felt strongly about having a biological connection to our child and ended up creating the docuseries The F Word about our experience adopting through the foster care system. Don't get me wrong, a little mini Kristan would be the absolute cutest, but that just wasn't a priority for us. When we started on this adoption journey we didn't see it reflected anywhere, and we would have taken comfort in hearing other people's stories, especially other queer people's. We decided to turn the camera on ourselves in the hopes of filling that void.
We signed up to work with an agency that works with foster youth, foster parents and foster parents hoping to adopt. We enrolled in the required P.R.I.D.E. classes (which have nothing to do with LGBTQ issues… I guess they missed the memo that pride belongs to queers). The teaching style was rote and when students answered "correctlywp_poststhey got a sticker. By the end Kristan had amassed a huge collection of Hello Kitty stickers and my folder was bare, but they passed me anyway. Once we graduated we started in on the stacks and stacks of paperwork: the criminal background checks, the CPR and First Aid training, and probably-for-the-first-time-ever-bought-ourselves renter's insurance (only because it's required). We did our best to childproof our place with the help of two small inspectors (who you'll meet in the series), and settled in to answer awkward personal questions about our lifestyle, our relationship, our family history and our coming out story. (Are straight couples ever asked by the social workers when they knew they were straight?)
Once the home study was done, the real waiting period began. We could go months without hearing anything; we pictured our home study covered in dust in a locked filing cabinet in some abandoned warehouse.
When we finally got the call about J, we thought it was going to be about two siblings we had just asked our social worker about. After waiting for over a year we had just expanded our search to include siblings and children over the age of 4, which seems foolish if you've seen the size of the apartment we live in. Our hearts sank when she told us the siblings had been matched with another family. And then she told us there was another child — a baby — at a nearby hospital. Were we interested? We said yes even though we had a thousand questions and just as many concerns (why was he in the hospital? Where were his birth parents? Who was holding him when he cried?).
That baby turned out to be our son.
Throughout the process of making this docu-series we tried to be as honest as possible; it made us feel vulnerable, but the outpouring of support we've received from nice people on the internet has been truly overwhelming. Still, we really just represent one voice in the system — the prospective adoptive parent's voice — and frankly this is the voice that has held the most power historically, and is the voice that's framed the adoption narrative for so long. On top of that we're white, as are many (but definitely not all) fost-adopt parents, and our white privilege is part of what enables us to make this creative work in the first place.
There aren't a lot of platforms for the lesser-heard voices that truly deserve to be amplified — such as foster parents who work to help bio parents reunify with their kids, or who take teens in just to help them prepare for college. Or bio/first/birth parents themselves who have been able to reunify or who have healthy, open adoption arrangements with their child's adoptive family. We've also met social entrepreneurs from Massachusetts to Silicon Valley working to re-envision foster care as we know it so that kids aren't lost to the system. We want to make space for these narratives and more in the next season of The F Word, and most importantly we'll be speaking with adoptees and former foster youth themselves. Those are the voices we really need to hear from if we're going to repair this broken system.
People often want the picture of adoption to be a fairy tale, and the truth is it's messy. We are very much in the "honeymoon periodwp_postswith our sweet kid, but we know that adoption stories are rooted in grief and loss, and that should be acknowledged. It does a disservice to everyone when we ignore that. But that's no reason not to adopt, because it also happens to be profoundly beautiful, deeply meaningful and ultimately, transformative for everyone involved. We've found that the foster care system can be incredibly divisive, and the more we open up spaces to hear from voices that are too often silenced (youth who've aged out, parents who've reunified), the more compassion and empathy we'll all have for everyone involved. I think adoptive parents need these conversations a lot more than we need strangers telling us we're heroic. That savior rhetoric can be really damaging to adopted youth, and frankly, it's just untrue. We are people who want to raise children. People have been doing this since the dawn of time and there's nothing heroic about it.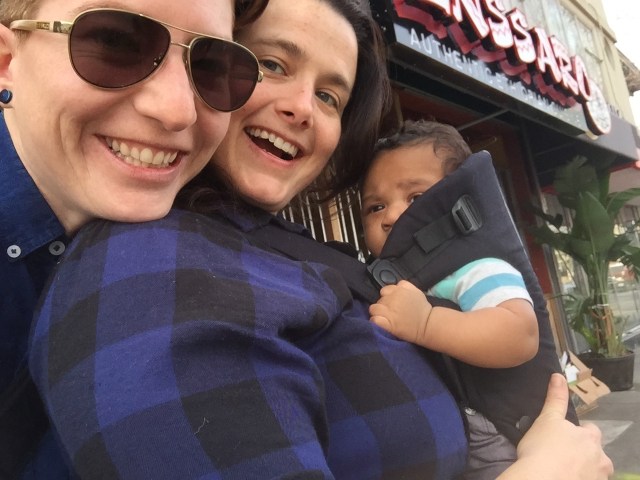 As for queers adopting from care, when we were locking picture on the series, South Dakota had just passed a "religious libertywp_postslaw (Senate Bill 149) allowing adoption agencies to discriminate against same-sex couples trying to adopt from foster care. Since then it's ballooned to Alabama, Texas, North Dakota, Virginia, and Mississippi. It was tempting for us to adopt the thinking that "Oh this would never touch California, we live in a gay paradise," but Prop 8 happened not too long ago; we didn't think we'd have a racist reality tv star for a president either. Progress can reverse in the blink of an eye, as we're seeing every day in Trump's America.
OK, I know what you're thinking. None of this sounds funny or entertaining. But just trust me, we can do it.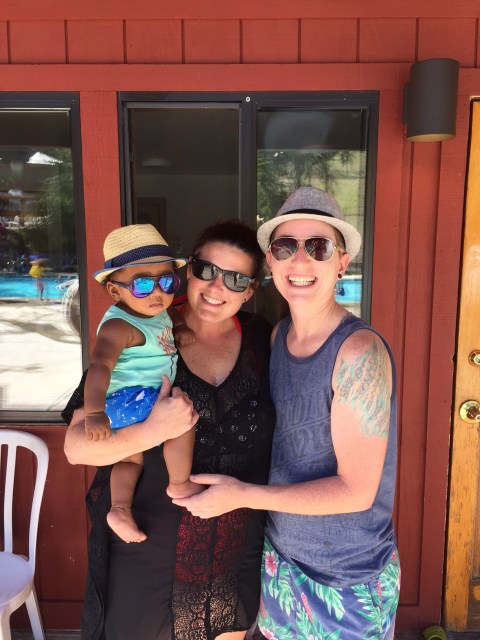 ---
The F Word Season 1 revealed the story of one queer couple adopting from foster care in Oakland, CA. Season 2 will continue our story while amplifying other voices in the foster care world: birth/first families, foster youth, adoptees and social entrepreneurs working to make things better.
If you want to help us make Season Two, we're crowdfunding on Seed & Spark for the entire month of November, which is Adoption Awareness Month. Please check out our campaign!