Sometimes I need music that's as sad as I am, and 2017 has not delivered. It's been a paralyzing, grotesque year on both a macro and personal level, and I keep waiting for the art to measure up.
Maybe I'm expecting too much, but even a long-awaited new album from saddest sad band The National didn't bum me out much, though it's an excellent record worthy of the band's legacy. I needed music that could reach me in the depths where I have been comfortably trapped all year.
So I was elated when I found out Julien Baker would have a new album this year. Her debut Sprained Ankle was an anchor for me in 2016, and she and I became pals when I wrote about it for this very website. I knew that whatever she did next would be special, and it is.
On Turn Out The Lights, out now on Matador Records, Julien takes up more space. She adds instruments, piano, electric guitar and winds, to create a fuller sound while still maintaining the clarity and simplicity that made Sprained Ankle so special. Her voice continues to be the star, and she's not afraid to balance gentle refrains and frantic climaxes to get her point across. The songs have a deeper sense of story, both in lyrics and music, and across the album they weave a rich narrative about the decision to keep showing up even when it seems futile.
Julien wrestles — with God, with friends, with herself — on every track. She pleads for both sides of arguments, like on lead single "Appointmentswp_postswhen she wonders if it's going to turn out all right and concludes I know that it's not, but I have to believe that it is. The queer Christian songwriter from Tennessee writes from her own truth of addiction and sobriety, suicidality and survival, and believing in God whether she wants to or not.
All those contradictions might add up to a net neutral if Julien weren't so adamant about actively choosing to try to get better. It's not a hopeful record, exactly. It doesn't promise that anything at all will be okay. Turn Out The Lights is about showing up to therapy and wearing seat belts.
Julien sings: There's a comfort in failure, in singing too loud in church/Screaming my fears into speakers 'til I collapse or burst, whichever comes first ("Shadowboxing");
sings: Grit my teeth and try to act deserving/when I know that there is nowhere I can hide from Your humiliating grace ("Happy To Be Here");
sings: I think I can love the sickness you made, because I take it all back, I changed my mind, I wanted to stay ("Claws In Your Back").
When her voices crescendos, crashes and breaks, I believe her. I want to stay too.
---
I learned to be sad when I was 10 years old. My dad died very slowly and all of a sudden. He had colon cancer, and everyone knew it would kill him except me. It wasn't just my heart that broke, but something more cellular. I cried for a whole day and then I went back to school. The grossest of all the 4th grade boys came up to me and asked, "What are you doing here? Isn't your dad dead?wp_postsI granted him a narrow-eyed glare before my best friend whisked me away. I was not ashamed to carry my sadness into the world of normal people.
I listened to the music Daddy loved, Tom Petty and Elvis Costello, and tried to find the messages he might have left for me there. My dad was an audiophile with eclectic taste and a very confusing CD player. As the shockwave of grief crystallized into trauma, I sought out my own music. I had just started self-harming when I listened to Linkin Park's Hybrid Theory because of a boy I had a crush on, and I heard Chester Bennington talk about dying in a way that resonated. It lived in my Walkman for weeks at a time, and I never hurt my own body on purpose again.
The thing about losing the most important person in my life when I was very young is I move through the world knowing it could happen again. A few years later, my big brother burned me CDs of Modest Mouse and Radiohead. Then he went to rehab and never really came back to me. I listened to "Third Planet" and tried to keep my heart open (I've never closed it, but these days I leave rooms when "High and Drywp_postscomes on).
Around that time I started having panic attacks any time my mom wasn't where she was supposed to be when she was supposed to be there. I'd stand in the car line after musical rehearsal until all the cars drove away, and my body would know she was dead before my brain had any say in the matter. She always turned up, and I never found the words to tell her how badly I wanted her to get a cell phone.
I was 15, exactly the right age for the Fueled By Ramen-led resurgence of emo pop. I loved Fall Out Boy, Brand New and Panic! At The Disco fiercely and spent the money I made working at the mall on concert tickets, albums, and, of course, the t-shirts that helped me telegraph my devotion. I added Bright Eyes and Sufjan Stevens to my list of mp3 therapists and posted their song lyrics as Facebook statuses in a transparent attempt to externalize my sadness while maintaining some degree of plausible irony that I could leverage if anyone ever tried to actually connect. Being sad was part of my self-concept, but I had long ago stopped dealing with my actual grief.
I was consumed with schemes for keeping the people I loved alive while also preoccupied with my own death and all the ways it might happen. I never wanted to end my life, especially not after I talked two friends through suicide ideation, but I didn't really want to be alive either. It wasn't until I got into Elliott Smith in college that I appreciated the irony.
Elliott! After my first A-Camp I stayed in L.A. for a couple days and went with Maddie and my internet friend Alvin to the Figure 8 wall and I played "The Biggest Liewp_postson my cell phone and Maddie laughed at me warmly and I had a lot of feelings. Junior year of college when I almost forgot I didn't want to die, Elliott Smith was the only music sad enough to make anything seem coherent. He sang his aches and pains in clear and precise terms, and to hear him name a depression that seemed familiar was deeply grounding. There at the wall, I took the chance to say thank you.
---
I had never heard anyone else sing about sadness like Elliott until Julien. I owe a disclaimer here that I never got into Ani DiFranco, and I know there is a vast legacy of sad queer music that I should be citing in this essay. As allegations of sexual assault against men in entertainment industries breaks, including Brand New's Jesse Lacey, I realize how vulnerable I was in the teeny tiny emo bubble I used to live in. (Jessica Hopper's 2003 essay on this topic is essential reading that I wish I had found when I was a teen.) I'm more grateful than ever for Tegan and Sara, Billie Holiday, and all the other artists that helped me find new ways to excavate my feelings that didn't center fragile masculine egos. Still, singing along to sad white boys so earnestly for so long is part of the story I have to tell. I hope Julien won't mind being counted as part of Elliott's legacy, too.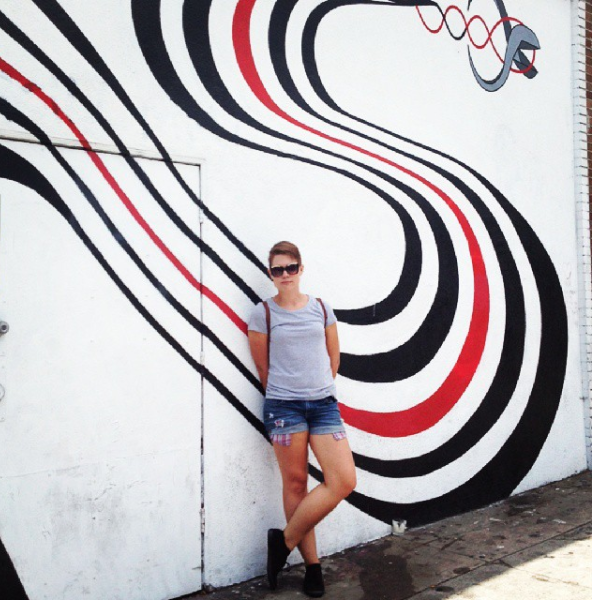 I got Turn Out The Lights on a press advance in September and listened to it obsessively in our study with all the lights off, as commanded by the title. It absorbed me like a sponge and I was happy to surrender. Here, finally, was music that felt like a match for the depression that had been paralyzing me since May, when bad allergies turned into a sinus infection turned into an unending fog. I'm not saying the allergies made me sad, but some summers it doesn't take much to tip me off the cliff.
On release day, I impulse-bought new headphones with my side hustle money and sat on my couch in pajamas and ate Spaghetti-os while the songs played again. They felt different now that they were mine instead of coming to me through a very finicky online media player. They felt different with the lights on, even as the story had become profoundly familiar because I had heard it so many times, and because I've been humming my own version since I was 10 years old.
Depression is not forever because it always ends, and depression is forever because it always comes back. I was G-chatting with my friend Kelsey recently and we were making jokes about how when we don't take our Wellbutrin it feels like we might literally be laying on the floor even when we're not and I realized that it's always going to be like this. It will always get worse again. It will always take a gasping, vomit-inducing sprint to get back out. There will always be spells of respite.
It won't work if I only want to stay on the days when my brain breaks through the muck and has a creative streak or wants to have sex or feels a sense of unfettered accomplishment. Turn Out The Lights is a meditation on wanting to stay on the very worst days. It offers no promises and makes no assumptions. It has an internally consistent theology that posits staying is better than being extinguished. It does not justify or verify that claim. Sometimes, like with God, you simply choose whether or not to believe.