Welcome to AM/PM, where Autostraddle team members share our morning and evening rituals.
I've always had trouble with sleep. I'll while my insomnia into the early hours on the Internet or by binging some terrible show. In the mornings, I'm crawling deep under the covers to claw out fifteen more minutes of sleep. I am late often. However, I recently moved across the country, from sunny Austin, TX to Washington, D.C.! I took this as my chance to turn over a new leaf, but be forewarned that the following routine is mostly something I've haltingly tried to put together over the past month.
Also, my new job requires us to be there at 8:30 am sharp. They encourage this by giving us free breakfast around 8:15, and reader, I love free breakfast. Fridays are bagel days!!! I now have to catch the 7:30 bus every morning, 7:50 at the latest. Public transportation, y'all! It's a brave new world for me. To that end, I've been experimenting with new ways to get up easier and better. My new room is in what they call an English basement, which is a lovely little one-bedroom apartment on the bottom floor of a townhouse. However, it is very dark in the early morning before the sunlight can get up around the rowhouses of my neighborhood.
My infantry of alarms of varying urgency wasn't cutting it anymore. My snoozing abilities advanced. Somehow I learned how to ignore and turn off my alarms in my sleep, which I discovered by being two hours late to my fifth day of work.
As any good tech worker would, I turned to apps. I use a combination of three that help me go to sleep and wake up: my classic iPhone setup, which has about four or five alarms of increasing urgency; Sleep Cycle, which will play a soft sound until I'm asleep and monitor my movements to wake me up at the best time in my REM cycle; and finally, a meditation app called Smiling Mind, which has a really lovely, gradient-based UI and is narrated by an Australian. Some nights, it's harder to turn off the storm of thoughts, but focusing on my breath or on sensations in different parts of the body helps, even if I have to try several times before it takes. I've gotten better at it, and it's a pretty cool skill to have.
The alarms might counteract the soothing aspect of the other two apps, but trust: if I didn't have all of these, I would not wake up.
Luckily, the combination of the three is working so far, and I've been getting up around 7am-ish every morning. This gives me enough time to go through my semi-minimalist morning routine. Ever since I cut my hair like Cole Sprouse, I've been waking up with some very interesting hair situations. My hair is wavy? Almost curly? And likes to take up a lot of height, especially if I accidentally fall asleep with it wet. Depending on the seriousness of this situation, I will brush it down with a fine-tooth brush, add a hair oil to slick it back down to a normal height, maybe straighten parts of it if I feel ambitious, or give up and wear a hat.
Then I will usually stare at my face and decide it needs washing: I've started using Simple Micellar Water because I saw a YouTube video that said French women use it. I realize this makes me a cliché, but also, I have really good skin now? Then I use an AHAVA moisturizing day cream and rub on some Dr. Jart's 30 SPF moisturizing cream to finish up. I've been lectured enough times to know that sun protection is perhaps the most important part of skincare, but I hate the heavy feeling of most sunblocks. The Dr. Jart's UV cream is much lighter than any other sun lotions I've found, and I can get it as a sample from Sephora.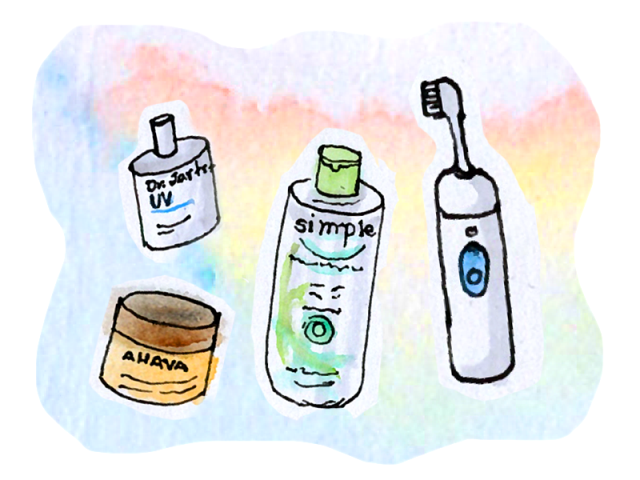 That's usually all I'll do skincare-wise: I've heard there are other steps, like serums and toners (what are they) and specific under-eye lotions, but that is a level beyond me right now. Finally, I'll brush my teeth, floss if I feel ambitious (let's be honest here), and go try to figure out what the hell I'm going to wear. Back in Austin, I had started experimenting with Fancy Business Lady outfits, but my new office is more casual, so I usually compromise with a sweater or a button-up and the best black pants ever made.
My makeup routine, when I bother with it, is similarly minimal. I use a "brow wiz" eyebrow definer from Anastasia Beverly Hills that I love for shaping and filling in my brows really naturally. Oftentimes, that's all I'll do. If I'm feeling more ambitious, I'll use a Maybelline "The Nudes" eyeshadow palette that I literally got off Amazon Prime once to make a subtle, shadowed eye. If I really feel like going all-out, I'll top that with a cat-eye using the classic Kat Von Dee "Tattoo" liquid liner and finish it off with Too Faced's Better Than Sex mascara. (By the way: it's not.) On my lip, I use a Burt's Bees lip shimmer in Fig, which protects my lips and just slightly enhances my natural lip color.
But usually, I don't bother.
My favorite part of the morning, for real, is my commute. I get a free 20+ minutes to myself every morning. My bus stop is a street away from my place, the wait is never too long, and there are almost always seats available. My stop is the last one on the circuit, so I don't even have to pay attention to where we are until it's over. I've always loved transportation: it's a period of time where you just give up control and are left to just be, and follow the process set out for you. It's why I actually like layovers when I'm flying.
Maybe I'm a freak. But regardless, I've been spending these mornings either reading or writing drafts. I wrote a large part of this very article, in fact, on the bus. I've also finished a lot more books in the past month.
After my workday, I like to come home and try to draw, watercolor or read — another part of my efforts to center myself. I read recently that it's good to "try to create large swaths of certainty in the rest of your life so you can be, 'violent & original in your work.'" It's a beautiful sentiment if harder some times than others (see: my repeated, clumsy attempts to create a routine).
I'm currently long-distance with my partner, so in the evening I like to check in with them before I end my day. If we have time, I'll video chat with them and their roommate's wonderful, ridiculous cats (one of whom just had a health scare, but he's doing so much better now)!
I've been trying to maintain a consistent bedtime and fall asleep around 11 p.m. — when it's time for the apps. I turn on my aforementioned Sleep Cycle app, spin up a nighttime meditation, and I'm off to dreamland.