It may seem obvious, after approximately infinity headlines about prominent religious figures with mildly life-consuming homosexual hobbies, or what feels like equally infinite headlines about children killing themselves because they can't bear to be alive and be gay one more day, that even genuine religious convictions can't make you straight. (I believe this is also known as "not being able to pray away the gay.") But no! For a number of Christian colleges and universities, the concept of gay Christian people is too much to grasp.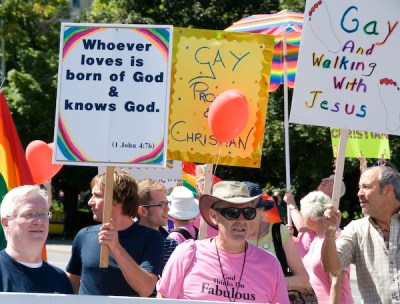 This week The New York Times spoke with several queer students who attend conservative religious schools like Baylor University, but still want to be able to start an on-campus organization for discussing issues of sexuality and orientation. Their voices are remarkably mature and considered, especially when compared with the strictly scripted reactionary statements from the adults involved.
"It's like an unstoppable force meeting an immovable object," said Adam R. Short, a freshman engineering student at Baylor University who is openly gay and has fought, without success, for campus recognition of a club to discuss sexuality and fight homophobia.
"The student body at large is ready for this," said Saralyn Salisbury, [Samantha] Jones's girlfriend and also a senior at Baylor. "But not the administration and the Regents."
And in contrast:
"Baylor expects students not to participate in advocacy groups promoting an understanding of sexuality that is contrary to biblical teaching," said Lori Fogleman, a university spokeswoman.
Ms. Fogleman's position would be more understandable were it not for the wake of recent suicides among college-age youth, and even more recent studies about how much less likely that is to happen when gay kids aren't told there's something wrong with them. Or wait, sorry, that they have "an understanding of sexuality that is contrary to biblical teaching."
Perhaps the most prominent example is the controversy at Harding University of Arkansas: queer students at this conservative religious university put together an anonymous and frankly amazing zine to address the way they felt trying to exist as queer people in the environment that Harding fostered for them. It included personal stories, and also heartbreakingly relevant quotations from Scripture that they felt spoke to their personal struggle.
"I have seen the misery of my people in Egypt. I have heard their cries for liberation from their harsh oppressors. Yes, I am aware of their suffering. So I have come to rescue them."
-Exodus 3.7-8
After the incredible and admirable revolutionary actions of queer students at Harding – the secret but perfectly coordinated dissemination of their zine on campus, as well as the huge undertaking of putting it together – their work has, of course, been blocked by the school's administration.
At chapel, Harding's president, David B. Burks, told students that "we are not trying to control your thinking," but that "it was important for us to block the Web site because of what it says about Harding, who we are, and what we believe." Mr. Burks called the site's very name, huqueerpress.com, offensive.
Doesn't that kind of say it all?
This story is about a lot of things, and all of them are important enough to be considered separately. First there's the individual stories of these students, who are already at eighteen or nineteen or twenty brave enough to embrace their religious identity and their sexual orientation, and to refuse to bow to figures telling them that they must give up one to have the other. Second, there's the writing on the wall (get it? Anyone?) for the future of the religious community and the country: these students are locating the resistance against their identities with the adults in the situation, not with their peers, who might be assumed to be the most threatened by the "dangerous" sexuality of their roommates and friends and classmates. Right now, the conservative evangelical community is one of the most powerful anti-gay forces in the country. They have money, privilege and authority, and they use it to hurt us in Congress, in our homes, in our workplaces, at the voting booth, and in the minds of our friends and family. But if this is the next generation of committed evangelicals, things could be changing relatively soon. If a whole generation of future conservative Christians are growing up with friends like Adam Short and Samantha Jones, who are out and outspoken, the anti-gay crusade might be nearing the end.
And finally, and perhaps most comforting: the lives and struggles of these kids prove that this isn't about religion, or the Bible, or God. This is about power. The adults who run these schools aren't better Christians or better people than their students; the kids who attend schools like Harding and Baylor – even the gay ones! – chose to go to a religious school over all their other options, presumably because pursuing a life of faith and spiritual commitment is important to them. They're not dumb and they're not naive; they know their Scripture, they know their values, and they know their religion. They also know there's nothing wrong with them. So it seems like it stands to reason that the people who do still harbor the belief that there's anything sinful or shameful about being gay aren't coming from a place of God-given inspiration; they're coming from a place of fear and a need to control. If today's generation of queer kids in religious communities can realize this through stories like Adam and Samantha's, then that might be the most important thing of all.