"Hello to all students, faculty, administration, staff, alumni and the beloved donors of Harding University. We are the HU Queer Press, and we are presenting our first-ever publication. This zine is a self-published work intended to bring attention to the lives and issues of demoralized minorities. Writing a zine is an act of social liberation."
– THE STATE OF THE GAY at Harding University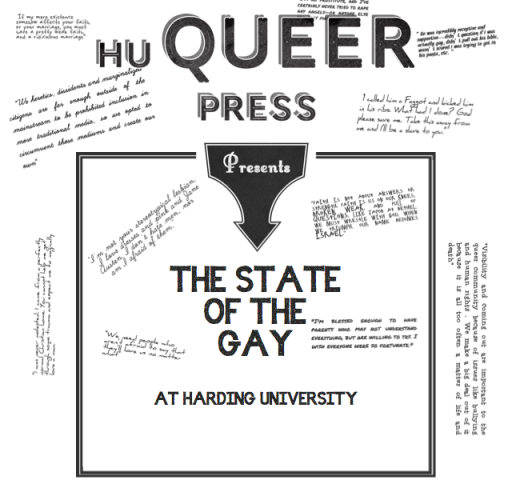 In the Open Letter which opens THE STATE OF THE GAY 'zine, the students calling themselves The HU Queer Press express admonition towards their treatment at Arkansas's Harding University, such as being "threatened with re-orientation therapy, social isolation, and expulsion." They recall being told that they are "disgusting sinners who are damned to hell" and "broken individuals and child abusers."
They plead for acceptance:
"We are here to be a voice for the voiceless who are quietly dying inside the walls of our campus. We want you to know us. We are your friends, co-workers, students, family members, fellow worshipers, professors, athletes and scholars."
…and they end the open letter with a quote from The Bible…
"I have seen the misery of my people in Egypt. I have heard their cries for liberation from their harsh oppressors. Yes, I am aware of their suffering. So I have come to rescue them."
-Exodus 3.7-8
… and the 'zine itself opens with this quote from Bruce Bawer, as published in The Advocate in 1998:
"Straight Americans need… an education of the heart and soul. They must understand — to begin with — how it can feel to spend years denying your own deepest truths, to sit silently through classes, meals and church services while people you love toss off remarks that brutalize your soul."
You can read the whole 'zine online — and you must.
Assuming, of course, you're not attempting to access the site from your laptop at Harding University.



The HU Queer Press woke early on Wednesday to slide physical copies of the 'zine under doors in every dorm on campus. The Queer Press website garnered 150,000 hits in just a few hours and a press blitz began, hitting local news as well as international spots like The Advocate, Towleroad, Change.org and Jezebel.
We can't know how or why every L.G.B.T. student at Harding wound up there; we only know that they are there. And the most interesting thing about the zine is that its authors don't seem to wish that they were elsewhere. Instead of fleeing, they are taking a stand for their right to be treated as humans in the society to which they already belong. Moreover, they are questioning the right of the Church of Christ and Harding to interpret the Bible the way they do.
"We had allies in every dorm slipping 'zines under doors," a representative from the HU Queer Press told Autostraddle on Thursday. "We heard news earlier today that three other sister schools — Oklahoma Christian, David Lipscomb University in Nashville and Abilene Christian University have gotten word of the 'zine and it's spread around like wildfire. Students are printing it off and handing it [out] around campus."
But it wasn't all rainbows and unicorns: "Unfortunately, our own campus has not taken a liking to our work."
By 4 P.M. on Wednesday, Harding University had blocked the website and forbidden physical distribution of the pamphlet. This was their statement:
Harding University is a private Christian university whose mission and policies are rooted in biblical principles. All students are given a copy of the handbook and know about our mission and policies before their first day on campus. The student handbook states that the university holds to the biblical principle that sexual relationships are unacceptable to God outside the context of marriage and that sexual immorality in any form will result in suspension from the university.
Based on that policy, university administrators felt that having this website available on campus goes against said mission and policies.
"Many students are sending us positive feedback," the HU Queer Press told us. "but the administrators are not. Dr Burks, the University President… stated that he could not even mention the name of the 'zine because the word "queer" is so offensive. He was personally offended by what he calls "profane.""

The 'zine is split into four sections and split into four sections.
The first section, called "the experience," contains first-person narratives about growing up gay and Christian. These stories are like yours. What is it like to wait all your life to find out that your stories are just like everyone else's?
From "How I Realized I Like Girls":
"When I was young, my favorite part of my favorite movie (Disney's Peter Pan) was when they visited the mermaids because I thought they were so beautiful."
From "I'm Just Me":
"I finally understood that I was not this 'homosexual' that was being condemned from every pulpit, street corner and living room couch in the Bible Belt. I'm no prostitute and I've certainly never tried to rape any angels."
In "TOXIC TEACHINGS: REFLECTIONS ON THE CURRENT STATE OF ANTI-GAY DOGMA WITHIN THE CHURCHES OF CHRIST AND HARDING," a gay man shares excerpts from his high school journal and from a current Harding Course Packet (topics of the class include the "developmental roots" of homosexual behavior, such as distant fathers), along with his commentary.

In "Exposure: The Average Life of a Religious Faggot and His Pursuit of Spirits and Sex," a gay man starts his story at age 8 ("Terminator. That is when I knew I was different, somehow, not quite sure how, but different."), through the experimentation of his pre-adolescence…

… and continuing through his life story from attempted conversion therapy to contemplating suicide to eventually fleeing to the Middle East, where he transformed his life and accepted his sexuality.
The next three sections are based on the three principles of Harding University: Faith, Learning, Living:
In Faith, students break down the Scripture and discuss various issues with how the Bible is used (improperly) to condemn homosexuality.
Learning "explores the need for LGTBQ people to have supportive friends and supportive safe spaces to exist where they won't feel threatened."
Living is this: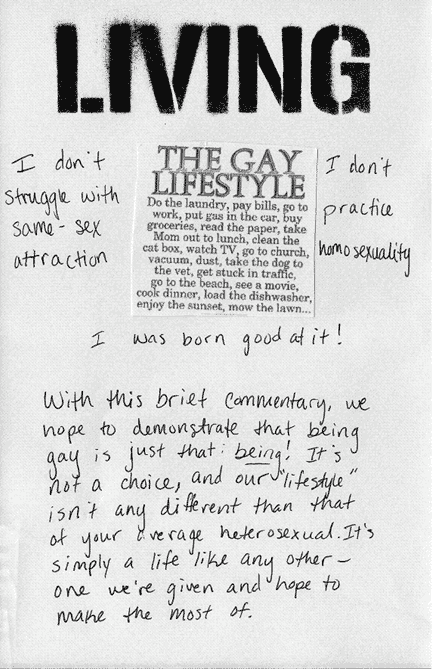 On the back cover of THE STATE OF THE GAY, the authors encourage readers to distribute their message by any means necessary: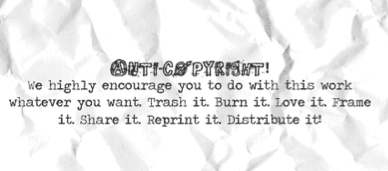 "The mood on campus is a frenzy. People are expressing all sorts of thoughts on campus and through social media," HUQP told us. "We've been getting hundreds of emails from all over the country offering their support. Harding university teachers and students have sent many very positive feedback along with alum and randoms."
It's these stories and these pledges of support, they say, that have made this experience so rewarding: "Hearing so many more queer stories from Christian campuses brought us all to tears. They were bold and raw and powerful. I'm in awe of how venerability is the key to compassion."
It's pretty remarkable what these students have done — it's a three-tiered attack which harnesses the power of the written word in all its formats and distribution channels.
They've harnessed the power of a revolutionary format of content distribution that's been spreading controversial messages since the invention of the printing press — from Thomas Paine's Revolutionary-War-era "Common Sense" pamphlets to the feminist movement's dissemination of ideas via pamphlet used by groups including the Combahee River Collective and The New York Radical Feminists to the punk 'zines of the '70s and '80s to the riot-grrrl-inspired zine explosion of the '90s. The latter is most notable for the voice and community it provided for young feminists who felt disenfranchised from modern media. 'Zines are still booming today and its spirit lives on in cyber-spaces as well. Even we make 'zines sometimes.
By posting the 'zine online, the Harding University Queer Press made it accessible to anyone who wants to see it, and by making it easy to print out, they've made it accessible to anyone who might not want to see it, but should see it anyhow.
Lastly, they've used online media networking to get serious press. It's this last element that the students feel could ultimately protect them from any formal backlash from the school:
"We are being contacted by several LGBT orgs that have offered us a wide range of support from financial to legal. In the chance we did get ousted by Harding, the larger this story gets, the better for our protection. We would be supported by a massive network of queers around the nation.
Which is the power behind a movement: the support network."