The Supreme Court recently ruled that everyone's favorite God Warriors, the Westboro Baptist Church, are allowed to continue picketing funerals, as it is within their right to free speech under the 1st Amendment. This is obviously a complicated topic – Westboro Baptist Church can't exactly be deemed the most appropriate group of people. There are tons of religious zealots, after all, who succeed in spreading a message demonizing homosexuality who are not a bunch of bored adults in Topeka, Kansas. And there are also a lot of religious zealots who manage to do it without inciting violence, hate, and shame in the lives of gay people.
So as it stands, the current frame is this one: do we stand for free speech at all costs or do we limit it to protect lives? This is where the Carmen and Carolyn not-showdown will begin. We're friends, after all, but we're going to give you guys a little bit of both sides. We framed it like a girlfight to make it more interesting, though.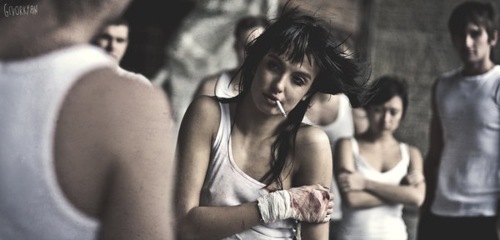 So first: let's lay the groundwork. The Westboro Baptist Church has been picketing the funerals of dead U.S. soldiers since forever ago, claiming that all soldiers deserve to die because they are fighting to protect the rights of homosexual people. This is weird, though, because they only picket the funerals of gay soldiers.
Recently, the Westboro Baptist Church engaged in other hijinks that are mostly acts of attention-whoring, including their faux hack by Anonymous. The church pretended to have received a threat from Anonymous but didn't actually, and when they pushed them too far, were owned while in an on-air interview by a member of Anonymous. The video here will tell you all about that:
The church has gained notoriety for its antics and its really straightforward language. (Perhaps the best example is godhatesfags.com, and the fact that GOD HATES FAGS is emblazoned on every poster these people give to their small children at protests). But the issue of picketing funerals was seen as taking it to far, and got WBC taken to the courts. I'm going to let the NY Times take it from here:
The case decided Wednesday arose from a protest at the funeral of a Marine who had died in Iraq, Lance Cpl. Matthew A. Snyder. As they had at hundreds of other funerals, members of the Westboro Baptist Church of Topeka, Kan., appeared with signs bearing messages like "America is Doomed" and "God Hates Fags." …
The father of the fallen Marine, Albert Snyder, sued the protesters for, among other things, the intentional infliction of emotional distress, and won a substantial jury award that was later overturned by an appeals court.
Chief Justice Roberts wrote that two primary factors required a ruling in favor of the church. First, he said, its speech was on matters of public concern. While the messages on the signs carried by its members "may fall short of refined social or political commentary," he wrote, "the issues they highlight — the political and moral conduct of the United States and its citizens, the fate of our nation, homosexuality in the military and scandals involving the Catholic clergy — are matters of public import."
Second, the members of the church "had the right to be where they were." They were picketing on a public street 1,000 feet from the site of the funeral; they complied with the law and with instructions from the police, and they protested quietly and without violence.
So here it goes.
Round One: Carolyn for Free Speech
Here's the thing. The minute you start limiting any kind of speech, you start limiting democracy. The slippery slope argument may be a logical fallacy but there's a reason that the First Amendment is, you know, first, and that's because it's just that important. I agree that protesting a funeral is a horrible way to cause someone emotional pain, and that the Westboro Baptist Church is a pile of toolbags. However, freedom of speech is the freedom to offend. This includes people who arguably deserve to be offended, such as homophobes and racists and sexists and members of the WBC. But it also includes everyone else.
The Supreme Court made a nearly unanimous ruling to uphold the First Amendment. Chief Justice John G. Roberts Jr. wrote,
"Speech is powerful. It can stir people to action, move them to tears of both joy and sorrow, and — as it did here — inflict great pain. On the facts before us, we cannot react to that pain by punishing the speaker."
It's also worth noting that while protesting a funeral may not be the best means of self-expression, at least it gives everyone an excellent opportunity to see just how misguided the WBC really is. Statements by WBC supporters, such as Margie Phelps, a lawyer and daughter of the founder, suggesting that God should get credit for the decision because "he has a message for this nation and from the Pentagon on down you're not going to be able to fight it," should emphasize that fact.
I am not defending the WBC, because they are absolutely vile, for 80 billion reasons. I am simply defending their right to say what they want, when and where and how they want it, regardless of who it offends. And my right to call them assholes for it.


Round Two: Carmen for Not Being Jerks
Okay, so maybe it would be unfair for me to go into this without starting with a disclaimer: I have had the free speech v. hate speech debate before, and I have no tolerance for it. Last year, a columnist at my school's paper claimed date rape was "an incoherent concept" and triggered countless survivors of sexual violence with his hateful words, all of which were a moot point – because date rape is real, and because nothing he wrote would ever change that.
That being said, I understand the importance of dissent. I dissent everyday, and I consider acts of protest, and even writing, effective ways to do that. But I think there is an important distinction between free speech and the free speech we really have here. For example, it is illegal in the United States to scream "fire!" in a public place unless it is, indeed, a fire. It's considered wrong, and with good reason – it threatens the safety of people in that space. For reference, here is a Wikipedia article on "shouting fire! in a crowded theatre."
There is no more effective argument for shutting up the WBC at funerals than that one. A funeral is a space where family members, friends, and colleagues gather at their most vulnerable to say goodbye to a loved one. It is not the appropriate space to make them feel targeted and, potentially, unsafe. The same can be said for WBC protestors at high schools and colleges. These are spaces where people should not be exposed to the kinds of actions WBC takes.
The reason this is true is because WBC is a threat to the safety, emotional and physical, of real people – and not just dead ones, or their family members. What WBC has is not "a broad message about war." What WBC has is a pile of signs filled with hate speech and the idea that gay people deserve to die. These things create violence – and therefore are not appropriate in spaces where people should be safe or protected.
Is everyone diggin' this, does it make sense? I mean look, there are limits on American free speech, even if you don't want to admit it. Editors and journalists limit free speech, and it is within their right. Members of the government exercise limited free speech. And violence, and inciting violence, is reprimanded and looked down on for groups like the KKK. So why is WBC any different?