Chaz Bono is set to appear on the 13th season of popular television franchise Dancing With the Stars, and a lot of bigots are freaking out about it and probably stocking up on canned goods for when the apocalypse begins on September 19th.
These alleged freakouts, which have been making headlines all over the internets, began on fan message boards. From JustOut:
…Bono has been the most talked-about participant on ABC's website, with many commenters voicing anger, disgust, and confusion that they may have to watch *gasp* a transgender person on television:
"HUGE HUGE fan of this show since season two and eagerly await each season to get my dancing/entertainment 'fix'!! But when I heard that Chaz Bono was going to be on, I was sick. Not that I have anything personally again her/him, I just don't want that lifestyle choice continually flaunted in the media esp ABC."
"Chaz Bono How low can this show sink. Well you have certainly addressed the gay commuity. Guess this will not be a family show any longer!!!! Lost my family!"
"YOUR choice to bring Chaz Bono into the mix goes too far. I am not about to risk the potential for on screen dialogue about sex changes and gender confusion while my 7 and 9 year old are watching. If you want the 'anything goes' hippy culture, then soon that is all you will get. You've lost us. In case any of you are wondering … no, we are NOT tolerant. We are not tolerant to allow any and all influences to come unfiltered into our home and especially to our children. This is truly a sad farewell."
The angry ABC fans appear to be in the minority, however. Supporters are speaking up, including Chaz's dance partner, Lacey Schwimmer:
"It's disappointing," Schwimmer told TheInsider.com of negative reactions to Bono posted on ABC's website and cruel jokes made at his expense on late night TV.
"No human is perfect, so why are they pointing out what they perceive to be an imperfection in someone else? It's not cool. We're all taught to not bully, or harass, and treat everyone as equals yet all these people are doing exactly the opposite," she says.
I feel a little weird about her usage of the term "imperfection," but I think in general it's clear that she's supportive, regardless of linguistic slip-ups.
Chaz's mother, Cher, has also tweeted her support of her son's involvement:
So, what's the verdict? We're at an interesting place in time now when mainstream society is becoming increasingly accepting of lesbian and gay people with remarkable speed — it seems like every month people like us more (except the GOP). But transphobia hasn't seen such a dramatic transformation, it remains alive and well and even socially acceptable. Jokes about transpeople are still fodder for mainstream entertainment and the rates of suicide, homelessness and violence against trans people remain astronomical.
So I venture to suggest that the media reaction to Chaz Bono's casting has still been largely positive and slightly encouraging. The outraged message board posters don't concern me, really — anonymous internet commenters represent a relatively douchebaggy segment of society no matter what the topic is (not on this website, however!).
The fact remains that Cher and Chaz's dance partner stood up for him and that Dancing With the Stars is apparently unafraid of potentially losing advertisers by casting a trans man. Regardless of how you feel about Chaz Bono's position as a de facto trans representative , I feel like this casting decision will do more good than harm.
I'm interested in what you think about all this but before I turn it over to you, I thought I'd take this opportunity to publicly share those present and former Dancing With the Stars contestants who I feel have pushed an unfair agenda onto my unborn children.  You know, while we're on the topic of "things I don't want to see on my teevee screen."
AHEM.
Dancing With the Stars Contestants Who Have Pushed an Unfair Agenda Upon My Unborn Children:
+
Mike "The Situation" Sorrentino of Jersey Shore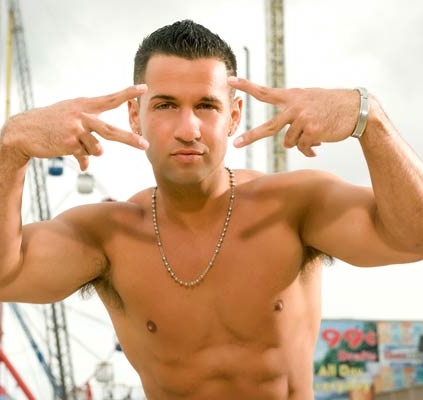 ++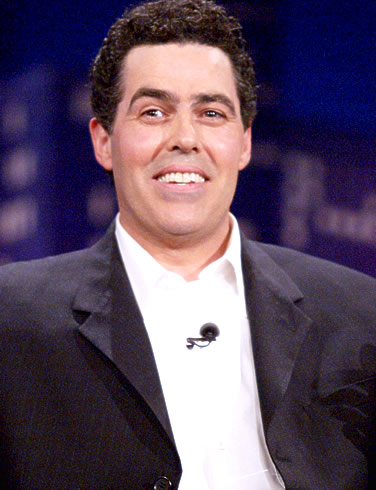 +

+
Tucker Carlson
+
And finally…
Tom DeLay
DeLay is literally a repulsive human being who, in addition to being homophobic, racist, and anti-choice, Delay is partially responsible for the entire financial meltdown of the entire fucking United States of Fucking America!