The National Gay and Lesbian Task Force has just released a comprehensive new report on the depth of discrimination against trans and genderqueer people. The fact that it's titled "Injustice At Every Turn" is, unfortunately, an accurate summary of its contents. (The executive summary and full report are available online.) This is the first national large-scale study ever of discrimination against trans and gender nonconforming Americans, and while we knew the situation was dire, it turns out that "extremely" or "impossibly" dire might be closer to the truth. Some key findings:
+ Respondents were nearly four times more likely to live in extreme poverty, with household income of less than $10,000.
+ Respondents were twice as likely to be unemployed compared to the population as a whole. Half of those surveyed reported experiencing harassment or other mistreatment in the workplace, and one in four were fired because of their gender identity or expression.
+ While discrimination was pervasive for the entire sample, it was particularly pronounced for people of color. African-American transgender respondents fared far worse than all others in many areas studied.
+ Housing discrimination was also common. 19% reported being refused a home or apartment and 11% reported being evicted because of their gender identity or expression. One in five respondents experienced homelessness because of their gender identity or expression.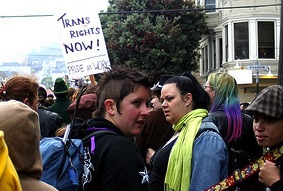 + An astonishing 41% of respondents reported attempting suicide, compared to only 1.6% of the general population.
+ Discrimination in health care and poor health outcomes were frequently experienced by respondents. 19% reported being refused care due to bias against transgender or gender-nonconforming people, with this figure even higher for respondents of color. Respondents also had over four times the national average of HIV infection.
+ Harassment by law enforcement was reported by 22% of respondents and nearly half were uncomfortable seeking police assistance.
+ Despite the hardships they often face, transgender and gender non-conforming persons persevere. Over 78% reported feeling more comfortable at work and their performance improving after transitioning, despite the same levels of harassment in the workplace.
There is no way to spin these results so that they're good, or downplaying what trans people have to put up with from cis straight and queer people every day. The only good thing one can possibly say is this: knowing how bad things are, we can swear to ourselves and each other that this is the worst they'll ever be. Rea Carey, NGLTF Executive Director, said that "by shedding light on the discrimination that transgender Americans face, this study poses a challenge to us all."
Proof can translate into accountability. Evidence that 1/5 of trans people have been homeless is what we need to pursue fair housing legislation. Knowing that every possible metric by which one could measure quality of life is worse for trans people of color than it is for virtually any other demographic means that we commit to ending racism, both institutionalized and individual, in our communities and in ourselves. This isn't just a study; this is a call to action. It's all of our responsibility to answer it. Here's a place you can start.