BUTCH PLEASE is all about a butch and her adventures in queer masculinity, with dabblings in such topics as gender roles, boy briefs, and aftershave.

Header by Rory Midhani
---
There are three interview outfits in my closet.
The first outfit is a black suit from the mens department at H&M. I pair it with my favorite skinny tie. I purchased it in parts because I couldn't afford to buy it at once, so none of the parts were technically meant to go together. On my body, they do. I credit my strange knack for making my wholes from odd ends.
The second outfit is a dark blue blazer and pressed shirt, but the blazer is cut for a lady and would probably look nice with gold jewelry. I keep reminding myself to pick up earrings or a necklace when I have the money to shop for clothing. I never remember, because trying to shop for jewelry feels like trying to finish a conversation with a version of myself from five years ago, and I wasn't very talkative that year.
The third outfit is a dress. I've never tried it on, not even in a dressing room. It's there as a kind of emergency switch, a fire extinguisher, a hazmat sut. In case of very desperate times, break glass.
I went for the second choice on my latest interview. I took out my single earring so this time the interviewer wouldn't touch my shoulder as I was leaving her office and ask me if I'd lost an earring. No, I didn't say, I like wearing a single earring because I'm fascinated with the kind of nineties teen heartthrob masculinity that I was socialized to adore, and I like all the ways it allows me to play with a certain kind of vulnerability in my gender expression. Instead, I said absolutely nothing, smiled, and didn't get the job.
For this interview, I wore a pair of Oxfords from Target. Women's shoes, with bright pink soles. My mother paid for them out of sheer excitement that she could buy me something from the women's department and know I'd actually wear it. Unfortunately, the pricetag and the pink soles should have tipped us both off. I was mentally cursing like a sailor as I limped up and down Market Street. The soles of those shoes were soft plastic and my toenail was so pinched that I'd later learn it had turned black and fallen off. When I finally found the elevator and let my foot rest, I expelled a stream of expletives that would curl my grandmother's ears, and I can tell you that my grandmother had no trouble expressing herself when needed. I have fond memories of being picked up from school, and Grandma hissing "Cover your eyes, baby" while she flipped off the car she was cutting off in an illegal turn. I try to call on her spitfire nature in moments like interviews , but she's a pretty monumental spirit to summon.
Despite a noticeable limp, I thought things were going pretty well. I typically enjoy things like interviews: I'm a Leo and an ENFP, if any of those things matter to anyone else, and as a result, my people skills can outweigh my anxiety when needed. I was smiling, nodding, taking notes to show that I was serious about the position. I was asking all the questions I've become practiced in asking, the ones that show I'm paying attention and interested in doing the best job possible. After a while, though, I noticed that the interviewer wasn't making eye contact with me. She was making eye contact with my hair.
Let me talk about my hair for a hot second. I have a lot of it. When I was little, there was even more of it, and my dad learned to braid so I could wear it in a form more fitting for the kindergartner who couldn't give less of a shit about brushing her hair. This trend continued until I cut it all off four years ago, when a magical transformation occurred. I became an utter and complete diva about my hair. My morning hair routine is a half hour at the very least, with that time often stretching into an hour or two if I'm going for something particularly difficult. I blow it out, wax it up, and treat it like my baby. I take great pride in my 'do not only because it is my singular point of vanity, but because it communicates more than a few things about my gender and sexuality. Perhaps our world is a shallow place because we tend to assume things based on haircuts and jeans fit, but I've grown to a state where I don't mind my hair doing the introductions for me. In this case, though, my hair seemed to be talking over me at a high and frightening volume.
I continued to make intense eye contact with my interviewer, concentrating to the point of not blinking. I probably looked ridiculous. To her credit, she did sometimes look down, but it was usually to take in my tie, skipping my face altogether. By the time the interview was over, my eyelids were dryer than a desert. A handshake, another in a series of once-overs, and then I was directed back to the elevator.
I did not get the job.
As you have probably guessed, I am currently in the business of trying to work for a business. By business, I mean any entity that will pay me in a semi-steady amount to cover my rent, student loans, and the other expenses I have factored into a Google document budget that is permanently open in my tabs. I'm lucky to live in a city where being poor is not necessarily a death sentence, but a kind of camaraderie that makes me feel like all of our hunched shoulders on the trolley are a garden bed rather than a cemetery.
Philly is cheap, cheaper than Boston and New York certainly, cheaper than the places I could never live because the amount of money in my bank account wouldn't last long enough to keep me fed or under a roof. I have heard many critiques of this city, and I'm the first to admit that some of those critiques hold water. The thing is that the rest of those critiques seem to be about how Philly is "ugly" or "dirty", and I get a bit defensive. See, it's the dirt and rust that I like best. There's a way in which the rough edges of Philadelphia are close cousins to the sagging barns and abandoned hunting camps I built forts in as a kid. I grew up next to a stream that acted as the town dump in the twenties and thirties, and the beauties we dredged out of there every summer solidified in me a desperate ache for broken glass and imperfect shapes. What I've found in life is that I don't trust anything or anyone without visible cracks.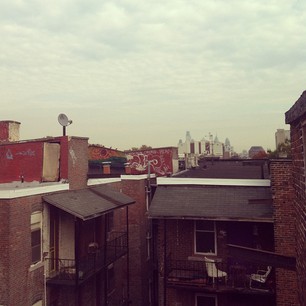 So maybe it's strange of me to go into interviews with all my cracks patched or hidden under layers of very uncomfortable clothing. Strange of me to consider my queerness one of those cracks, but I strongly believe that cracks are where the light gets in and the light shines out, and my queerness is the source of both.
I don't need to tell you about the economy, that doors are closed to a lot of people for a lot of reasons, and the way our society works in regards to who gets opportunities, who gets money, who gets the jobs and holds the power is a system that infuriates me like nothing else. Being a gay person trying to survive in this society means that your existence doesn't really follow the rules of society to begin with, so that whole survival thing? It can get a little complicated.
I don't think there's a single queer person who hasn't struggled with their identity at the workplace. Figuring out if it's safe to come out to bosses and coworkers; wondering if you're supposed to call out homophobic jokes at work of if you need to silently tolerate so no one figures it out; deciding if you can be upfront during an interview or if you need to hide yourself to get the job: all valid and common experiences of a homo at work. I've always been Machiavellian about these things, since the ends (getting paid, being able to survive) justify the means (having to hide or tone down my identity, compromising my integrity) to me, but I acknowledge that it's still a constant and complicated struggle.
The thing is that I'm on my fortieth job application. A few interviews have come out of those applications, but not many. I've received feedback that says I'm overqualified, underqualified, or lack the years of experience they're looking for at their company. They sometimes mention that if I'd like, I can apply for their internship like the other college grads, but I'm not sure why so many employers think that an unpaid full-time internship is something all college grads can afford. Yes, I have certain privileges for which I consider myself extremely lucky, like a college degree and a current roof over my head, and by no means am I arguing that my lack of a job is simply because I am gay. I am saying that queerness and the workplace intersect in distinct ways, and the process of entering the workplace itself has proven to have a volatile relationship with my self-expression.
I've reached a point where my faithfulness to my identity no longer feels unfailing, but something I know I might have to put aside to survive. Do I want to work in a place where my butchness won't be accepted? Under most circumstances, no, but I feel that I don't have the luxury of that choice anymore. I worked in the tourism industry for six years; I know how to take shit treatment with a smile so there's a tip attached. The final outfit in my closet starts to look like a viable option.
What are we willing to compromise to get what we need? As a masculine person with their own body issues, I joke that it would take apocalyptic circumstances to get me into a dress. The funny thing is that the world is supposed to end in another week, and I'm going to need a job by then.
I met up with Jaie the other day, a wonderful fellow butch who I met through this column and who coincidentally lives a few blocks from me. We were talking about our recent adventures in the world of employment, and she mentioned having to borrow pearls and a woman's suit to wear to a job interview, despite being a good old-fashioned masculine-presenting butch. It made me think of all the times I and other butches I know have "borrowed pearls" to get jobs, to avoid harassment, to slip through a crack in the system. We've patched up the things that otherwise define us, the identities we've given life and limb to protect and preserve. A necessary sacrifice, maybe, but a tough one nonetheless.
I'm proud of us for all the pearls we've borrowed. I'm proud of everyone I know who's shuddered their way into a dress, or flinched in an outfit that would put food on the table. I hope you're proud of your borrowed pearls, too.
---
Special Note: Autostraddle's "First Person" personal essays do not necessarily reflect the ideals of Autostraddle or its editors, nor do any First Person writers intend to speak on behalf of anyone other than themselves. First Person writers are simply speaking honestly from their own hearts.