BUTCH PLEASE is all about a butch and her adventures in queer masculinity, with dabblings in such topics as gender roles, boy briefs, and aftershave.

Header by Rory Midhani
---
This butch has a heart like a 747 leaking engine fuel all the way down the runway.
My emotional state likes to vacillate between Antarctic Freeze and Flaming Hundred Car Highway Pile-up. Sometimes it feels like the things that move the world to sobs leave my eyes dry, and then I'm walking down the street and out of nowhere a fastball of feelings rips through my chest. I retreat to some hidden place well out of the public eye, and I break down. I lock the door on friends, lovers, people who have shed many a tear on my bony shoulders, and I give in to my own private flood of tears. It's lonely, it leaves the heart feeling hollow, but it's one of those strangely common practices that I've heard fellow butches refer to as a "butch thing."
"I'd let you see me cry, honey," my friend said to her high-heeled, high-coiffed girlfriend, "But it's a butch thing." We laughed because it sounded like a bad movie tagline, but we also laughed because it was true, and sometimes the truth is so sad you have to laugh at it.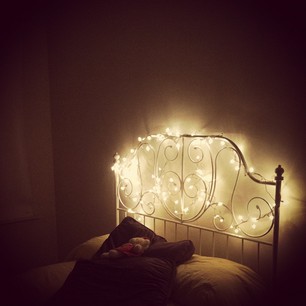 Why, as a butch, don't I feel entitled to my emotions? When I'm crying, or trying to cry, or trying to figure out why crying feels so damn awful, my body instantly takes on the role of traitor. I get angry at myself for having feelings this big to begin with, and then I wrestle for a few hours with the unique mixture of self-loathing, rage, and sobbing. I've downed that particular cocktail more times than I'd like to admit, and it's not getting any sweeter, especially when it's spiked with precious butch tears. Those rare gems are too rare, and I'm still trying to figure out why it feels so wrong to shed something that's so beautiful.
I had many dedicated teachers of femininity – my mother and grandmother, my Catholic school education, my culture – but masculinity I had to learn on my own. The examples I grew up with said that a real man can shut up and take it. All the fathers in my life have been men's men, and their idols were the kind of men who could get it done the first time. Their masculinity had scarred knuckles and smelled like tobacco and woodsmoke and car grease, and I used to fall asleep in that musk when I was still small enough to fit under my grandfather's chin. Johnny Cash solved his daddy issues by beating his daddy in a fistfight. I don't think John Wayne knew how to smile. I've only seen my father cry once in my entire life, and my grandfather went to the grave having only shed one tear in front of me.
I know all the markers of their masculinity: flannel shirts, work boots, pocket knives. I bear these markers as well, and sometimes it's strange that people interpret a lot of the things I wear as hipster fashion; looking like a working class mountain man was the legacy of my father, my grandfather, my uncles and cousins, not Urban Outfitters. Their legacy was also being proud of black eyes, swinging a fist instead of talking it out, and not talking about their feelings.
I grew up with guns in the house, over the mantle and in the cabinet, and I knew them as things that were for solving problems as well as sport. As an adolescent, I ran to keep up with these men in my life, ecstatic to get my own jackknife, to fight with big sticks, to emulate them despite the fact that being a masculine girl was the worst thing anyone could think of in our town. Their ability to do as they pleased, to be unaffected by so many of the things that ruled my existence, was enviable. Masculinity seemed like a blissful escape from having to wear itchy dresses, from not being able to go certain places and crying when I finally got my period. And cry I did, even though the magazines I read told me that things my body did were embarrassing.
Boys don't cry, and girls cry too much, so what's a butch to do?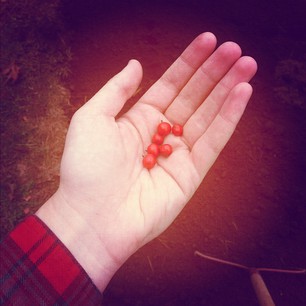 Society deems that masculinity is dominance, power, and control, especially over one's emotions. Females are emotional, and thus emotions are representative of weakness, of an absence of control, and thus power. It's too easy to internalize that our emotions are signs of weakness, and in order to properly perform masculinity, we have to perform power, too. Well, I'm done with that bullshit. I hereby declare a moratorium on my emotions communicating some kind of weakness. If I get to pick and choose the ways in which I embody masculinity, then I refuse to embody a masculinity that would consider femininity weak in any way, that places power in the hands of certain kinds of people. That brand of masculinity is the same one that promotes misogyny, empowers bro culture, and treats femmes as lesser. I want no part of it.
I'll shed my butch tears with pride, thank you kindly.
I wrote a Tender Butch Manifesto the other night, because Tender Butch feels like a more and more relevant label for what I am, what I'd like to be, what I think is a much healthier alternative to seeing emotion as weakness. I'd like to share it because it empowers me, and I hope it empowers you too:
FOR ALL MY BUTCHES WITH HEARTS ON THEIR SLEEVES
WHETHER THAT SLEEVE IS ROLLED UP FOR HARD WORK
OR CUFFED WITH LACE AND GOLD
WE WILL NOT BE ASHAMED OF OUR TEARS – CRYING IS HARD WORK TOO
WE HAVE HEARTS AND WE WILL USE THEM
WE WILL NOT BE IMMUNE TO OUR FEELINGS
WE WILL BE SENSITIVE
WE WILL BE SENTIENT
OUR EMOTIONS ARE POWERFUL AND WE WILL ALLOW THEM TO OVERWHELM US
OUR FEELINGS ARE BEAUTIFUL WEAPONS
OUR MOODS ARE MEANT TO BE FELT AND KNOWN
THE OPPRESSORS CANNOT ABIDE A BUTCH WHO FEELS DEEPLY
WE WILL CRUSH THEM WITH THE INCREDIBLE STRENGTH OF OUR LOVE
OUR MASCULINITY IS NOT THE STRONG AND SILENT TYPE
OUR MASCULINITY IS STRONG BECAUSE OUR SOBS ARE LOUD AND SHAKE THE EARTH
WE DO NOT TOLERATE MACHO BULLSHIT IN OUR RANKS
WE DO NOT TOLERATE MISOGYNY IN ANY FORM
WE WILL NOT PARTICIPATE IN BRO CULTURE
WE WILL NOT ALLOW OUR PEERS TO TREAT OTHERS AS ACCESSORIES
WE ARE NOTHING WITHOUT INTERSECTIONALITY AND AWARENESS
WE FUCK CONSCIOUSLY
WE FUCK SENSITIVELY
WE'RE NOT ASHAMED TO CRY BEFORE OR AFTER OR DURING SEX
BECAUSE SEX IS BEAUTIFUL AS FUCK AND LIKE HELL WE'RE NOT GOING TO MARK IT WITH TEARS WHEN THE TIME COMES
WE WILL BE TOPS AND BOTTOMS AND BEINGS OF SQUISHY PERFECT PLEASURE AND STILL BE BUTCH
OUR BUTCHNESS IS TENDER AND BEAUTIFUL
---
Special Note: Autostraddle's "First Person" personal essays do not necessarily reflect the ideals of Autostraddle or its editors, nor do any First Person writers intend to speak on behalf of anyone other than themselves. First Person writers are simply speaking honestly from their own hearts.