Before we hop into the TV, did you know you can get 25% off everything in the Autostraddle store today through Monday? 40% if you're an A+ member! Okay and now let's hop! This week, Carmen interviewed Lena Waithe!!! Carmen also recapped Twenties, reviewed Gentefied, and reviewed Halle Berry's Bruised, AND reviewed Tessa Thompson's Passing! (All on "vacation," by the way!) Sally brought us one final update from Dancing With the Stars. Kayla recapped the first two episodes of Yellow Jackets. Nic recapped Batwoman. Valerie Anne recapped Legends of Tomorrow. And Drew ranked Elliot Page movies by transness.
Notes from the TV Team:
+ I am following Wheel of Time very closely and will be bringing you a standalone post of gayness very soon. — Heather
+ Still not quite enough to report back on re: The Flash's ARMAGEDDON but the team did call Alex (Kara and J'onn are apparently "off-world") so hopefully soon we'll have some fun gay shenanigans to talk about. — Valerie Anne
---
All American 405: "Can It All Be So Simple"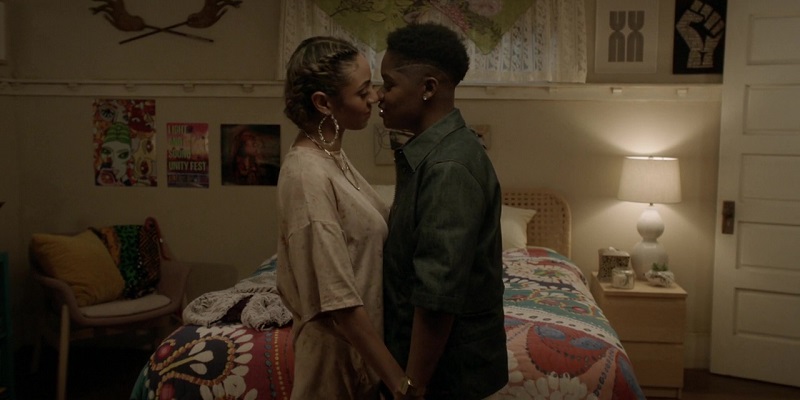 Last week, as Coop beefed with Layla over another artist using her music, she criticized Patience for not taking her side. At the time I thought it weird that no one mentioned that Patience was also one of Layla's artists and that jeopardizing Layla's business meant endangering Patience's own career, so I convinced myself that I was misremembering. Maybe Patience hadn't signed with Layla? Maybe it was just something I thought happened but didn't, like season six of The L Word? But, apparently, I wasn't wrong: All American was just waiting a week to use Patience's career as a plot point (again).
Patience is putting the final touches on her album and Layla is loving the results…so much so that she recommends pushing up the release date and replacing Coop on a headlining tour. Patience questions if she's even ready for that but Layla assures her that she is. Layla reminds Patience that she's been building her buzz by opening on Lil' Jewel's tour and now there's an opportunity to take advantage of her hard work. Patience is ambivalent about taking a slot that was meant for Coop but Layla's unsympathetic. She reminds Patience that she's running a business and gives Patience 48 hours to make a decision about the tour.
The next day, Coop's babysitting Amina (Mo and Preach's daughter) when Patience interrupts. After Amina scurries off, Coop asks Patience about her music and she downplays her success. Olivia overhears and corrects the record: Patience's album is great and the fans will love it when she goes out on tour. Olivia quickly realizes that she's let the cat out of the bag but Patience insists she was just about to tell Coop about the tour. Again, Patience minimizes the details but still rushes away from the growing tension as soon as she possibly can.
Later, Coop stops by Patience's house and apologizes for making it hard for her to celebrate what's going on in her career. Patience insists that Coop wasn't making it hard, she was just trying to be sensitive because of all that Coop's lost. Coop assures Patience that she doesn't need to walk on eggshells with her and she absolutely should headline the tour. The couple embraces and Patience invites Coop to join her on tour. She admits that things have been a little off lately and being alone together on tour would give them the time and space to do that.
"I love you but I can't leave Amina right now. I'm the reason her mom is dead. She needs me and I owe that too her," Coop answers and Patience immediately pulls away from her. Patience shifts from her usual warmth to all business and agrees that "we have to do what we both have to do."
And personally, I'm hoping that what Patience has to do is break up with Coop because she deserves so much better. Patience was truly right when she said, earlier this season, "the person to blame for all the drama that follows Coop around is Coop." When Mo's devil spawn, Amina, finally gets the revenge she's seeking on "the grim reaper of the hood," Coop will have brought it on herself.
---
New Amsterdam 410: "Death Is the Rule. Life Is the Exception"
"How much did you spend?" Leyla asks.
This week's New Amsterdam doesn't offer us a second of reprieve — no moment of warmth — it just hits us, straight out the gate, with the secret that's been hanging over our favorite couple the entire season. Oh, happiness…it was nice while it lasted.
Lauren doesn't catch on to what Leyla means at first so she clarifies: "How much did you spend to buy my residency?" And that's when Lauren's panic sets in. She tries to deflect but Leyla remains firm, asking about how big a bribe Lauren paid. Lauren insists that she didn't bribe anyone, she just made a donation to the hospital, but Leyla sees a distinction without a difference. Lauren defends herself by suggesting that she was just righting wrongs: the wrong that Leyla had to repeat her residency and the wrong that caused the dean to dismiss Leyla's application in the first place. And while I know that Lauren messed up here, I feel a bit of sympathy for her because she's not wrong.
Leyla, however, is unmoved and asks again how much Lauren spent. Lauren confesses that she donated $90k — which, frankly, is a bargain — and insists that she did this for Leyla and for them. Iggy interrupts with hospital gossip and it gives Leyla an opportunity to escape before she cries in front of everyone. Left alone in the office, the panic plays out on Lauren's face.
A bacterial outbreak at the hospital keeps the couple apart for most of the day but when the day's over, Lauren greets Leyla as she walks out of the hospital. Still not over it, Leyla calls Lauren out for lying to her, as she'd asked Lauren directly if she had a hand in securing the residency. Lauren assures Leyla that she earned her spot and that her only role was helping others see how deserving she was.
"If I hadn't, I mean, you'd be half way across the country. You'd be gone. We'd be over," Lauren admits. "Leyla, I would write a million dollar check to keep us together."
And that's the thing: because Lauren didn't do this for Leyla, she donated the money to save their relationship. And for someone who grew up like Lauren did, throwing money at something may look like love, but as Leyla points out as she walks away, "That's not love."
---
Riverdale 602: "Ghost Stories"
Welcome back to Riverdale — ahem, RiverVALE — where ghosts are doing lil ghosty things and also where I'm simply beginning someone, anyone, to turn on like one light? Okay, I know the whole dark colors + neons + soft lamp light thing is the show's Aesthetic, but I literally cannot see anyone. It's reminding me of trying to make Vampire Diaries gifs for tumblr in like 2011-2012 and needing to bump up that brightness just to be able to see people's faces!!!!!!!
Anyway, sometimes you just gotta go to your ex-girlfriend's haunted estate to do a seance to summon a vengeful spirit who is trying to kill your baby because you accidentally lethally knifed a boy in the heart during a gang brawl, you know? That is indeed what Toni Topaz finds herself doing in "Ghost Stories," Riverdale's take on La Llorona folklore. The episode opens with a street fight between the Serpents and the Ghoulies, and apparently Toni is still moonlighting as a gang member, because she's right there in the thick of it, throwing a knife in, according to her, an attempt to wound rather than kill. Seems dicey!
The dead boy's mom inexplicably waits three months and then summons La Llorona. Riverdale's iteration of the weeping woman is a veiled presence who lives in Sweetwater River. Once summoned, she gets down to standard La Llorona business: killing children. She attempts to drown Juniper and supernaturally terminates Betty's pregnancy. (Reminder: Last episode, Betty became pregnant with Archie's child with the help of Cheryl's magic? Shortly before Archie was then blood sacrificed for the sake of the town's fertility in both a literal baby sense but also in terms of its maple supply? Anyway, the blood sacrifice did work: The maple is plentiful once more, and Cheryl and Nana Rose enjoy maple-infused brandies in this episode.)
La Llorona is mainly after baby Anthony. And during a seance at Thornhill, they learn La Llorona used to be a woman named Martha Mallon, who was a nurse in a maternity ward in Rivervale's first hospital. She was blamed for the high mortality rate of children in town, so a bunch of townsfolk drowned her and her children in Sweetwater River.
I'm still digging Riverdale's all-out plunge into the fantastic! The show has always had a tenuous grasp on logic and laws, so let's let go altogether! Apparently, this whole Rivervale experiment is slated to be a five-episode event. And I have a theory: I think they're going to kill off a main character in every installment. Because while Toni does not technically die at episode's end, she does trade places with Martha, becoming the new cursed weeping woman.
Elsewhere, Reggie's having an affair with a car. Or, more specifically, a car reminds him of his former driver's ed teacher, who was apparently accused of having inappropriate relations with students. I'm not sure if Veronica lecturing Reggie on the toxicity and abusive nature of a student-teacher relationship is Riverdale's attempt to atone for Ms. Grundy in season one or what! But Reggie says the driver's ed teacher was merely there for him when he was being abused by his father (who dies in this episode) and nothing inappropriate happened.
Jughead and Tabitha have a ghost story of their own. Specifically, a couple — named SAM AND DIANE — died in their apartment. More specifically, Diane brained Sam with a hammer and hung herself. Jughead and Tabitha's typical domestic squabbles (Tabitha feels undervalued since she works all day and Jughead…stays home to NOT write; Jughead feels pressured by Tabitha; Tabitha doesn't like it when he leaves the cap off the toothpaste?; etc.) take on a sharp edge when it starts to seem like they might be becoming Sam and Diane. Riverdale leaves it somewhat up in the air whether they're actually being possessed/influenced by the ghosts or just falling into bad patterns together and then projecting the ghost stories onto themselves — a creative choice I'm into! But seriously, these two are…not great together. They have their first real fight, and it's bad! And it ends with them saying "I love you" for the first time? Seek help!
---
Nancy Drew 307: "The Gambit of the Tangled Souls"
This week, Bess takes George's advice and asks Addy for that second date, but almost as soon as Addy agrees, she has to reschedule because George needs Bess's help with some soul splitting. When Addy makes an offhand remark about it being an ex, Bess can't help but think of Odette and can't honestly deny the accusation, and Addy is pretty bummed about it.
As Bess takes care of George as she goes through the soul splitting journey and Odette comes out one last time, and Bess starts to panic about this whole plan.
Back at the youth center, Addy is becoming her own character outside of Bess and talking to Nick about processing his trauma, and says that a period of time where she unplugged helped her gain clarity.
When Nancy and Bess realize that they'll have to destroy a crystal that houses Odettes's soul, Odette begs Nancy to help her find another way. She was holding onto a secret hope that maybe somehow they could get Odette back someday, so she could live her best gay life, but Nancy says it's time for Odette to move on.
Bess panics and takes off with the crystal, and when Nancy finds her and apologizes for not considering how hard this would be for Bess. But with some convincing, Bess says goodbye to Odette and smashes the crystal, bringing George back to life. Bess feels like a bad friend, but Nancy understands and so they don't tell George when she wakes up.
Bess buries the Odette crystal where the lilacs bloom in spring, and promises her that her story won't be forgotten. She asks for a sign that Odette is at piece, and at that exact moment, Addy shows up, and they plan a proper second date.
---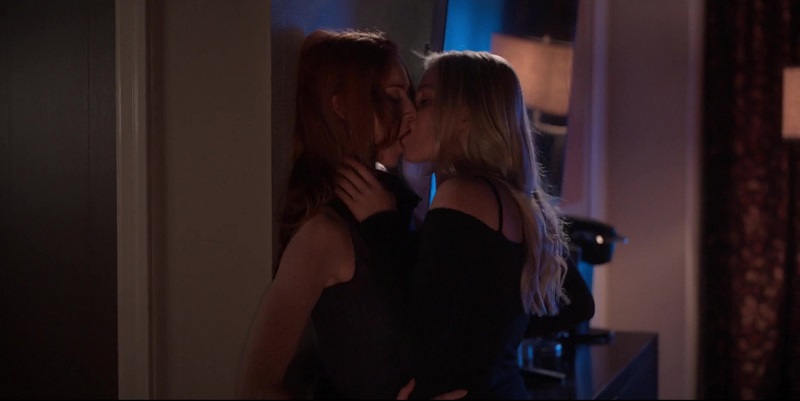 Leighton Murray had it all planned out: she'd join her brother, Nico, at their father's alma mater, Essex College, and she'd spend her year living alongside her high school besties. But you know what they say about the best laid plans: when Leighton arrives at Essex, she greeted by a trio of strangers — Kimberly, Whitney and Bela — and rushes out to figure out how this mix-up happened. Her high school besties, Esme and Francesca, feign dismay but a trip to the housing office reveals the truth: both of Leighton's so-called besties explicitly asked not to room with her. When Leighton confronts Esme and Francesca about their deception, they admit that they were never really friends.
"The truth is, we never really felt like we knew you," Esme confesses.
"Yeah, you were always so secretive or something. It was like being friends with a stranger," Francesca adds. Leighton pushes back, insisting that she shared everything with them, but Esme and Francesca recall their history differently: it's like a wall existed between them. Dismayed, Leighton flicks them both off and storms off but later it's clear that she's hurt by her friends' betrayal.
The thing is? Esme and Francesca weren't wrong.
Even in her dealings with her new roommates, Leighton is cold and dismissive. The Regina George of Essex College (Leighton's portrayer, Renee Rapp, played the mean girl on Broadway, coincidentally). When her brother, Nico, encourages her to be civil to her new roommates, Leighton tries to make amends — buying them iPads and offering them "sage" advice — but when they decide to go to a fraternity party together, Leighton's wall goes up.
Behind that wall, Leighton's finding women to hook up with on a Tinder-like app: the first, a sexy red-head at a nearby casino, the second, a realtor in her mini-van, in between showings at one of her listings. The realtor, Chloe Wright, confuses the hook-up for a first date, asking Leighton about her Essex keychain and stumbling onto the fact that Leighton's still in the closet. She encourages Leighton to come out, assuring her that it's worth it, but Leighton is unmoved.
"I don't want being gay to be my identity, I like my identity. I don't want to be the gay Kappa girl or the lesbian cousin. I don't want to be other, I just want to be me," Leighton insists.
Chloe continues to push but Leighton reminds her that this was just supposed to be a hook-up and escapes the mini-van. Later, Chloe calls to check on Leighton and promises her that it gets better. Leighton scoffs, dismissing Chloe's PSA, and asserts that she's absolutely thriving. Chloe points out that Leighton is living a lie and Leighton assures her that she knows that.
The Sex Lives of College Girls is the latest creation from Mindy Kaling and Justin Noble. The pair last worked together on Never Have I Ever and you'll notice a lot of the same archetypes reappearing here. But Sex Lives is risqué in a way NHIE can't be, thanks to the college setting. New episodes of Sex Lives are available Thursdays on HBO Max.