Fall TV is creeping closer so I hope you're ready for our annual Queer Fall TV preview and also a post called MAKE IT GAY YOU COWARDS about all the shows that should be gay. This week Riese remembered when Madonna kissed Britney and Christina, Heather remembered Princess Bubblegum and Marceline's best moments, Carmen and Natalie discussed season three of Queen Sugar and Nova's silent bisexuality, Valerie Anne recapped Wynonna Earp, and we all banded together to give some of our favorite TV characters a little bit of advice.
Here's what else!
---
WHY. WHY!!! WHY?!
Actually, hang on. Younger goes to Fuckfurt (TM Martha Plimpton) for the penultimate episode of season five and Diana shines brighter than the sun, performing Cabaret and looking sexy as all hell and is if that weren't enough you have to read this interview with Miriam Shore who might actually be Diana Trout. She went to the head of TV Land to ask him to take the show to Italy this year because she speaks Italian and also hated not getting to go to Ireland last year! They went to Germany instead because of stupid Charles, though. Speaking of which: Charles has thrown a hail Mary bringing them all to Europe because there's only three months of money left to cover Empirical's operating costs and he needs some international investors. He gets some maybe, and then gets some definitely from Liza who decides to go to work for Martha Plimpton so she can bone Charles and get out from under her secret. But it breaks Kelsey's heart when she tells her! She says they were supposed to be in this together! And yes the lying and Liza's terrible relationship choices have been a real pain in her ass but they're best friends! I guess in the finale we're going to find out if it really is ovaries before brovaries for Liza.
Back to my flip out: Malkie and Maggie JUST GOT BACK TOGETHER and immediately Malkie reveals that she wants to have babies, and Josh of course volunteers to be the sperm donor. Maggie cannot believe she's hearing this, and frankly neither can Lauren, who warns against lesbians having babies because they're just going to be straight probably. "It's like mice having a litter of kittens," she explains. "Sure it's cute at first, but they're going to turn. They're going to turn!" I don't know if Maggie and Malkie will survive this baby reveal, but I do know I'm suddenly hardcore shipping Maggie and Lauren again!
---
Burden of Truth 101-105
This summer, Burden of Truth, the Canadian legal drama that aired earlier this year on the CBC, is getting a second life on the CW. The show itself feels very off-brand for the network — though it stars and is produced by CW alum, Kristin Kreuk — but given that it features an adorable pair of baby gays, it's very on brand for Autostraddle, so let's dig into this series.
When girls start to fall ill in the sleepy Canadian town of Millwood, townfolk begin looking for a culprit. Initially, they target one common link between the victims — the HPV vaccine — and the smalltown lawyer, Billy Crawford, sets his sights on the pharmaceutical company behind the vaccine. The company sends their high-powered lawyer and former Millwood resident, Joanna Hanley (Kreuk), to squash the lawsuit and to get the girls' families to sign indemnity agreements. But before the ink can dry on the contracts, another girl falls ill… this time, right in front of Joanna.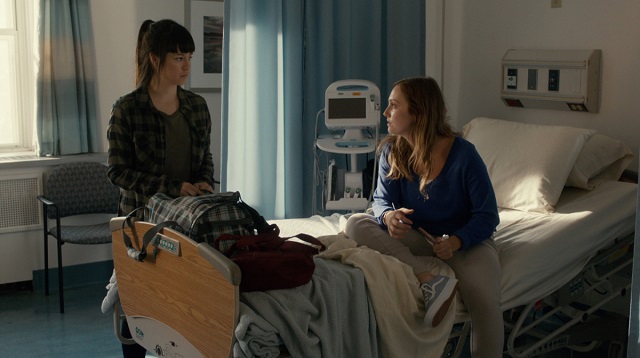 The newest victim of this unknown illness? Molly Ross (Sara Thompson), Billy's niece. When Joanna worries that that this might revive the case against her clients, Molly's girlfriend, Luna (Star Slade), steps in to tell her that they never got the vaccine — because they're lesbians which is an actual thing — and they'd lied about it to keep their sexuality a secret. While the revelation absolves Joanna's client of wrongdoing, she decides to stick around and work with Billy to find the true culprit.
Though Molly's quickly released from the hospital, this illness — whatever it is and whatever it's caused by — has changed her whole life. She was once a star athlete, already garnering attention from universities for her prowess on the soccer field, but how she's suffering neurological deficits: twitching, the inability to control her hands and the occasional seizure. Luna's there to comfort Molly but she doesn't crowd her; instead, Molly leans on this unwitting sorority — the twitching girls of Millwood — to grapple with her new reality. Meanwhile, Luna gets herself hired as Joanna's assistant and works to help Molly that way. Luna and Joanna build a great rapport and, the exposure to environmental law has Luna thinking about a new career path.
There's something beautifully simple about the relationship between Molly and Luna. Even as they deal with the fallout from Molly's illness, their relationship imbues this show with joy and life. They hold hands, they kiss by their lockers, they hang out and drink with their friends, they plan for their future… they are typical teens as everything else around them is surreal. What makes this relationship particularly noteworthy, though, is that it features a First Nation lesbian character which is a rarity on television (only The Killing and the forthcoming season of American Gods have featured First Nation lesbian characters). Luna's lineage becomes its own storyline in the show, as she heads to Long Grass First Nation with Joanna, against her mother's wishes, to celebrate her kookum's birthday.
There's a thin veneer of homophobia in Millwood — in the most recent episode, when the town pastor links the girls' illness to sinning, it's hard to believe he's not talking about Molly and Luna — but the more blatant discrimination that Burden of Truth showcases is about these girls and their illness. Families in Millwood are afraid of what's affecting these girls…worried that it might be communicable…so the girls are bullied, ostracized and threatened with suspension and expulsion at school. And when the danger to those families becomes not just about health but also about their livelihoods — the town's largest employer is likely responsible for poisoning the girls — threats turn to outright violence.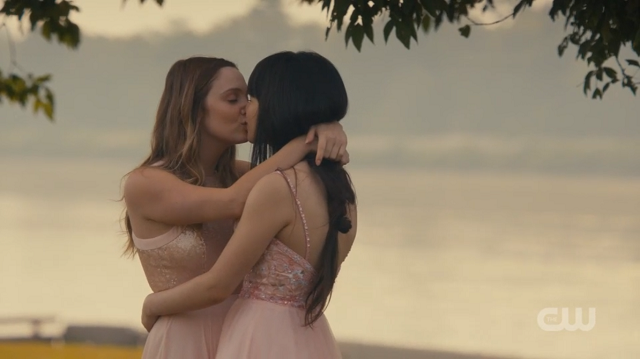 When the principal bans the sick girls from attending the prom, they show up anyway, dressed to nines and ready to enjoy a rite of passage. When some classmates try to block their entry, a fight breaks out and Luna is detained by the the police. Molly works quickly with her uncle to set up an alternative prom for all the "good peeps [and] none of the haters" at the local watering hole and the girls get to enjoy one last carefree night.
Five more episodes of Burden of Truth are left to air on the CW this summer, so it's a nice way to fill your television watching schedule between now and the start of fall TV.
---
Quick Hits
Killjoys Episode 405: "Greening Pains"
Delle Seyah and Aneela have been separated this season, but our girl Kendry has been at the heart of these first few episodes, sassing it up and, well, having a baby. In order to get the rapidly-growing Hullen baby, created from Aneela and D'avin's DNA, out of her, Zeph had to turn Delle Seyah human again, which should be interesting when Aneela returns from The Green and finds her murder-girlfriend quite different from when she left. — Valerie Anne
Ackley Bridge 212
There wasn't much storyline for Nasreen Paracha in Ackley Bridge's season finale, as much of the episode's focus fell to the Grade 11s taking their final exams. Nas' sister, Razia, returns to school to take her GCSEs and, during a break, she and Nas settle their fight. Turns out, Raz isn't bothered by her sister's sexuality; she's just hurt that her sister didn't trust her enough to tell her. After exams, the Grade 11s pile into a pink stretch limo and go to the prom, while Nas and Sam take advantage of the empty house. The season ends, as it began, with Nas and Missy sitting on the neighborhood's abandoned couch, having a drink and a laugh.
As the credits rolled on the finale, Channel 4 announced that Ackley Bridge will return next year with a new series and I'm thrilled. While this show's not without its shortcomings, they've been able to navigate through some complex issues this season with a deft hand and I'm looking forward to seeing what stories they'll tell in a new season. Plus, few English-language shows have offered this broad representation of Muslim youth — kids just being kids — and that's been refreshing to see.
If you haven't been able to catch Ackley Bridge on Channel 4, the second series is coming to Acorn TV on September 24. — Natalie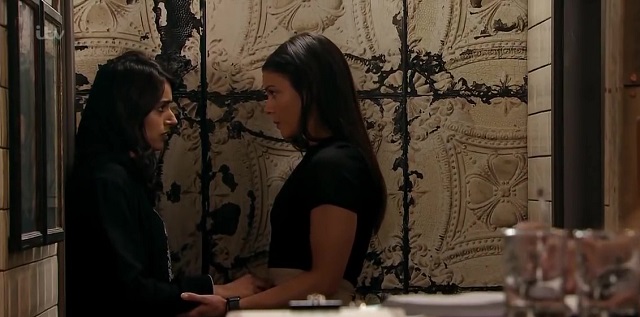 After suffering a stroke at his 60th birthday party, Rana's father died last Friday on Coronation Street. Rana was only permitted to see him after she convinced her mum that she and Kate had split up and that she'd finally seen the error of her ways. The plan had been Kate's originally — Rana baulked at the idea — but it's the only thing that gets her in the door. Rana's gutted to know that the last words she spoke to her father were lies.
As the Habeebs prepare to lay their father to rest, Rana keeps the ruse up and Kate is completely understanding. But once the funeral is over, Rana still wants to keep the lie going — including moving into her brother's place temporarily — and Kate's patience is wearing thin. The moment echos of when Kate and Rana first got together and Rana wouldn't tell her then-husband about their affair…and just like then, the lying proves untenable for Kate.
In happier news: Sophie Webster's getting a girlfriend! The most long-suffering lesbian on the Cobbles is finally getting a girlfriend, though, from the sound of things, love won't come easy. The show's just introduced us to Paula, an old classmate of Sophie's mum, Sally, who comes to town to aid in Sally's legal defense. Sally's thrilled to discover that Paula has a lesbian daughter too and makes plans to set Sophie and Paula's daughter up when they return from their respective travels. But, if spoilers are too be believed, it's not Paula's daughter that Sophie will end up with, it's Paula. That is not going to go over well with Sally Webster, that's for sure. — Natalie