Welcome to Remember That, a new regular in which we want to make sure you remembered a thing that happened pretty recently, in the grand scheme of things.
---
We remembered. Of course we remembered the kiss — who could forget, who could think of anything else for so many ensuing hours or days. Who didn't see anybody else's over-pixelated desktop background of Madonna and Britney Spears, maws achingly agape and tongues up to g-d-knows-what in there, kissing onstage at the 2003 MTV Video Music Awards? Britney Spears, for her part, insists, "No one slipped anyone the tongue. It was just a kiss… a nice kiss." But we saw it. It was a monster kiss.
And last night, as it so often happens in a group of gay women in their mid-thirties, Britney Spears came up. I loved her so much, I still do, I can't imagine ever not loving her. So eventually we were talking about this performance. Or, what we remembered of it — that kiss! how their jaws spread open as ours fell to the floor — but we didn't remember all of it, like the performance that came just before and after. Re-watch it with me, I promise it's worth it:
That kiss was one of only a few things that had happened on my television up to that point in time that excited me in a way I wasn't prepared for and didn't fully understand. To see Britney Spears, who I very badly wanted to spend the rest of my life holding hands with, kiss a woman? On television?
We forgot and re-remembering means remembering who these three women were before they became who they are now. This was before Madonna did any of the things that we roll our eyes about now. This was back when Madonna was only impeachable by the right-wing who clutched their pearls over her hard-edged unapologetic sexuality, her amalgamation of S&M and Catholic iconography, her pseudo-lesbian relationship with Sandra Bernhard, her decision to cast Jesus with a black actor for her "Like a Prayer" music video, her coffee table book called SEX, Madonna: Truth or Dare, her blatant, celebratory relationship with the LGBT community.
Back then she was still just Madonna, our mainstream yet somewhat radical Queen of Pop, and it was asked more than once if Britney Spears, who lacked Madonna's singing chops and groundbreaking vision but captivated the nation and our hearts nonetheless, would inherit the crown. Or Christina Aguilera, because Christina — Christina could sing.
Instead, Madonna gave us this incredible power move: the two girls, in their early twenties, re-enacting her iconic 1984 "Like a Virgin" performance and then submitting their entire bodies to hers for seduction and thigh-grazing and lip-locking.
For Britney Spears' publicity team, the event fit perfectly into their multi-year plan to reinvent Britney's image. She had to evolve, you know, to keep everybody's interest. In rehearsals, the kiss — which was Madonna's idea, not MTV's — was light, described as "a peck," really. "But when cameras went live, Spears, the consummate performer, knew ten million eyes were watching," writes Mark Hughes in Buzzmarketing: Get People to Talk About Your Stuff, which analyzes Britney's desire to "push buttons" and command headlines by giving Madonna "that long lesbian-like kiss that shot around the world… long enough for still photographers to capture, deep enough to spark controversy (was there tongue?), and taboo enough to get men and women talking about it all over the world… she became more grown-up, more taboo… and more buzzworthy."
We'd forgotten about the cuts. The cut to Justin Timberlake just when Madonna turns to Christina — that cruel, homophobic edit that was an attack on us all? Especially when every other cut-away is a perfect choice, a killer lineup of the moment: Paris Hilton, Avril Lavigne and Kelly Osbourne, Eminem, Snoop Dogg, 50 Cent. The original cast of Queer Eye? More than once?
Missy Elliot coming out at the end, by the way? Her white cap on sideways, her Adidas-striped tailcoat and trousers, the white vest, the bowtie, the way she immediately commanded our attention? The girls in their wedding night lingerie remained, as did their Daddy in long black gloves, but here was Missy Elliot; exuberant, shoulders up, arms out. We screamed, re-watching this last night, this part we'd forgotten. My friend screamed; "You put enough straight girls kissing each other on a stage and a real lesbian will eventually pop out!" I mean literally, they kissed and then Missy Elliot appeared. Like, "let me take this."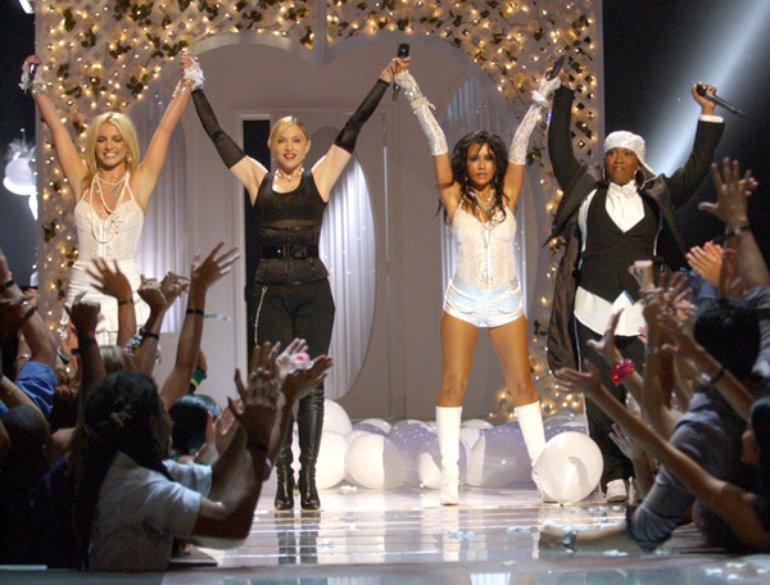 Just this last month in New York City, Britney Jean Spears remembered, addressing audience at Radio City Music Hall, "The last time I was on this stage, I kissed a girl. … Her name was Madonna!"
And we liked it.