On September 3rd, Cartoon Network will say goodbye to Adventure Time. The show is ending its ten-season run quietly, despite spawning legions of fans and board games and video games and merch and cosplayers and YouTube covers and comic con panels over the last eight years. That doesn't mean the cult following isn't sad about it: Rebecca Sugar brought the entire cast and the entire room to tears at San Diego Comic-Con when she performed the song she wrote for the series finale (and okay fine it brought me to tears when I watched it this morning!). It'd be easy here in 2018, when Steven Universe has pushed queer representation farther than any all-ages show in history, to write off Adventure Time's mostly subtextual gayness as a relic, but I think that'd be a mistake. Adventure Time made great strides for gay fans, especially in the comic books where homophobic overseas TV markets weren't a production concern. And in the end, the show canonized its subtext. So before we bid Ooo adieu, let's look back and celebrate Adventure Time's queerest moments.
---
"Go With Me" (Episode 220 // March 2011)
Rebecca Sugar one time described Adventure Time in a way that perfectly describes how Marcy and PB's relationship was portrayed on the show: "Sublime art is unframeable: It's an image or idea that implies that there's a bigger image or idea that you can't see: You're only getting to look at a fraction of it, and in that way it's both beautiful and scary, because it's reminding you that there's more that you don't have access to." Not only does that sentiment come in to play much later in the the Stakes mini-series; it's exactly how we meet these two gal pals re-meeting each other for the first time. Marceline's helping Finn ask Bubblegum out on a date. When PB sees her outside the castle window, she scowls and Marceline waves and calls her "Bonnibel." Such caustic, sassy familiarity! They have a history and it's fraught and this is where we find out about it! (Also: Marceline is the first — and only — character to call PB her by her first name. Sometimes she even shortens it to "Bonnie.")
---
"What Was Missing" (Episode 310 // September 2011)
"What Was Missing" is the episode that really launched this ship, and how could it not? Finn and Jake and Marceline and PB are trying to open a door by singing true songs at it. Marceline starts strumming her axe-bass and talking about drinking the blood from someone's pretty pink face, and when Bubblegum criticizes her for it, she launches into "I'm Just Your Problem." Sorry I'm not made of sugar / Am I not sweet enough for you? / Is that why you always avoid me? / That must be such an inconvenience to you. She silences everyone, but that truth door sure does open right up for her angry, heartbroken lyrics.
---
Marceline and the Scream Queens (June 2013)
This six-part comic book mini-series is when things with Bubbline make the leap from subtext to maintext. PB joins Marceline on the road with her paranormal rock band. Rumors of PB's relationship with another band member make Marceline nuts and she ends up fighting with her ex-girlfriend about them, and that's just the beginning of their push-pull candy-dance around each other, trading barbs and compliments and blushes in equal measure. PB saves the band and the day because she really believes in Marceline, and that forces Marceline to believe in herself.
---
"Sky Witch" (Episode 529 // July 2013)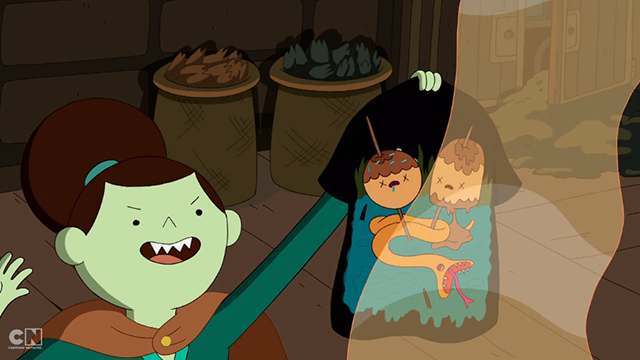 And here's where that maintext finally lands on television! In one of the most romantic TV episodes of any show ever, Princess Bubblegum wakes up in a t-shirt Marceline gave her, buries her face in it, inhales the scent of it, and pops a pullover on top of it to wear it around underneath her princess clothes all day. Marcy ends up coaxing her away on a quest to steal her beloved childhood bear, Hambo, back from the Sky Witch, who won't give him up because her power is fueled by sentimental value, and this bear survived the actual apocalypse. And so PB gives her Marceline's t-shirt as a trade. "Sentimental freshness," the Sea Witch cackles, throwing the sleeve of the shirt into her cauldron. "The psychic resonance of Hambo is nothing compared to this baby!"
---
"Varmints" (Episode 702 // November 2015)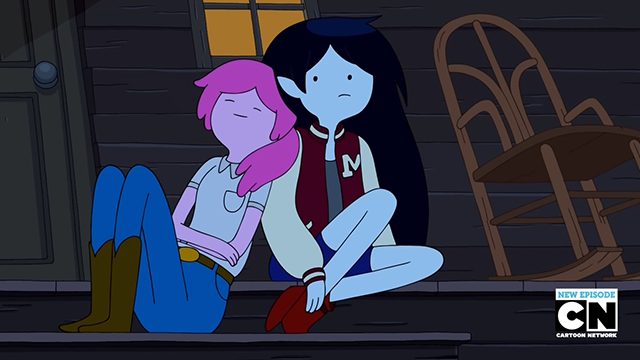 "Varmints" takes a literal deep dive into Bonnie and Marcy's relationship, sending them into the Rock Candy Mines where they used to hang out before Bonnie got too busy ruling her kingdom. There's even some gay graffiti down there that they made together. They're in the mines because PB in in self-proclaimed exile and trying to grow a pumpkin patch but the varmints keep sabotaging her. "I'm crazy tired, Marceline; I think I have been for a long time," PB says when they get back to her cabin. Marcy promises to watch for varmints while PB naps, just for 15 minutes, which she does with her head on Marcy's shoulder.
---
Stakes Mini-Series (Episodes 706 – 713 // November 2015)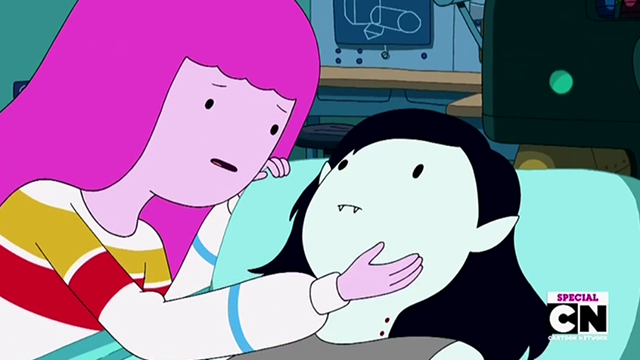 In Marceline's very own eight-episode mini-series she decides she wants to cure her vampirism, so of course she goes to PB for help. She doesn't count on the beasts she's going to unleash when she becomes mortal again, or how it's going to force her to confront her depression and trauma and romantic feelings for her best friend. PB saves her over and over, with science and with fighting and with affection. During their demon-destroying adventures Marceline gets a weird feeling in her stomach that she knows isn't fear. It's love. And so, after Finn declares his love to PB because of a delicious sandwich, Marceline sneaks in a declaration too. She fever dreams them growing old together, Bonnibell kissing her on her forehead in a rocking chair. She has to take on her vampire form again, in the end, and says: "Being mortal was good, but at the same time, it was terrifying. Now I'm a vampire with fresh mortal memories and, I dunno, more empathy or something. More grown-up. Bonnie, thank you for helping me grow up. Now I guess we get to hang out together forever." Bonnie, she blushes!
---
"Marcy & Hunson" (Episode 907 // December 2017)
Marceline's daddy issues and undercut (both gay!) are back in this season nine episode that brings her songs about Princess Bubblegum full circle. At a concert that includes Finn and Jake and her dad, she sings her first real love song. Slow dance with you / I just wanna slow dance with you / I know all the other boys are tough and smooth / And I got the blues / I wanna slow dance with you. 
---
If the series finale is gay, you know I'll be back to talk about it! In the meantime, what are your favorite queer moments from Adventure Time's ten season run?