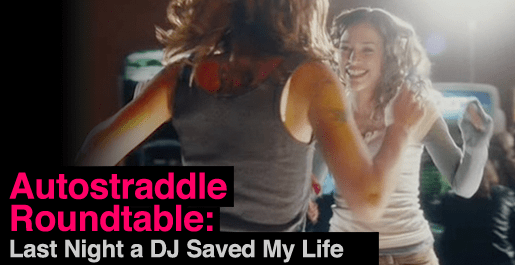 Hey, have you heard? We're gonna have a party, it's called Disco Rodeo! And as we eagerly anticipate getting drunkity-drunk-drunk with 220 other girl-on-girls on June 28th, our thoughts turn to serious things, such as: "what magical melodies will we be dancing to at the party of the century, as spun by DJ Lady Starlight of Lady GaGa's Starlight Revue, DJ Carlytron and DJ Boom Boom?"
Because we've been serious at the Roundtable for the last two weeks, we went easy on ourselves this week and asked what song makes you jump up and scream OMG THIS IS MY JAM! at the club? You know, the club? Where all the girls go to get down?
That is the important question we ponder this week: what are your top I WANNA HEAR THIS AT THE CLUB songs of all TIME?
This week we invited the Intern Army to participate. Perhaps one of them will create a master playlist for you or something of that nature.
There's a handful of tickets left at $10 and price will go up to $12 on Monday, wethinks. Or $15 at the door if you like to live on the edge (to get the discount this weekend while it's still hot, price level "autostraddle," code COWGIRL.)
Autostraddle Roundtable:
Last Night a DJ Saved My Life – Your TOP DANCE JAMS

ALEX:
What a terrible/AWESOME Roundtable topic! I want to say "anything by Madonna, Michael Jackson or Lady Gaga and every 90s dance hit ever made" but that would be a cop-out. Here's my attempt to narrow my existence as I know it down to 5 songs (which is nearly impossible:)
Bizarre Love Triangle – New Order : This one time, Riese and I blissfully danced to this song at the Spinnaker Lounge on the Rosie 'R Family' Cruise. Also, everyone I know and love breaks it dowwwn when this is played. It's a classic.
One More Time – Daft Punk: What a lovely duo that Daft Punk is. It's difficult to choose just one of their songs to put on a list, but for me it would be this one. The tempo even allows for good guido-style fist-pumping action… not that I do that often… Just saying.
Boom Boom Pow – Black Eyed Peas: I'm weary about choosing a new song for such an important list, but you know… this one's good. A keeper. Carlytron might agree.
It's Tricky – Run D.M.C.: This speech is my recital. I think it's very vital… to rock a rhyme! that's right on time! 'It's Tricky' is the title HERE WE GO!

INTERN LOLA:
AC/DC – "You Shook Me All Night Long" Def Leppard – "Pour Some Sugar On Me" – These are both just dirty/sexy classic rock songs that somehow everybody knows, loves, and wants to shout along to when drunk. I am not immune to them!

INTERN KATRINA:
As someone who actually freaks out and puts their hands up and belligerently yells "THIS IS MY JAM" all up in da club, I'm pretty excited about this.
That's Not My Name – Ting Tings When lost in the heat of a totes kickass party, the songs that I most want to hear tend to be the ones that allow me to yell the same phrase over and over again. Katie White, lead singer of the Ting Tings, knows this. Heavy on the bass drum, laced with riotgrrrly-type vocals, and loaded with a "don't-you-call-me-darling" attitude, "That's Not My Name" never fails to get my hips shaking and my hands in the air.
A Cause des Garcons – Yelle Apparently I'm into dichotomy, because if I'm not yelling the same phrase repeatedly, I'm sloppily fudging my way through fast-paced French lyrics. Using a synth that's crunchy but not overbearing, Yelle creates the perfect fusion of pop, techno, and dance while making you feel like you're kind-of-almost a real Francophone.


CARLY:
You have got to be fucking kidding me with this, right guys? I can only pick 5? What if I pick more than 5, just to be a jerk? I could do that, you know…
These are all songs that I always play when I'm DJing because they're my favorite songs to dance to. My favorite tracks are a mix of electro, pop, and hip-hop, as you will see here. So with apologies to Britney, Rihanna, the Pussycat Dolls, Salt 'n' Pepa, Gaga, Robyn, Sam Sparro, JT, all of 80s new wave and 90s freestyle and like 100 other artists, here's my list of favorite jams:
Timbaland (feat. Keri Hilson & D.O.E.) – The Way I Are: This is hands down totes one of the best pop songs of all time, what with that catchy beat and all. Every time it comes on I shout, "OMG this is my JAM!" (yes, I actually say that, often and loudly) My only complaint with this song is that it's too short. This is also where the world found out about the awesomeness that is Keri Hilson (she's really hot, you guys… super talented too).
The Faint – Glass Danse: This song reminds me of college, when my friends and I discovered the Faint. During the chorus of this song, lightning shoots out of your fingers. Trust. They have tons of great dance songs, so I'll say that runners-up would be "Take Me To the Hospital" (who knew injuries could be sexy??) and "Worked Up So Sexual" (if you ever saw me dance to that you'd think I was having a seizure… a DANCE seizure). Also, seeing this performed live will change your life.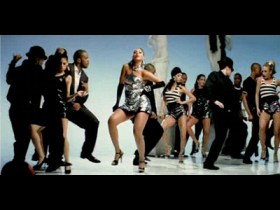 Beyonce – Get Me Bodied (extended mix): Thought I was gonna put "Single Ladies," didn't you? Too obvious. I love Beyonce, her songs are amazing (and I am totally seeing her live on the 21st, shriek!). The extended mix of this song (also the version used in the video, which is amazing) is like 6 minutes long and contains this insanely long outro where it's basically just a gay boy's dream. So naturally Cesar and I learned some of the choreography from the video, and whenever it comes on you betta believe we are right in the middle of the dance floor, pattin' our weaves and doin' our Naomi Campbell walks. Close second: "Upgrade U," such an underrated song.
Moving Units – Anyone: This is a song by a band that most people have never heard of, but I cannot not play it when I DJ or make playlists or whatever. It's really a perfect song. Great 80s disco beat, the bassline is hot, what else could you want in a party jam?
The Presets – This Boy's In Love: Such a beautiful song (and video). Not the most overtly dancey song in the world but you can make it work. When I heard them play this live back in April I almost cried. The Presets are amazing, you can play pretty much any one of their songs to get the party started.
Anything by Missy Elliott: I added a 6th, so suck on this! Anything by Missy Elliott is guaranteed to get people moving, especially me. Stand out tracks: "Pass That Dutch," "Lose Control" (feat. Ciara), "4 My People" (feat. Eve), and "Ching A Ling" (One time Robin and I were in LA at Truck Stop and the hot dancer girls danced to this on the bar and they were wearing boyshorts and hoodies so it's pretty much the only thing we can think of when we hear that song).
Pages: 1 2 3See entire article on one page