Today on Autostraddle: All the photos, all the madness, all the drunken captioning! – Robin Shoots and Riese explains the NewNowNext Awards, Stef interviews her future girlfriend Kaki King! Autostraddle Roundtable asks the DJ to play that song.
+ In addition to sending us 50 emails a day, Joe Solomnese has been making secret deals with Washington — namely, to prioritize the hate crimes bill and the employee non-discrimination act over "Don't Ask Don't Tell." Many clips from a speech by our favorite gay Dan Choi. (@pamshouseblend)
+ Danish study finds that kids of lesbians have stronger psyches. Clearly Riese is a shining example of this scenario "… mothers had to develop more resistance in their lives than heterosexuals … "Resistance makes you stronger, and that could be passed on to their children." (@eurOut)
+ Yay! My girlfriend (@elitestv '04) is coming back to the only show I actually watch: Chris Meloni & Mariska Hargitay to return to Law & Order: SVU. (@tvguide)
+ What we learned on the TV is that every girl needs her gay: Gays are WIZARDS! (@current tv)
+ Producers Say James Franco, James Marsden, Robert Pattinson Interested In Jeff Buckley Biopic, 'Control' Producer Now Onboard. (@the playlist)
+ The Hidden Cost of Marriage Exclusion = it makes us f*cking crazy!!! "For LGBT citizens who seek nothing more than equal opportunity to benefit from marriage, campaigns of marriage exclusion exact a heavy toll on their well-being." (@bilerco project)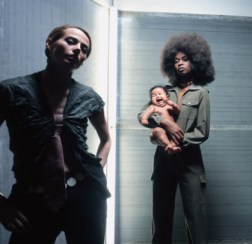 + Mary-Louise Parker loves being naked: "'I mean, if you know me, it's like, someone sneezes and I take my clothes off," she says. "I'm naked in Esquire in August. I was naked on the set the other day. I'm always naked. I'm naked right now, in fact.'" (@tvguide)
+ Kelly Clarkson Will Not Get a Comment from Autostraddle on this topic: "The rumors are not helping me on the dating front!" she said. "I prefer the boys. I'm extremely flattered when I do get hit on by girls, and I think it's hot, but I'm not into it. I like boys." (Shakespeare has a comment though!) (@usmagazine)
+ In Michigan, same-sex marriage activists call for a 2012 equality push. That'll be eight years after the last commitment ceremony I attended in Michigan (I've been to two). (@pridesource)
+ The homos will close down the New York Stock Exchange this afternoon: In honor of the 40th anniversary of Stonewall, gays will be ringing the closing bell of the NYSE. (@queerty)
+ NYC Prep: "This isn't so much what adults do as what a teenager might think adults do." (@gawker)
+ Rachel Dratch says SNL went for the easy gay joke: "Just like a joke based on race, it really depends on each individual joke, scenario, and person telling it. One of the faults of SNL that we were well aware of while I was on the show is that we often just went to a gay joke as a lazy, poorly crafted punch line. But a gay joke could be funny if it wasn't lazy and it had some real wit to it." (@advocate)

Celebrities Say the Darndest Things About Other Celebrities
Dr.Drew on Lindsay Lohan: "I'm convinced that she'll get sober one day. But I'm afraid that between now and then, she may get a nearly mortal wound of some type."
Sandra Bernhard on Lady Gaga: "I can't say these are great times for young artists. There's no longevity. Lady Gaga? I just don't see any of the stuff lasting for very long."
Beth Ditto on Katy Perry on Beth Ditto: "Homosexual singer Ditto slammed Perry for faking lesbianism in her songs and branded her "offensive to gay culture" for making it trendy – "A boner dyke anthem for straight girls who like to turn guys on by making out or, like, faking gay." … Perry was left fuming by the singer's attempt to antagonize her .. "I've learnt in the past that one artist should never insult another artist's music – it's tacky."

Auto-Straddler of the Day: Caught Mid-Straddle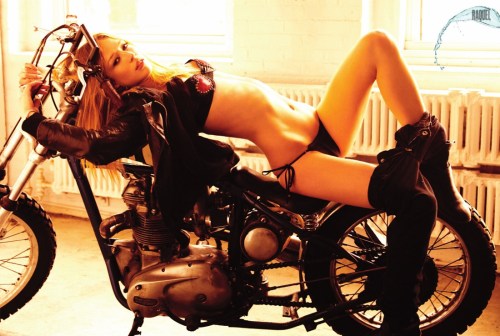 From Intern Jess:
I was worried that The Tonight Show would be too large scale Conan O'Brien's absurdest style. I mean, legend has it that Jay Leno was edgy in yester-year, before The Tonight Show turned him into an emotionless robot. Thankfully, The Tonight Show w/Conan O'Brien has been pretty much what we've come to expect from COB, including In The Year 2000 and hilarious videos of Conan running amuck around town. Plus, his new set seems to be inspired by Super Mario!
from Alex:
This Type Drawing application for the iPhone/iPod looks like a good way to spend my commute, and it's only $1. Not too shabby for a type nut like me. (via typophile)