As we reported earlier this week, the Westboro Baptist Church had announced plans to protest the funerals of those people killed in the mass shooting in Tucson, for no apparent reason other than that they saw an opportunity to make a terrible thing even worse. Now the state of Arizona has passed an emergency measure instituting "funeral protection zones" that will keep all protestors at least 300 feet away from funeral services, beginning one hour before the services are scheduled to begin and ending an hour after the services do. Their reasoning is pretty unassailable.
"They want to protest at the grave site of a 9-year-old girl, and we want to stop him,wp_postssaid state Sen. Paula Aboud (D-Tucson), referring to Phelps, who plans to picket outside Green's funeral.
"I read Westboro's press release and wanted to vomit I was so angry. It was sickening,wp_postssaid state Sen. Kyrsten Sinema, a Phoenix Democrat and the bill's primary sponsor. Sinema is a Tucson native and a friend of several of the shooting victims.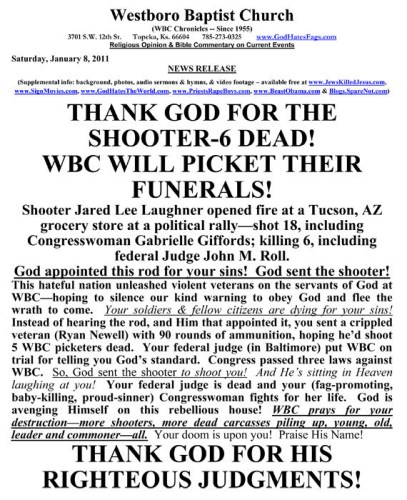 It has not escaped our notice that although the Westboro Baptist Church has picketed hundreds of funerals – for instance, Matthew Shepard's after he was beaten and left tied to a fence to die alone because he was gay – they didn't all merit the same kind of swift and decisive action to protect people from their hatred. Even if it should have come sooner, though, this decision seems entirely appropriate, and we can hope that it inspires other measures to protect grieving families.