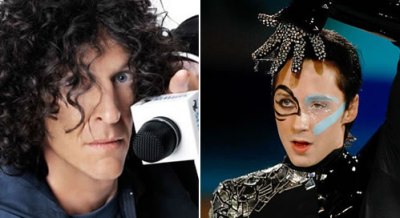 Johnny Weir sure got INTO it with Howard Stern this morning. Johnny is out promoting his memoir, Welcome to My World and making the usually stops: The Today Show, Good Day New York, and Joy Behar, but per ushe, it's Howard Stern who will pull out the most candid and revealing interview on any press tour. Let's dig in, shall we?
Listen to the full interview:
First up, Howard grills Johnny on his bottom line, and finds out that a career as an Olympic figure skater doesn't really pay all that much, despite the great notoriety Johnny has achieved. Johnny says he's only made about $500,000 this past year, which is a fraction of the inflated paychecks of professional athletes, and even a far cry from when fellow figure skaters Nancy Kerrigan and Oksana Baiul were raking it in with endorsements back in the 90s.
Remember the theories floating last year questioning Johnny's low scores, despite his mad skills on skates? Johnny concedes that the generation gap between he and the judges might explain it, and also revealed that a lot of people felt he had an advantage over his competition because he trained in Russia. People were also telling him he was too flamboyant and acting "too gay" for the conservative judges as well. Even so, he knew he got the reality show, Be Good Johnny Weir, because he was flamboyant and the producers knew people would tune in. [For our thoughts on this subject see Johnny Be Good, Johnny Be Robbed]
Johnny also chats about how he achieved his Black Swanesque figure while training: one small salad and tiny piece of chicken or beef A DAY, a total of around 200 calories.
Okay, now that Howard has Johnny nice and comfortable he finally digs in: When was the last time you got laid?  What celebrity do you wanna fuck? What age when you first hooked up with a guy? How often do you have sex? What's your type?
Johnny talks about first thinking he was gay at 6 years old when he was watching Pretty Woman and kinda wanted to be Julia Roberts. Growing up in a very conservative town in Pennslyvania he had no other gay friends but says his teen years were nothing like Kurt Hummel's on Glee, which he says looks like a horror story. As a teenager, he already felt he was better than everyone else because he was such a brilliant skater, so he had enormous self esteem and built his identity around that. He talks about his first kiss with another male skater at 15 years old, a guy who hated being gay so much that he was "straight" and had a girlfriend.
He expands on why he'd marry a woman:
"I would marry a woman and have that partnership, that friendship, that love and I could have a boyfriend on the side and she could get her rocks off on the side. It's a win win. But, we'd be in a union and that's my opinion of what marriage should be. You have to be with your best friend."
It goes on and on. Howard finds out his sex preferences: top or bottom, why he doesn't have a  boyfriend, whether he's ever slept with a woman, details of anal sex, how often he cross dresses, his crush on Justin Timberlake, why he refuses to give up wearing fur and his affinity for Kelly Osbourne and  Christina Aguilera. Pretty much required listening if you're a fan of Johnny Weir.