In the glacierlike progression of our culture towards a more mature and intelligent understanding of gender, few people expected big things out of the corner of the internet known as "mommy blogging." Yet everyone paid attention when one mother's defense of her young son's Halloween costume went viral in October, and now another mom is sharing her son's story and putting America's ideas about gender in the spotlight.
The mom who writes under the name "Sarah" describes her son as a "pink boy" – he's perfectly comfortable with his biological sex, she says, but his favorite hobbies, games, clothes, and activities are stereotypically feminine.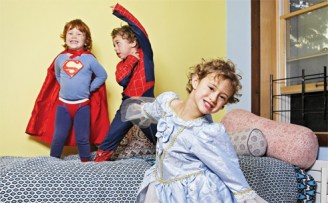 He wears khakis today but wore a dress to school from age 4 to 6; he used to do ballet and still doesn't like sports; in preschool he was all about playing princess but now is all about Pokemon; and, in spite of the clear gender divisions in third grade, he plays with both girls and boys.
Essentially, her essay is about gender policing – maybe you've heard about it in your women's studies or gender theory class, or maybe it's the academic name for what you experience when someone notices the waistband of your boxer briefs peeking out above your jeans. This mommy blogger has a lot to say about it, though, and it's stuff that Mainstream America might not have heard before. What does she cover?
+ Gender expression and sexual orientation are not the same thing! "And if you get busy thinking about femmy boys who grow up to be straight, you might also start thinking about butch boys who grow up to be gay, like all those bears and leather daddies I see walking around the Castro. Then you might have to admit that, though it often does, childhood gender expression doesn't always correlate to adult sexuality."
+ Gender expression isn't a phase that kids go through for fun! "Gender identity isn't something we just impose on kids and expect them to suck it up, like eating vegetables or going to school. It's part of who they are, whether that satisfies us as parents or not."
+ Gender policing and homophobia go hand in hand, and pretending otherwise is just lying. "So I'm really trying to figure this out. Dr. Phil tells us that it's OK to be gay (just like the APA), but it's not OK for boys to play with Barbie (just like NARTH), because … well, that's where I get stuck. Because … they might grow up to be gay? But … they won't necessarily, he says. And around we go."
+ But gender policing and misogyny are even tighter, and that's the real heart of the issue. "Dr. Phil's muddled message reflects a broader, mostly unspoken cultural bias in America — even among Americans who are accepting of gay people — that femmy boys are somehow nebulously bad (though no one can actually articulate why). Dr. Phil — or NARTH — isn't making a stink over girls who wear jeans and play soccer. So what, exactly, is wrong with a boy who likes Barbie?"
As we ourselves discuss in this particularly high-quality post, there is nothing wrong with boys who like Barbies. There is nothing wrong with effeminate men, because there is nothing wrong with effeminacy or the feminine – which is really what this is about, no? It's about how boys aren't allowed to be "like girls" because being a girl or even dressing like what people think a girl dresses like is just The Worst; it means that you must have all those other terrible traits that go with being a girl, like being weak and dumb and slutty and a prude and bossy and PMSy and frigid and a total bitch and everything else that the average American woman is understood to be all at once. It means voluntarily choosing to be an inferior creature, to give up the shining mantle of privilege and not caring about other people that masculinity bestows.
Why would anyone allow that to happen? Why would you ever let your son wear that pink sparkly tshirt?
Like any oppressive power structure, naming this one is the first step in collapsing it, which is why people tend to react so strongly when someone tries to do so. That's why it's special that the person calling this one out is a 'mommy blogger,' generally understood to be one of the most harmless species of the Internet – people are used to them sharing lemon bar recipes, not insights on structural inequality.
Maybe this will be a formula that works; maybe the Trojan horse that can bring a slightly more radical set of values into mainstream culture is no more complicated than a parent's uncompromising love for their child.
Or at the very least, it could make a few playgrounds safer for tiaras.