If there's one thing you should know about Los Angeles, it's that it has a happening gay scene. Since moving here four months ago, it's been a nonstop dance-a-thon (and drink-a-thon) for myself and my gay clan, who enjoy going out on the town seemingly almost every night. Seriously I can't keep up.
Obviously one of our favorite lesbian spots is the weekly parties that the awesome ladies of PYT throw every Wednesday and Friday night. And this Friday (aka tonight February 25th) is a special one: it's PYT's one year anniversary! And for real, that's something to celebrate.
If you live in Los Angeles or on the west coast, come out and support these lezzies and also dance with me on the dance floor because my talented friend, DJ Pinke and as always, DJ Saratonin are providing the tunes, obvs. And also drink and celebrate because it's totally an open bar all night which is always a win.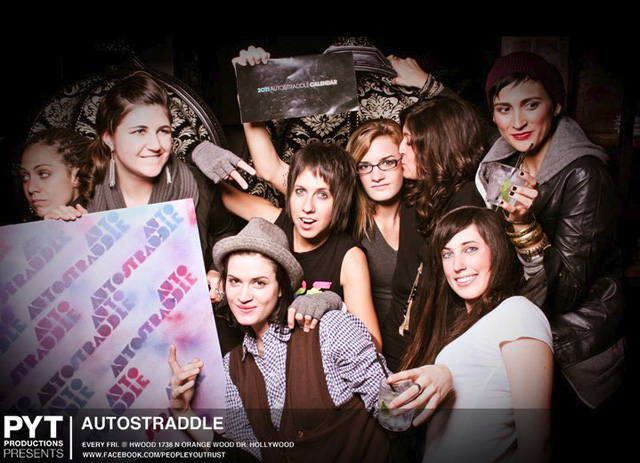 Here are all the official details. See you there
xoxo Alex!
PYT Productions presents….
Our 1 Year Anniversary
Friday, February 25th (that's tonight weirdos!)
at HAUTE
665 North Robertson Blvd
West Hollywood
Back by popular demand, we bring you many of the amazing special guests DJ's
that have made this year so off the hook:
DJ Amara & Josh Kane
aka "Rhythm in Stereo"
* DJ Asha and Lezlee * (KYSS)
* Mix America * (BeatBox)
* DJ Frenchkiss de Kutt * (French Kiss)
* DJ Pinke *
* Resident DJ Saratonin & Euphoric *
Photos by Taylor Bond
$30 Open Bar
This includes entry and all night open bar from 10pm to 2am
$25 with RSVP to: WRITE2PYT [at] GMAIL [dot] COM
(Must show email confirmation at the door either printed or on your cell)