Block B
Sewing Square w/Carolyn
Introvert Meet-Up w/Crystal + Laura
Basketball w/Carly
Women of Color Panel w/Katrina, Carmen, Whitney, Gabby & Malaika
Daniela, Unicorns Counselor/Intern: By the time I was fully awake, Block B had started, my knees were covered in glitter and I had emptied the staple gun. Rachel, Geneva, and I were really proud of our product after using any and all of the tape available in that mountain.
Carly Usdin, Thundercats Counselor/Contributor/OG Autostraddler:  I wound up sending future WNBA draft pick Mary Tully to basketball in my stead so I could use the entire morning to work on Faggity Feud with Brandy, Julie and Grace.
Jill: We had a really great crowd show up for basketball, but in reality we needed EVEN MORE PEOPLE 'cause the altitude kicked our collective behinds and we had to sub people in constantly. Things got competitive. I cheated a little.
Carmen: The amount of times in which I exclaimed "drop the mic, walk off the stage, that was amazing" during the Queer Women Of Color Panel is astounding.
Alex: I always think I know what I can expect from this panel, but those expectations are always blown out of the water by both the panel people and the audience.
Malaika, Misfits Counselor/Contributing Editor:  It was a little scary, to be honest. But I realized, sitting there up stage, that this was the first time I'd been around so many queer women of colour. I felt a sense of community I didn't know was possible. Listening to the stories of the other panelists and of the people in the audience made me feel less like a weirdo, and more like a part of something big and incredible.
Gabby: Jeezus, that panel is such a thing. A good thing but a very intense and how to navigate thing. Being a WOC means so many things to everyone or nothing at all and so to find some middle ground in which to hold a panel is challenging. Even telling you my favorite moment is going to be weird.
Hansen: That panel was my favorite thing that I attended. Hearing Katrina, Gabby, Malaika and Whitney talking about their experiences as queer women of color was incredibly moving. At one point, an audience member was making a statement that there are no gay Persian women —
Gabby:  — she was all like pouring her heart out and then in the row down from her some other lovely kitten behbeh says "I'm a Persian Queer!" Everyone cheered. It was fucking amazing. A-CAMP!
Hansen: It was such a defining moment for A-Camp — you are connected to so many wonderful, similar people just through this little website you read.
Carmen: Afterward people wanted to talk to me more or touch my hair and that was surreal. I hope I helped someone! No really, anyone.
Camper Quote: "The panelists at the Queer Women of Color Panel were great at responding to questions and stories from the larger group. It felt like such a supportive space. The conversations could have lasted all day, and many of us talked about it well into the afternoon."
Crystal: The Introvert Meet-Up was super close to my heart. As an introvert I knew how overwhelming camp could be if you didn't have some like-mannered people to chill out with, and that's why this activity got born. The Meet-Up was officially scheduled to start at 10:45am, however introverts tend to be very punctual people and so everyone was ready to start by 10:30am. It was impressive. I was the last person to show up and I am NEVER the last person to show up.
Laura: Crystal and I had a surprisingly chatty group of introverts. They were smart and sweet and there wasn't a moment of awkward silence in the room. Only good silence.
Crystal: At the beginning of this activity all of the campers were sitting in complete silence. By the time we were halfway through, there was so much chatter happening that Laura had to shout to get anyone's attention. So I'd say it was a success. I appreciated the camper who said "I can't decide whether to go to the Introvert Meet-Up or just stay in my cabin and read a book."
Laura: I think introvertedness gets a bad name, like it's something we should all try to overcome. But the truth is, it's just how some of us are and it's a thing we should — it feels corny to say this but — honor more often.
Camper Quote: "I liked the introvert meet-up because it made space for and acknowledged the introverted people in the group, and I think that made me feel better about taking breaks to chill out by myself/do other introvert things during the rest of camp…the questions were great, and fun to talk about, and I felt like I got the chance to meet some super cool people and talk about more than just small talk!"
Carolyn: I was a little frazzled for Sewing Square because Laneia bought so much fabric and I couldn't find the scissors and I was worried everyone would find out that I mostly sew buttons and hemlines and that when I made the thing we were supposed to be sewing (which was bean bag Autostraddle "A"s or triangles with pockets or hearts, depending on your pattern) at home, it ended up looking like a felt hairball from the most ill cat ever. But instead a lot of people came and brought their own embroidery supplies or sewed following the pattern or made friendship bracelets and sat around picnic tables and almost forgot to leave for lunch.
+
II. Let's Spend The Afternoon Together
+
Block C
'Zine-Making w/Riese & Laneia & Rachel
Speed-Dating w/Hannah Hart & Sara Medd
Gender Panel w/Whitney, Annika, Carly, Marni, Gabby, Laura & Morgan
Volleyball w/Robin
Nutrition & Exercise w/Sarah Croce, Mollie, Meredydd & Haviland
+
Robin Romer, Camp Co-Director/Photographer: There were so many adorable single ladies at A-Camp!!! Hannah was running a bit late so Sara Medd and I lead the first part of Speed Dating!
Sara Medd: We asked campers to submit the questions they wanted to ask on the speed dates, and then we added a few of our own too. There was such a good turnout! I hope a few love connections were made, but at the very least I think everyone made a new friend. Then Hannah arrived and jumped in on the dates, so a few campers got to go on a 3 minute date with her. Robin and I made sure to ask her the most awkward sex-related question from the list.
Robin: Then she graciously signed some boobs and it was great!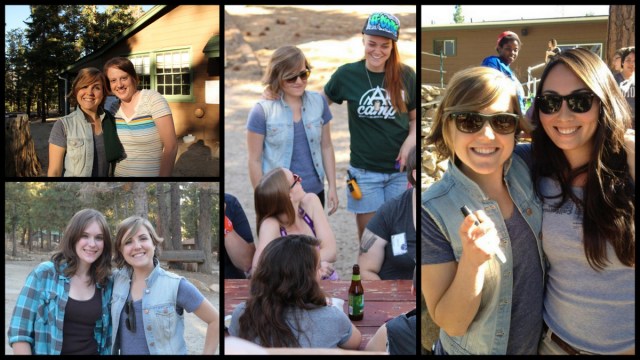 Daniela: Somewhere between lunch and Block C Robin had to cover Speed Dating and I ended up in charge of the Volleyball activity. Even though I have little to no volleyball knowledge or skills, I was really excited to have a whistle! Turnout was minimal so after a while we all decided to go to the Gender Panel -I remember hearing Evey playing the violin somewhere in the mountain as we walked towards Eagle and getting really excited about it, it sounded amazing.
Annika Penelope, Unicorns Counselor/Writer: We were so much more prepared for the Gender Panel than we were in April, and this time I knew what to expect when I took my seat on the stage in front of a room packed with 200 people.
Morgan:  Family Guy once chucklelishly said "There's a shortage of chairs… yeah." Gender Panel attendance was this quote. We ran out of chairs at camp. Camp had no more chairs to give.
Marni: Morgan made some observations about gender being about trust that really blew me away.
Carly: Despite combining two of my favorite things (public speaking and talking about myself), I was nervous and shaky the entire time. I don't know what happened to me there. It was an honor getting to speak on the same panel as Annika, Gabby, Laura, Marni, Whitney and Morgan, who are all so smart and well-spoken. But then I described my gender identity as both "drag queen" and "dandy" and a bunch of campers applauded, so I felt much better.
Stef: I just want to say that I want Carly on every panel we ever have for everything.
Laura: The thing I hate about the gender panel is that we never get to all the questions. Which isn't to say that the time slot is too short, but that you are all so insightful that I think most of us could spend all camp in the room and never run out of things to say. Every time I hear Marni talk, I think "That's BCW! And she's even radder than I thought she would be." Because, honestly, have you met this woman?
Annika: We tried to include a lot more audience interaction this time around and it was nice to have Alex helping me moderate and keep the discussion going. Like last time, I pretty much just wanted to hear Gabby talk about her feelings for hours.
Morgan: Thank you everyone who attended and tested the limits of our fire code. Your questions were badass, because you were likewise. Also, I spend so much time thinking about gender in terms of being trans, it was a big treat to hear about other experiences like being butch, hard fem, etc.
Camper Quote: "The gender panel helped me feel more confident/comfortable in who I am and got me in the right direction to figuring things out. Things don't feel as confusing anymore."
Haviland, Wild Stallions Counselor/The Talent: For the Nutrition/Exercise Discussion, we circled up and talked about our individual nutrition and fitness plans, histories and challenges.
Sarah Croce, Forever 21 Counselor/The Talent: A great group of women who came from all sorts of backgrounds with nutrition and exercise showed up to this panel.
Mereydd: This is the panel I was most nervous for because fitness and healthy eating are kind of new things for me. I wanted to make the experience good for campers but was worried I wouldn't have as much to contribute.
Haviland: We heard from women who had added fitness into their lives in a major way, women who used to be high school athletes who were now trying to find the time/discipline as adults, and one woman who made a radical change in the past year, through changing her diet, adding daily exercise, and generally taking a lot better care of herself. The main word that came up again and again was balance. How to really "find the time" to care for yourself when you're working crazy hours, traveling, dealing in some cases with family or people for whom you're the caretaker. We encouraged each other to find balance by really making sure you're taking care of yourself. Women are so often in the position to take care of everyone and everything around them first, but in this case, we said – hey! YOU DO YOU. You'll feel better, and then you'll be better in every way. And look at what a good example you are to everyone around you when you're celebrating yourself by nourishing yourself with delicious, healthy food and celebrating that gorgeous body by keeping it moving and full of breath!
Sarah Croce: We spoke about a range of sports, things to get you motivated, goals, nutritional objectives, and weaknesses. The stories we heard were compelling and beautiful. It was definitely a moving little panel of strong, driven women.
Meredydd: As always though, ACamp has surprises in store. A few of my Golden Girls were in the panel and I was so moved by some of their stories and experiences that I forgot about my own worries.
Riese: I got myself together and rallied for ZINE-MAKING. About six people showed up because we were competing against the Gender Panel AND Speed-Dating. It's okay though 'cause we were doing a second 'zine-making block on Friday so everybody still had a chance to make Laneia feel better about herself by showing up for the next one.
Rachel: The 'zine-making workshop is what I feel most like I was born to do in the world.
Laneia: It's basically just 'hanging out with glue and a purpose,' and it's always perfectly mellow and great.
Rachel: We spread out dozens of old magazines and catalogs and paper and other already-existent zines all over the floor with scissors and glue and exacto knives and plain paper and I played The Blow from my phone while a bunch of queers cut and pasted beautiful things onto paper.
Riese: Last time we put together a Camp 'Zine with one page from every camper (this will be available soon!), this time we decided to have every camper make their own 'zines and circulate addresses so that we can mail all our 'zines to each other in a few months, just like we did in the '90s!
Laneia: One was about 'fall fuckery,' one was someone's account of their weekend on the mountain, another was a blackout poetry collection. Riese, Rachel and I decided to work on our Behind The Scenes zine, but actually mine just ended up being about me and what it felt like to be plucked from the world and then tucked into Autostraddle.
Rachel: Riese made fun of my inability to focus or create a complete page but I found a really good picture of Katy Perry and also the cast of Mean Girls for my "I kissed a mean girl and I liked it" page, so ultimately I think I won out.
Carmen: I went to my cabin to nap, but instead our fire alarm wouldn't stop beeping so some dudes came to look at it. Then, when he opened the door to leave, a bear ran past the cabin. I described the incident all week long as "ambling," only I found out "amble" means the opposite of run. Hopefully I can blame that misunderstanding on the altitude and you all will eventually forgive me.
Fonseca, 21 Hump Street Counselor/Contributing Editor: I missed the bear outside of cabin #18, which is kind of a shame since I may or may not have been the cause of the bear. My travel cooler still had cured salmon and roast beef in it from the journey from Georgia. I didn't tell anyone this until I was certain that they bear had not consumed any of the campers.+

Next: Geeking Out, High Tea, Non-Monogamy, etc.
Pages: 1 2 3 4See entire article on one page