Welcome to the second of four fantastic recaps of our entire experience at A-Camp 2.0, which took place 2.5 hours outside of Los Angeles at Alpine Meadows Camp atop a mountain in Angelus Oaks, California, from September 12th-16th, 2012.


A-Camp was the genesis of an idea Riese had at 3AM in July 2010: the concept was to take the spirit of the website into three glorious dimensions and create an affordable option for queers for whom other lesbian vacations aren't always a perfect fit. In April 2012, we did it for the first time — along with 160 campers and 35 staff members, we rented out a summer camp in its off-season and enjoyed a transformative weekend of fun, friendship, panels, workshops, classes, sports, entertainment, events and so forth. It was probably the most awesome experience of our life and we knew from there it would only get bigger and better.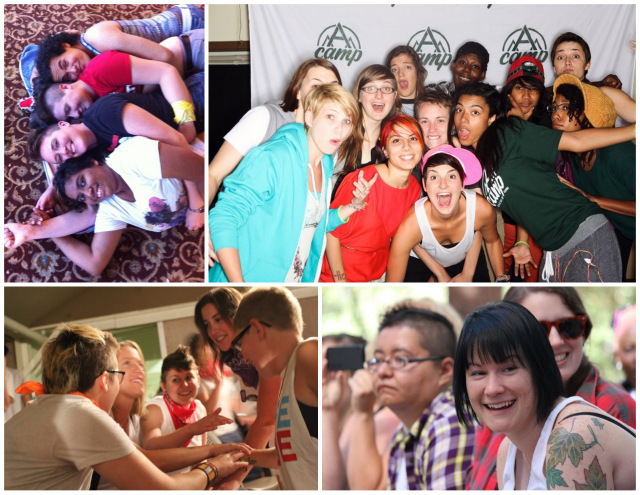 So in September, 220 campers and 40 staff descended upon The Mountain for four days of much-better-organized fun, friendship, panels, workshops, classes, sports, entertainment, events and secret initiation rites.

These epically long monster-posts will do their best to explain and extrapolate upon the camp experience, from avoided-shitstorms to emotional revelations to glory/triumph. But we can't tell you everything. We must leave some things up to the imagination.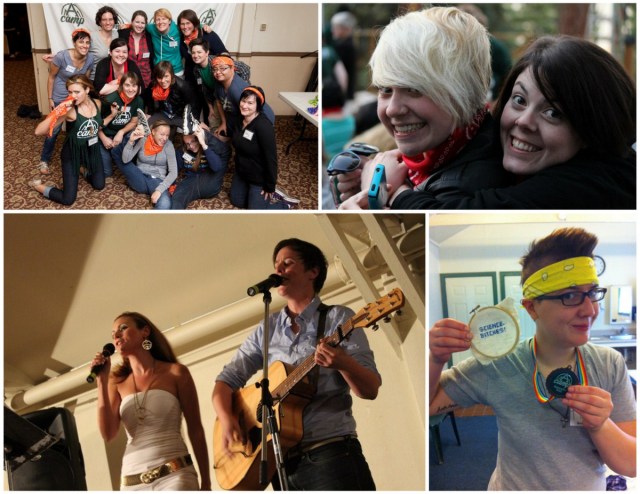 The next Camp Autostraddle will take place May 23rd-27th, 2013 in Angelus Oaks, California, Mark your Calendars!
+
Thursday, September 13th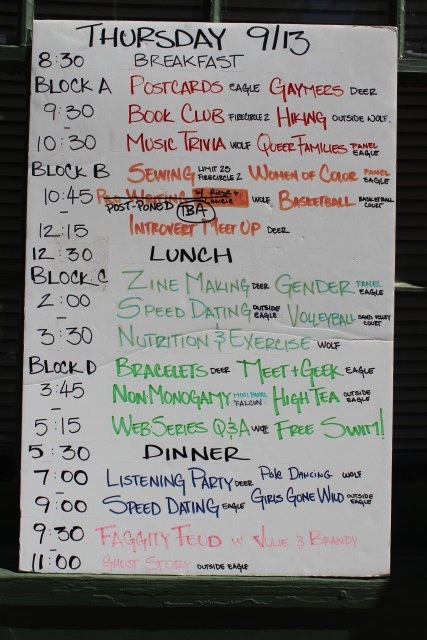 +
I. Hello, Morning
Block A:
GAYming w/Morgan & Jill
Queer Families Panel w/Vikki, Laneia, Carrie, Whitney & Riese
Book Club w/Carolyn, Jamie & Meredydd
Music Trivia w/Crystal & Stef
Postcard-Making w/ Carmen
Hiking
Individual Style Workshop Sessions w/Sara Medd
Jill, Wild Stallions Counselor/VIP Camper: Gaymers was one of the first morning activities of the first day of camp so everyone was a little muted and tired. Thankfully Morgan was full of energy and got everyone stretched out with a game of "Human Pac-Man," in which we turned Deer Lodge into a life size Pac Man course and everyone ran around eating ghosts.
Morgan, Battlestars Counselor/Calendar Girl/Contributor: It was all part of a diabolical scheme to force my fellow gamer kin to get up and move around a room and experience the awesome power of cardio.
Jill: We then discussed our favorite games, obscure games, and websites we liked. Morgan also discussed her involvement with the Trans Panel at PAX East.
Morgan: Then we moved on to the meeting's meat: feelings. There are no feelings more fulfilling, as a geek of any stripe, than telling people about your favorite things, and then hearing about everyone else's favorite things.
Jill: So that was the morning in which I was amazed by the greatness which is Morgan.
Gabby, Catch-22 Counselor/Writer: I wasn't scheduled for anything which was nice. When the schedules first landed in our inboxes, I realized that all of my feelings regarding my entire life would eventually be put out into the A-world, so a nothing block was a good block. I set out, camera in hand, ready to peer into the morning's workshops/crafts/things.
Cee Webster, Golden Girls Counselor/Tech Director: I spent the morning roaming and helping/hindering where I could. For example: Finding supplies for Carolyn for her sewing workshop, dropping in on the introvert meetup and searching for the elusive tape.
Carolyn Yates, Valencia Counselor/Contributing Editor: For Read a Fucking Book (Club), we read Santa Olivia, by Jacqueline Carey.
Meredydd, Golden Girls Counselor/Business Advisor: Santa Olivia is a really good book and I hoped it would give us a lot to discuss. I think it was a success! Campers also enjoyed the book and we got into the themes of science-fiction world building and comparing the relationship of the queer characters with the straight characters.
Carolyn: I really wish I'd written down everyone's recommendations.
Meredydd: It lead into a larger discussion of how far authors are allowed to go with sex scenes for queer characters in Young Adult fiction – something I hadn't really thought about much. Also we now have a Nerd-Straddling group on Facebook where we talk about our favourite books (science fictional and otherwise)!
Stef Schwartz, Battlestars Counselor/Writer/OG Autostraddler: This was our second time leading Music Trivia, and this time around we'd decided to turned it into a Rainbow War activity. Crystal and I were a bit nervous but somehow we assembled a fairly large crowd and the competition got pretty heated, with question topics ranging from Tegan & Sara and other well-known queer artists to hip-hop, riot grrrl, film soundtracks and obvs the Spice Girls.
Crystal, Thundercats Counselor/Music Editor: 50 campers started buzzing and shouting out answers all at once at it was pure madness. The Yellow team were the only ones who played by the rules and I suspect that this was their downfall.
Stef: Crystal threw delicious Australian candies to whoever answered correctly.
Gabby: Watching Stef doing anything in her Captain's hat is probably on my top ten list of favorite things to watch. She is a master and knows her music shit.
Crystal: Just like when we played this game at the April A-Camp, I kept hitting Keisha with stray Toblerone missiles. I'M SO SORRY KEISHA.
Gabby: Crystal was throwing out candy to the crowd but like Australian candy so it was all weird and amazing looking. I love how A-camp competitions aren't ever overly aggressive or mean spirited. It's really just a hoard of queer chicks knowing that they're smart and flying with it.
Crystal: The Purple team won, which I felt really good about despite my allegiance to the Red team because Chelsea sung all of her answers and deserved all of the points.
Carrie, Forever 21 Counselor/Community Managarette: Everyone came to the Queer Families Panel with really different stories and perspectives which was great. I felt tiny and inexperienced hearing Whitney talk about marriage and Laneia and Vikki talk about their kids because those are worlds I don't know anything about. But it mostly just made me excited and hopeful for a future that will involve those things.
Laneia Jones, Runaways Counselor/Executive Editor: I was really honored to be part of it. Everyone's perspectives were so unique and important, and the audience had great questions and comments.
Gabby: I don't think I've ever heard Laneia speak irl so much. It was awesome.
Alex Vega, Avengers Counselor/Design Director: I could listen to Laneia and Vikki tell stories about their children all day. Especially stories that involve important/deep topics like how to tell your kids that your family is a little different than the other kids at school, as an example. It was the first time I had even thought about that stuff… like maybe possibly having my own family some day and how that situation might go. (i.e. terrifying)
Riese Bernard, Runaways Counselor/Editor-in-Chief: The Queer Families panel was my idea and I was so pumped to rep my gay self and my gay Mom, but then I got altitude sickness and couldn't sleep Wednesday night or move Thursday morning (I also have fibro, which basically doubles the pain of anything that ever happens to me ever) and Marni had to have a Real Talk Moment with me where I had to face the fact that I wasn't gonna be on the panel after all. Intern Grace brought me water pitchers and Cheerios in a styrofoam bowl and listened to me writhe and told me stories. I didn't have pants on and I determined that I'm officially a "sickly" person in general. Alas.
Laneia: I talked with a camper afterward and she showed me a whole new side of being the child of a queer divorced mother — one that I hadn't really considered before — which I've definitely kept with me. Maybe the best part of A-Camp is how easy it is to learn something new, about yourself or the world. Like if you just stop and listen long enough, someone will show you something amazing and necessary.
Camper Quote: "As a person who works in education, I am absolutely fascinated by the relationship between children/their gay parents, and gay parents/the educational system. Please talk about that forever."
Sara Medd: I love having the opportunity to meet individually with campers to chat style for Individual Style Consultations!! Not only is it more helpful to give advice that is individualized, but I get to know campers who are not in my cabin who I may not have been able to meet otherwise.
Camper Quote: I had a style workshop with Sara, and she really helped me. I LOVE HER.
Carmen Rios, Misfits Counselor/Contributing Editor: I always think nobody will be interested in my lame nostalgic crafts but so many people came to postcard-making! We demolished a lot of paper inside of Falcon lodge and created a series of beautiful postcards ranging from practical to modern art.
Gabby: They were so damn cute surrounded by construction paper, scissors and the incurable virus of crafts: glitter.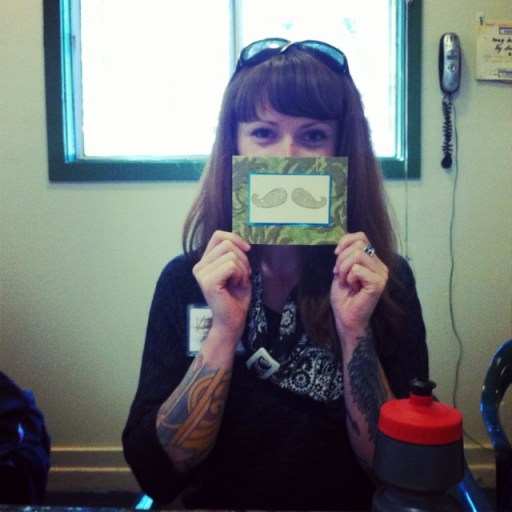 NEXT: The Queer Women of Color Panel, Speed-Dating With Hannah Hart and MOAR!
Pages: 1 2 3 4See entire article on one page