I've been plus-sized for practically my entire life, so I know a thing or two about fat pleasure. Being blessed with more to love comes with beautiful perks, but sometimes pleasuring your own fat body or a partner's fat body can be challenging. While sex education books and online content has granted all of us the opportunity to learn more about sex and pleasure, this content rarely addresses fat, queer folks or fat folks in general. Plus, there are SO MANY sex toys out there, but few are made specifically with fat bodies in mind.
This means that as fat folks, we have to get creative in the bedroom. Fortunately, there are plenty of toys that can help you have your best fat, queer sex with yourself or with a plus-sized partner. These ideas come from my personal sexual experiences and conversations with my fat comrades. But before we get into the toys, let's start with some general tips for solo and partnered pleasure:
Stay present.
Getting stuck in your head isn't going to help you enjoy masturbation. Additionally, if you're moments away from getting your back or mind blown and you're worried about what's about to go down, your partner will be able to tell the vibe is off. Loosen up! Slow, meditative breathing during sexual stimulation can help to bring you back into your body. Preparation rituals can help, too — I like taking a super hot, sensual shower prior to my sexy time. This helps me to slow down my mind and give myself some self-love before pleasure.
Share affirming words.
If you're loving on a partner's fat body, affirming words can go a long way. Make sure to let them know how much you love every part of their body — back rolls, fupa, and all! If you are a plus-sized partner who's getting loved on, ask for (and accept) affirmation from your partner or from yourself. Some of my favorite affirmations are affirming beauty (I/You are so beautiful), affirming worthiness (I/You deserve to feel amazing), and giving permission to fill time and space (I/You can take up all the time I/you need while I/you enjoy this). Even if you don't fully believe the words at the moment, repeating them out loud might help you step into your confidence.
Have fun!
Pleasure is about more than just doing what feels good. Play. Explore. Switch up your usual roles, maybe? During masturbation and sex, show yourself and your partner what you enjoy. Step out of your comfort zone — it'll be worth it.
Now that we've covered the basics, let's get into the juicy part. Here are seven types of sex toys that work well for fat folks. Try them out solo or use them with partners.
---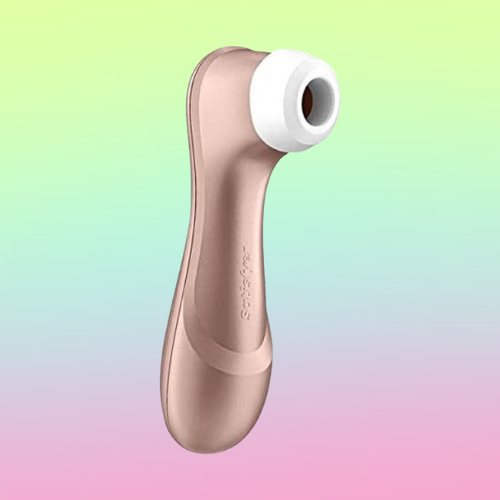 This rechargeable clit suction toy throws "taking it slow" out the window. The chubby handle makes this toy easy to grip and provides a little extra reach. Use it solo or during penetration with a partner. You can also use it for nipple stimulation!
---

Anal play brings pleasure to a whole new level. If you're new to anal, an anal plug kit is a lovely place to start — there are anal training kits that also have loops on the bases for easy handling and insertion (this set is just $35.99). But if you're a little more experienced, try the rechargeable b-Vibe Rimming Plug 2, which provides hands-free internal vibration — and the rotating beads in the stem mimic the sensation of anilingus. You can change the settings using a remote, so there's no need to reach around. Try it solo or during sexy time with a partner. Too big for your booty? Try the petite version. And don't forget to use lube!
---

The FemmeFunn Booster Rabbit is a rechargeable, dual-stimulation silicone vibrator designed for clitoral and vaginal use — and the shaft vibrates and rotates! This toy has a decent insertable length (again, extra reach!), and the buttons are easy to press and navigate without having to look down or interrupt your flow. You can also use the routing internal portion externally to simulate digital or tongue stimulation on clits, butts, and nipples.
---

The Sync 2 is an on-the-go, rechargeable clitoral and vaginal vibrator known for its C-shape. You can use this at home or wear it out on an adventurous date. The best part? It's entirely hands-free, so you don't have to strain your arm while trying to hold your vibrator on the right spot. You can use the We-Vibe app to change the settings and patterns — or a partner can use the app to operate your toy from anywhere, any time!
---

Strap-ons have evolved over the years. Long gone are the days of having to deal with nylon or leather straps cutting into your thick thighs and chafing in unwanted places. So if you want to try strap-on sex with a partner, opt for an underwear or a brief harness instead, like the Spareparts Tomboii Boxer Brief Harness, which goes up to a size 5X. For a femme option, try the Bella or the Sasha.
---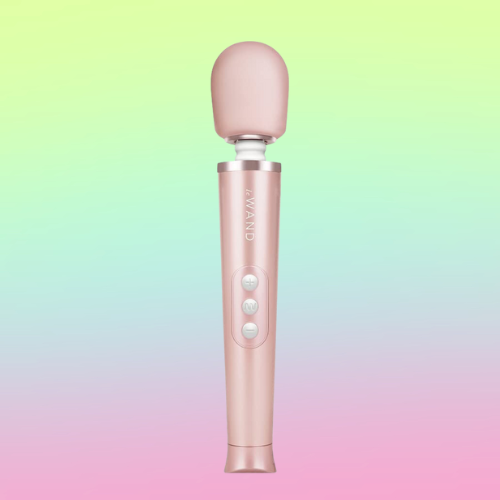 This particular rechargeable wand is special for two reasons: the handle is extra long, and the vibration is strong AF. Reach is absolutely not a concern with this toy, so you can tell your thick tummy, arms, and legs to mind their business this time. You can also buy attachments that will turn this external toy into a penetrative toy.  For a less pricey (but still powerful) option, try the original Magic Wand.
---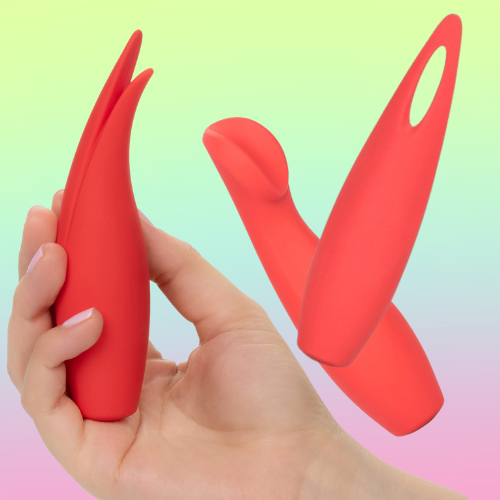 This line of rechargeable, water-resistant external vibrators are great staples for masturbation or partnered sex. They have a nice velvety texture that feels nice to the touch but won't easily slip out of your hand when wet. Unlike your typical bullet vibrator, these toys have length, and most are curved for easy reach. Use one of these in front of the mirror and watch yourself masturbate, use it on a partner, or show a partner how you like to be pleased.
---
Do you have suggestions for more sex toys that work well for fat bodies? Share your ideas in the comments!