all illustrations by Reesa Baxter

Soft bellies that are silken to the touch. Large breasts and round buttocks that fill your hands and body with erotic warmth. And, of course, thighs that you honestly wouldn't mind spending hours nestled between in bliss. These are just a few of the delights of fat sex, an activity that should be elevated to ritual. If you've ever found yourself at the altar of your partner's thick waist, as I have, then you know that the sacrament of fat sex is one that will occupy your fantasies long after the act is complete.
In short, if you know, you know: fat sex is church. Here are some of the positions that have taken me there when I knew I needed to be lifted in prayer.
The Gemini Twins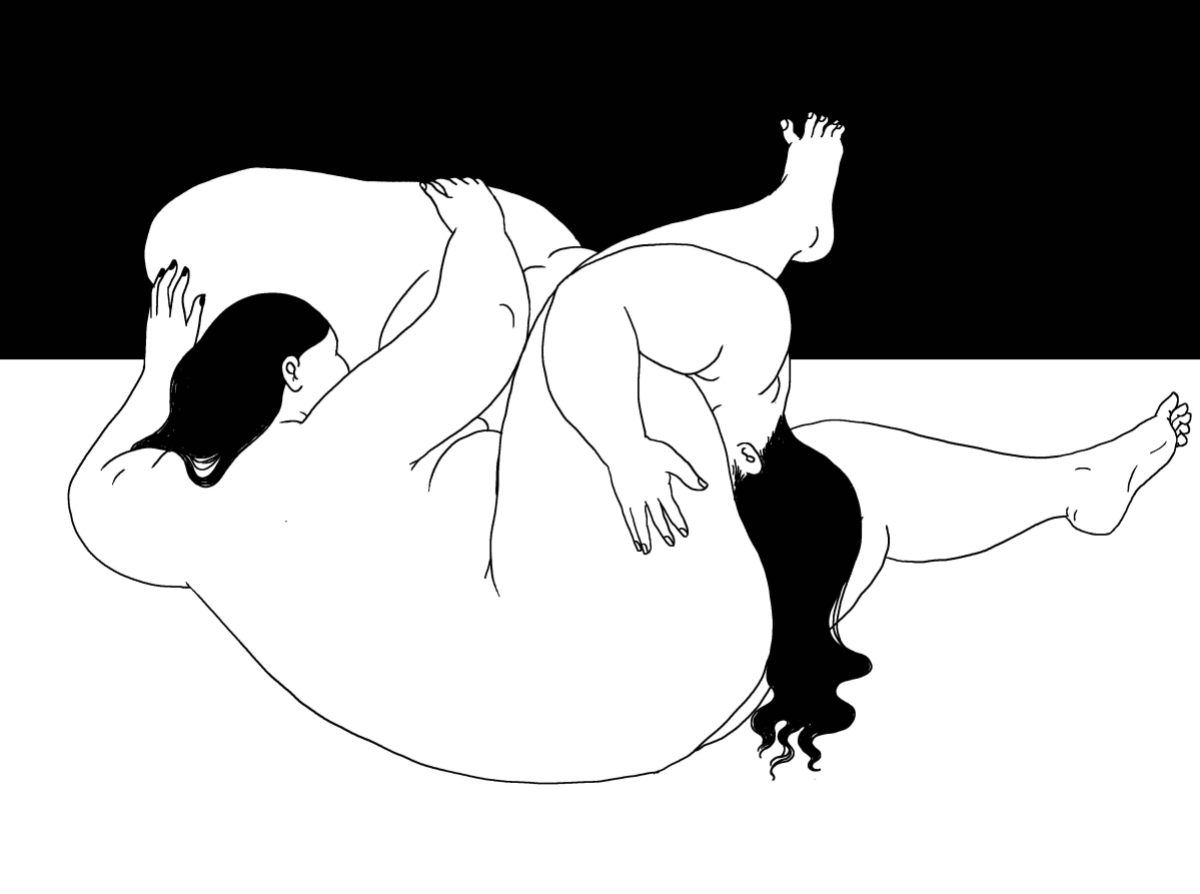 One of the most beautiful things about sex for all bodies is the thrill of being mutually pleasured; it's an altogether transcendent act that can leave you both fulfilled beyond measure once you've both peaked — and utterly eager beforehand. As far as fat bodies go, the same holds true; hence, the glory that is the Gemini Twins position. This is a position in which you and your partner can easily access each other's genitals with your soft lips and eager tongues as you mirror one another. It's also a configuration that you can spend hours in without taxing any fragile body parts. Here's how to do it: lie on your side and have your partner do the same, with your head at their groin and their head to yours. Like twins in perfect harmony, you both lift your upper leg, bending at the knee and resting your foot on the bed, and dive into the deliciousness that is presented before you.
Genuflection: The Giver and the Receiver

If you, like me, have ever loved a person with a perfect fat body (and you know you have — that's why you're here), then you're familiar with the feeling of wanting to kneel before them in reverence and selflessness. And if you have a fat body that is deserving of adoration and prayer (you do), then prepare to reveal your finest offering to your partner. In the Genuflection position, the receiver should sit on a sturdy table, on a counter or on the end of the bed. The receiver then parts their legs to present their genitals to their partner, the giver. The giver will kneel on the ground before them, using a pillow or ottoman to gently support their knees, and offer their tools to their partner: lips, tongue, fingers or the toy of their choosing.
Headboard Ballast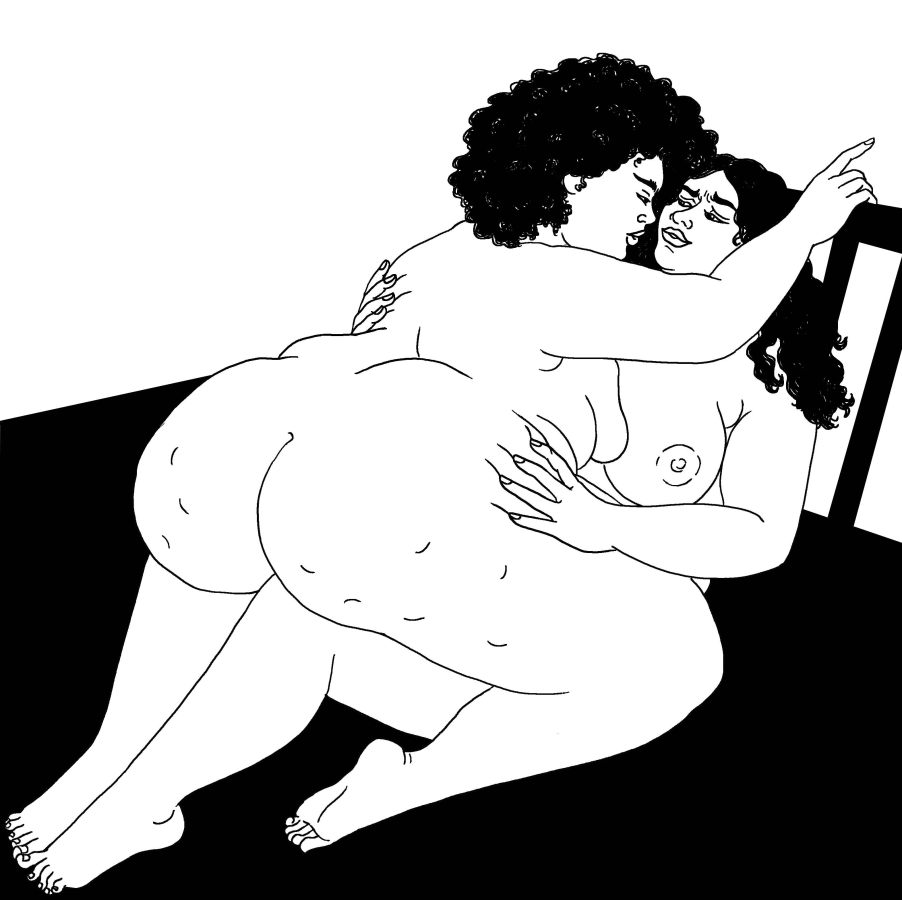 We're going to get this out of the way right now: if you want to get on top, get on top. Cast out any demonic doubts and ascend to the position that will celebrate you as the ultimate object of desire, rendering you pure in your pursuit of pleasure. To that end, with your partner sitting or lying on a bed, climb onto them and secure yourself in a straddle position over their pelvis. Sink down onto their shaft and put your hands on the headboard for a bit of stability and control. This will give you a little extra oomph to move your fat body on top of theirs, grinding for as deep and as long as you want until you climax. Then, depending on you and your partner's desires and equipment, you can switch and revel in the reciprocity or collapse together in mutual satisfaction.
Tablespoon and Teaspoon

The scene: lazy Sunday afternoons after brunch when you've finished binging a new series. Or perhaps just after you've woken up to your partner's eager caress. Maybe you're snuggling before bed and you wish to once again consummate this sacred union. These are all perfect occasions to have sweet, fat sex in the tablespoon and teaspoon position, which allows for wandering hands and low-impact grinding. If you're the teaspoon, allow your partner to place their shaft against you from behind, opening your legs and angling your body to allow it inside of your holiest of holies. And if you're the big spoon, approach the backside of your partner with your shaft, moving your hands to their chest or genitals once they've granted you entry. Proceed to spend as many hours as you need in praise of one another's perfect bodies.
The Sumptuous Feast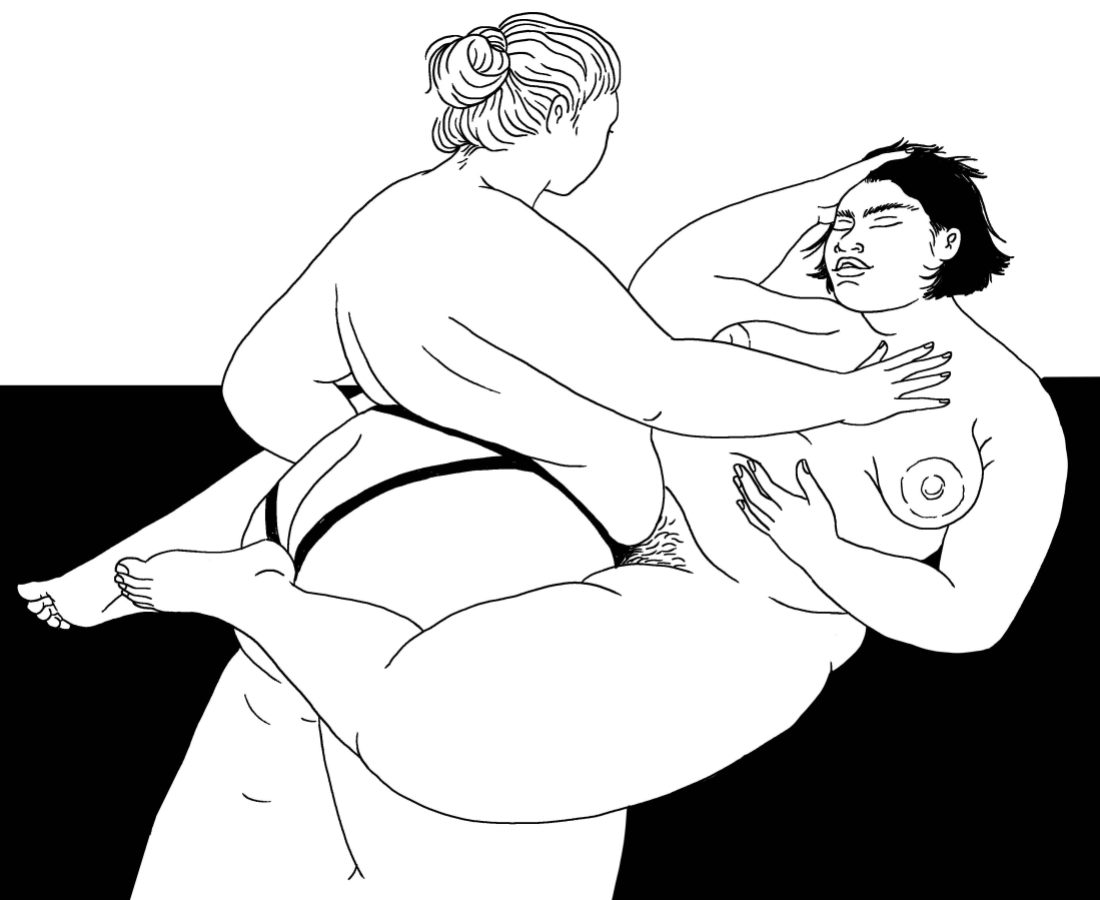 Sometimes you just need to consume all aspects of your perfect fat partner's body, and nothing else will do. It's a hunger for the divine that no earthly food can satiate, so if you're called to give everything to them while you take it all for yourself, it's time for the sacrament of the sumptuous feast. Have your partner lie down on a sturdy table or bed, and depending on your mutual desires, arrange them on their back or front. Then, with all of hunger that's within you, stand before them while you touch their face, body, chest and genitals with your hands. If you have a shaft, fuck them as they deserve to be fucked. If not, upon their orgasm, offer yourself to them, be it in feast form or otherwise. That lets them have their communion while you are pleased in the way that suits you.