Hello, and welcome to your 2018 Emmys Liveblog and Open Thread! Before we get started, here's two things you already probably know but they're worth repeating: 1) We held our own Gay Emmys this year and they were awesome. 2) As always, Riese has put together (and is constantly maintaining) a fall TV preview for all the queer characters.
It's a big night for queer people and straight people who play queer people. Samira Wiley already snagged her Emmy for Handmaid's Tale this year. Also: Evan Rachel Wood for lead actress in a drama series for Westworld; Lily Tomlin for outstanding lead actress in a comedy series for Grace and Frankie; Kate McKinnon for outstanding supporting actress in a comedy series for SNL; Jane Lynch and Wanda Sykes for outstanding guest actress in a comedy series for The Marvelous Mrs. Maisel and black-ish, respectively; Jane Lynch also fro Host for Reality/Reality Competition Program for Hollywood Game Night; Ellen DeGeneres for Host for Reality/Reality Competition Program for Ellen's Game of Games. Sarah Paulson for outstanding lead actress in a limited series or movie for American Horror Story: Cult; Cherry Jones for outstanding guest actress in a drama series for Handmaid's Tale; Carrie Brownstein for Variety Sketch Series for Portlandia.
---
8:00 p.m. Hello and welcome! Tonight you've got Valerie, Carmen, Natalie, and Heather. You can also follow our whole Autostraddle TV Team on Twitter right here!
8:05 p.m.
Valerie: I wish literally any combination of the people who sang this opening number was hosting instead.
Natalie: Same.
Carmen: I know it's all tongue in cheek… but I didn't love that… because ain't shit solved. And I don't appreciate Colin Jost and Michael Che of all people pretending that we did
Natalie: No applause for them. None.
Carmen: A bad #MeToo joke! I won the bet! I want my money!
8:10 p.m.
Carmen: Oh!
. @IamSandraOh said one of her biggest inspirations is @LenaWaithe who she just met & she's carrying the impactful words Lena said to her yesterday all day today. 🙌🏽 #emmys
And I must say Lena's words had the same impact on me when we met! 💯

— Jackie Fernandez (@JackieFernTV) September 17, 2018
8:15 p.m.
Heather This is too boring to stay awake for! HERE WAKE UP! WAKE UP!
#AngelaBassett just made us GASP with this perfection. The #911 star hit the #Emmys in a white #AzziaAndOsta strapless gown. Gorge. https://t.co/r3ZroyEm0H pic.twitter.com/QZ1nDZiFf7

— YBF CHIC (@TheYBF) September 18, 2018
8:15 p.m. // Henry Winkler wins for Best Supporting Actor in a Comedy
Carmen: Best supporting actor in a comedy! Let's see if they finally give Titus the honor he deserves! (Spoiler: They won't)
Valerie: Titus! Titus! Titus!
Carmen: Three black men nominated and the old white man wins? Sounds like the Emmys to me
Natalie: What if we all die of boredom during this Emmy broadcast? What then, Heather?
Valerie: Sorry no more TV coverage we tried to do an Emmys liveblog but our misandry overwhelmed us.
8:25 p.m. // Alex Borstein wins for Supporting Actress in a Comedy Series for Marvelous Mrs Maisel
Alex Borstein's walk to the stage is already iconic https://t.co/Lk4YZETrXY #Emmys pic.twitter.com/XqUznw77zU

— Entertainment Weekly (@EW) September 18, 2018
Carmen: OMG OMG
SHE WON FOR PLAYING THE BUTCH
FUCK YES TEAM GAY
Riese: is her character explicitly gay now??
Carmen: She's very gay and very much in love with the main character!
Riese: oh wow
Carmen: That's the ending arc
Riese: that's so great!
Carmen: Also I would like everyone to officially tell everyone that Riese is the person who told me to watch The Marvelous Ms. Maisel and she was 100% right and I hope you all watch it. Alex Bornstein as Susie Myerson in Ms. Maisel fills all of my Janeane Garofalo gone butch dreams. So if that has ever been a dream of yours as well, I recommend it.
8:28 p.m. // Amy Sherman-Palladino wins for Outstanding Writing in a Comedy and Outstanding Directing in a Comedy
Cheers to Amy Sherman-Palladino AND her hat #Emmys pic.twitter.com/Q0jRKkapGV

— ELLE Magazine (US) (@ELLEmagazine) September 18, 2018
Heather: Holy cats, she is so Lorelai Gilmore it's unreal.
Carmen: This is #JusticeForGilmoreGirls (Natalie I also agree, Atlanta is getting robbed though) I'm so excited for all of our readers who are going to get addicted to Ms. Maisel now!
Natalie: I'm just saying, ASP: DO SOMETHING WITH SOME POC IN IT
8:40 p.m. // Rachel Brosnahan wins best actress in a comedy. 
Wakanda forever. #Emmys pic.twitter.com/a9JqSZ4r1Q

— Entertainment Weekly (@EW) September 18, 2018
Heather: Maaan. This is the same thing as last year: so many POC presenters, all white winners.
Carmen: THAT'S WHY THE SKETCH SUCKED, COLIN.
Natalie: I'm gonna need some of your wine, Valerie.
Valerie: Seriously.
Carmen: For the second year in a row the Emmys broke their own record for most diverse nominations, for the second year in a row they send all those poc's home with no gold
No. More. Participation. Trophies.
Riese: Also like that show is good but it's not THAT good
8:49 p.m.
Carmen: Samira Wiley is such a celebrity that she's doing ad campaigns in her instagram now like some kind of Khardasian!
8:50 p.m. // Merritt Wever wins Outstanding Supporting Actress in a Limited Series or Movie for Godless.
Heather: Much better than when she played a lesbian who was SHOT THROUGH THE EYEBALL on The Walking Dead.
Carmen: ANOTHER PLAY GAY FOR THE WINNNNNNNNNNNN
Riese: butchy gay too
old-fashioned butch
Valerie: okay okay i'll allow it. let it be known though, where my heart is. :shuri-emoji:
9:00 p.m. 
Cause of death: Constance Wu at the #Emmys pic.twitter.com/1mLB9JuGZR

— Jenna Guillaume⁷ (@JennaGuillaume) September 17, 2018
Heather: CONSTANCE
WU
Carmen: WOW SHE LOOKS AMAZING
Valerie: what if constance wu somehow won that emmy
Natalie: Good Lord. Constance.
Carmen: What if Constance Wu even got nominated for an emmy???
What if the Emmy's weren't racist? what then?
Riese: i feel bored
Heather: yeah, this is boring as hell.
Riese: there are so many cool interesting shows happening and these are like, not those
9:05 p.m.
Carmen: While we are at commercial, I would like to let you know that my one straight husband is a supportive bae.
Chivalry is not dead and @SterlingKBrown is the ultimate proof! #Emmys https://t.co/3AuaSjf0Vh pic.twitter.com/nCZwW8nxul

— ESSENCE (@Essence) September 18, 2018
Carmen: THAT'S WHAT I'M TALKING ABOUT, STERLING! FIX HER DRESS!
She will shine or neither of you will shine!
9:10 p.m. 
🚨 BETTY WHITE! 🚨 #Emmys pic.twitter.com/s2uEDCUDYJ

— TODAY (@TODAYshow) September 18, 2018
Valerie: betty white is the only white i want at these awards next year
Carmen: Hahahahahaaaaha! VALERIE!
Heather: amen!
Natalie: Yes!
9:10 p.m. // Ryan Murphy wins for Directing, Limited Series/Movie/Dramatic Special
9:13 p.m. // REGINA KING! REGINA KING wins for Best Lead Actress, Limited Series/Movie
Also, Leslie Jones' reaction to Regina King winning DESERVES an #Emmy pic.twitter.com/rQwy6hGF9P

— Strong Black Lead (@strongblacklead) September 18, 2018
Heather: WHOOOOOO!!!!!!!!!!!
Valerie: fucking finally
Carmen: FINALLY YES OMG
Heather: I SCREAMED
LORD I SCREAMED
Valerie: leslie's joy!!!
Heather: LESLIE!!!!!!
Carmen: I Just went hoarse!
Riese: Leslie Jones is going to be a meme now
i'm here for it
Natalie: YES!!!!
Carmen: You can hear leslie screaming without the mic! I love how we love on each other
Natalie: I have loved her since 227 and will never stop
Carmen: Listen I stan one queen now.
9:30 p.m. Some straight people got married. 
Oh, uh. I didn't know some straight people were actually about to get engaged. Hahah! Sorry! Love is love!

— Heather Hogan (@theheatherhogan) September 18, 2018
9:45 p.m. Well, we've reached the point of this boring-as-all-hec telecast where we're just talking about posts we're going to write this week, like a roundtable called MAKE IT GAY YOU COWARDS and Riese is showing us Getty images of Ellen and Mariska Hargitay.
9:50 p.m. It's time for — what Riese has named — the White Men in Period Costumes Awards. Instead, please enjoy this gift from Carmen.
#TarajiPHenson is in the running for our favorite look of the night in #GiambatistaValli. #Emmys https://t.co/fputid3T47 pic.twitter.com/C6weXmePep

— YBF CHIC (@TheYBF) September 18, 2018
9:54 p.m. Thandie Newton wins for for Outstanding Supporting Actress in a Drama Series for Westworld
She wrote her own fucking story. Congratulations to @ThandieNewton on her #Emmys win for Outstanding Supporting Actress in a Drama Series. #WestworldHBO pic.twitter.com/x07P5DnzHn

— HBO (@HBO) September 18, 2018
Valerie: I HAD DARED NOT HOPE
Carmen: THANDIE YOU DID THAT BABY
Valerie: BUT SHE EARNED THAT TWO SEASONS OVER
Natalie: Yes!
Carmen: "I don't even believe in God, but I'm going to thank HER tonight"
Riese: just get up there and swear and say you are an athiest yes
10:00 p.m. 
Riese: russia rigged this election
Valerie: i just keep shouting WRONG at my tv at this point
Carmen: I said it in our gay emmys and I will say it again, the only reason that Jane the Virgin and One Day At A Time aren't Emmy winners is racism.
Flat out.
Natalie: Fucking Russians.
Heather: 100% racism
10:07 p.m. Blah blah blah blah more white men. 
This. This. This. This. @HereIsGina serves you depth and range every 👏🏼 single 👏🏼episode 👏🏼. She produces and directs and gave her Emmy campaign money to an undocumented student so they could go to college. GIVE HER AN EMMY. https://t.co/jFhf5sIFib

— Jenn Kaytin Robinson (@JennKaytin) September 18, 2018
"Nobody knows what jokes are, especially men!" LMAAAOOOOOOOOOO 😂😂😂😂😂😂😂😂😂😂😂😂😂😂😂😂😂 #Emmys yes @Hannahgadsby pic.twitter.com/N4Tg0XVx90

— Jenny Yang (@jennyyangtv) September 18, 2018
LET HANNAH GADSBY HOST THE EMMYS. DO IT NOW. MAKE THE SWITCH. #Emmys pic.twitter.com/Gule7B5Yk7

— Dorothy Snarker (@dorothysnarker) September 18, 2018
10:11 Claire Foy wins Best Actress for The Crown, Shouts out Sandra Oh, Sarah Paulson was also there. 
sarah paulson: *exists*

me: pic.twitter.com/i4LYe1fuxr

— milena (@paulsonsgirl) September 18, 2018
Sarah Paulson shares what she and Regina King were texting about this morning #Emmys #AHS https://t.co/QILf2nBd4b pic.twitter.com/nlRE8ZD0qT

— Variety (@Variety) September 17, 2018
10:20 p.m. Valerie has a growing pile of stuff she's throwing on her floor in outrage.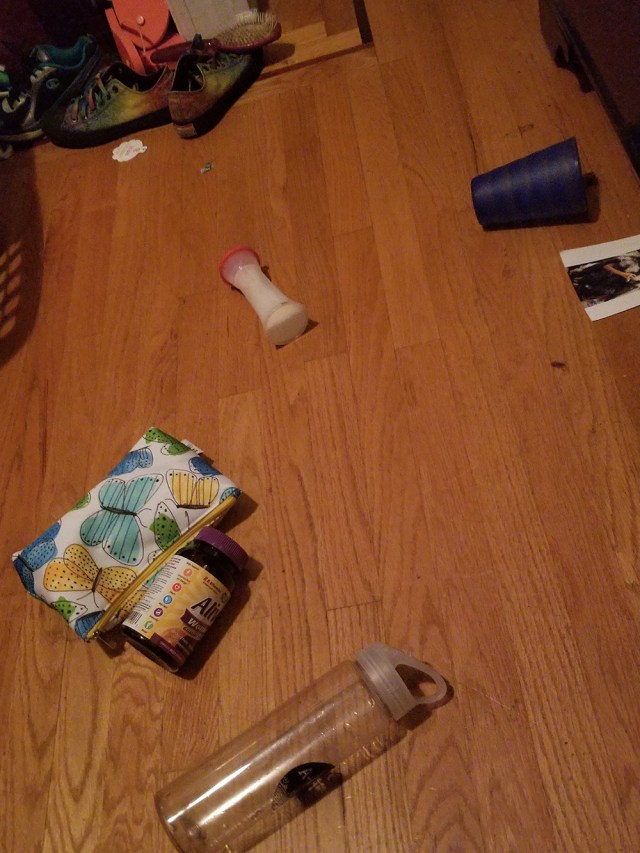 10:30 p.m. RuPaul wins for Outstanding Reality Competition
"Listen, if you can't love yourself, how in the hell you gonna love somebody else?"#Emmys: "RuPaul's Drag Race" wins the award for Outstanding Reality Competition 🏆🌈 pic.twitter.com/2OADRz62SV

— BuzzFeed News (@BuzzFeedNews) September 18, 2018
10:48 Ryan Murphy wins again! 
.@MrRPMurphy dedicates #ACSVersace Emmy win to LGBTQ community: "We dedicate this to them, we dedicate this to awareness." #Emmys pic.twitter.com/PMFIAGMSB4

— The Hollywood Reporter (@THR) September 18, 2018
10:52 Marvelous Mrs. Maisel wins Best Comedy
10:58 Game of Thrones wins Best Drama
Well, thank you for joining us
Sandra Oh getting a kiss from her mom to bless your timeline. #Emmys pic.twitter.com/g4yqmggNE2

— Britany (@britany_murphs) September 18, 2018