Not only are these songwriting choices almost mind-numbingly safe, but they also cover territory so familiar, it's almost a carbon-copy of someone else's song!

In 2006's "Girl Next Door," by Saving Jane, the protagonist yearns:
She is the prom queen I'm in the marching band
She is a cheerleader I'm sitting in the stands
This sounds familiar, right?Well, here's Taylor's version:
But she wears short skirts, I wear t-shirts
She's cheer captain and I'm on the bleachers
Interesting. Now check out the music video for "Girl Next Door":
Just to refresh, here's Swift's version:
With almost frame-by-frame precision, Taylor Swift's most popular music video is not only exactly like dozens of 80s and 90s teen flicks (which are basically remakes of 19th century romantic fiction & Shakespearean allegories), but it's also exactly like the music video for "Girl Next Door."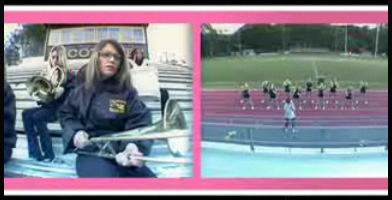 This happens a lot. For example; "A Place in this World" = one part "What It Feels Like For a Girl" (Madonna), one part "Just a Girl" (Gwen Stefani), one part "Not A Girl, Not Yet a Woman" (Britney Spears), and one part Donna Martin poem.
3. Glasses don't Make You a Freak, Taylor Swift!
Swift's insistence on casting herself as the outcast or the proverbial "girl in the bleachers" while prettier girls date her crush objects is really silly. Her standard-issue prettiness conforms to a hegemonic Caucasian beauty standard and she's selling her fans short to claim otherwise; they'll likely find that the doors that opened for Swift will never open for them, even if they relate to her lyrics.
Perhaps the only legitimately irritating aspect of Taylor the Human is her continually presenting the experience of being teased in middle school for liking country music as a legit tragic impetus. Taylor Fucking Swift! Put on a Rachel Berry smile and get yer sh*t together, we were all bullied in middle school!
Even when Swift's songs cast her as the outcast, the freakiest she can get is putting on a pair of glasses and a t-shirt which has apparently been signed by all of her non-existent friends.
Taylor, look at Lady Gaga in that bathtub and tell me that you're the one in the bleachers:

Oh also, they did the glasses trick in "Girl Next Door" video too: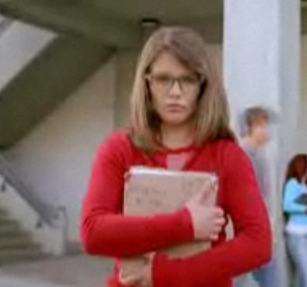 Here's the rub: actual freaks make really awesome music. It's edgy and complicated and it comes from a yearning, desperate, mixed-up place where pain and happiness have existed in equal parts for almost entire lifetimes. It's not safe or sexless — it's ugly, hopeful danger.
+
4. High School Hop
Her lyrics are praised for authenticity, but to whom? Their flat, archaic view of high school is likely a result of Swift not attending too much high school.
In fact, Swift left regular school at 15 and was then home-schooled via Tennessee-based Christian home-schooling network Aaron Academy. The Academy's rules are based on The Bible's rules. The Academy teaches Creationism. Here's one of their favorite websites: Creation Science.
Aaron Academy parents & teachers are also encouraged to visit the "Family Research Council" for its "excellent articles advocating traditional family values." Today's topics include "The Sexualization of our Armed Forces" and "New Study Shows Abstinence Education is Most Effective."
This survival-of-the-fittest entitlement perhaps explains her lack of humility despite an otherwise charming personality.
5. The Boy-Crazy Girl-Bashing Virgin: My Least Favorite Kind of Person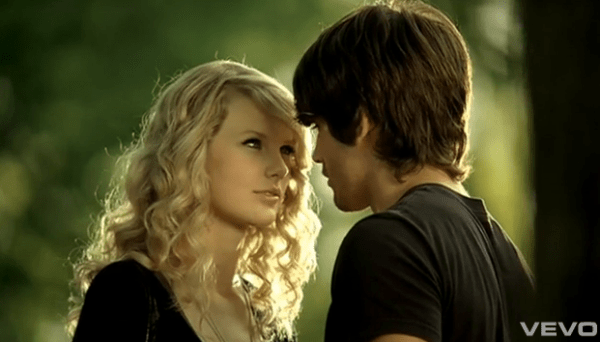 "Taylor wants to help adolescent girls everywhere feel better about themselves"
-Rolling Stone, The Very Pink, Very Perfect Life of Taylor Swift
Furthermore, Swift's lyrical message to teenage girls is clear: BOYS. That's it. Just boys. Crying over boys and feeling broken and/or completed by boys.
In fact, Swift loves boys at the exclusion of just about everything else, including other girls. Other girls are obstacles; undeserving enemies who steal Taylor's soulmates with their bewitching good looks and sexual availability. Unfortunately for these mute yet effortlessly hunky jungle-eyed boys, by choosing the "beautiful" girls over Taylor (who is, suspiciously… also beautiful…), they're missing out on Taylor's unique understanding of their heart/inner fireball/angelic rainshower/sweet glory of Jesus. "All those other girls are beautiful," Taylor pines, "But would they write a song for you?"
This is perhaps her music's most grating sin: the sex-shaming girl-bashing passed off as outsider insecurity. Boys are angels lit from within with cool hair, fast cars, and eyes that often resemble light sources (stars, sunbeams, etc). These boys never grow beyond metaphor into humanity. If they did, we might have to confront the very idea that Taylor Swift's entire career is designed to destroy: that teenagers want to have sex. And that wanting is confusing.
Certainly, she's among a handful of teenage pop stars who truly practices what she preaches. Taylor's behavior & imagery is just as wholesome as the apple pie her fans dream of baking for their own Jonas Brother-esque boyfriend.  She doesn't peddle paradoxical mixed messages about sex like the previous generation of teenaged pop stars.
I mean, she's pretty clear in "Fifteen" — really the only song where Taylor has an actual female friend — that "Abigail gave everything she had to a boy, who changed his mind, and we both cried."
I'll spare you the time of listening to the song and watching the video and give it to you straight: Abigail had sex with a boy, and later they broke up. That's right. No marriage. She gave him all she had.
That's right. All Abigail had was her hymen.


Songs like "Fifteen" dig up the ancient Puritan ideal that girls can only access power by confidently and heterosexually denying access to their pants.
But there's power in owning desire too, and even more power in owning that responsibly (especially when you're young). At her age, my friends and I were having safe sex, listening to Ani DiFranco & Destiny's Child & Lauryn Hill & The Magnetic Fields & George Michael and um *cough* Britney Spears and so far it seems none of us lost "all we had."
See, teenagers do think about sex and that's part of what makes adolescence so fucking wretched but also hopelessly authentic. Revisiting that paradox as an adult can make great art. It's not about slut shaming, exalting resistance, extending childhood or demonizing desire — it's about powerfully wanting things that are REAL.
[ETA: I'm not saying all teenagers should have sex, or that being sexually active is better for kids than abstinence. That's ridiculous. I'm just saying the wanting is real. Acting on the wanting is a whole different story — but Taylor is promoting denial of both, whereas I suggest if there is any denial at all, it should be in your actions, not in your desires.]
And I think that mature female-empowered desire has never been so present in pop music as it is right now, and many of those women were there on Sunday. [Sidenote: I could write a whole new essay about what Adam Lambert is bringing to the table right now for male sexuality, but I already have/this is already too long.]
The ironic thing is, I think pop music is past the stuff Taylor Swift is a reaction to. We're not really being subjected to the hypocritical virgin/madonna antics of Britney Spears, Lindsay Lohan, Christina Aguilera, Jessica Simpson, Paris Hilton, Mandy Moore, and their ilk peddling Lolita-Sex for sex's sake but disguised in pastels.
Instead, awards shows this year featured gifted, evolving pop performers like Pink, Lady Gaga, Beyoncé, Rihanna and Janet Jackson; women who are more than hymens or fairy tales. Women for whom sex isn't something you just throw into the crowd like candy — it's something strong and eternal and tenacious and often quite inspiring.
Let's bring it back to the lady I think should've won: Lady Gaga is vicious hungry sex in hellfire. She's more theatrical than Broadway and every night she sings in romantic open fists. Lady Gaga opens her dress, extracts her gut, assembles it in shapes splashed in sinister glitter and then shatters her dangerous violent diamonds onto the piano and screams FIRE and it sounds like bad romance. She wants your ugly, she wants your disease, and she's everything Taylor Swift will never be. Punks don't win awards, they eat awards.
And so that's what I hope for my hypothetical unborn children, whether it's from Gaga or another powerhouse female who owns it on stage: pop music that shuns tired Dawson Leary cliché in favor of your drama, disease, love, revenge, and (when you're ready) your dangerous ambisexual kiss in the motherfucking sand.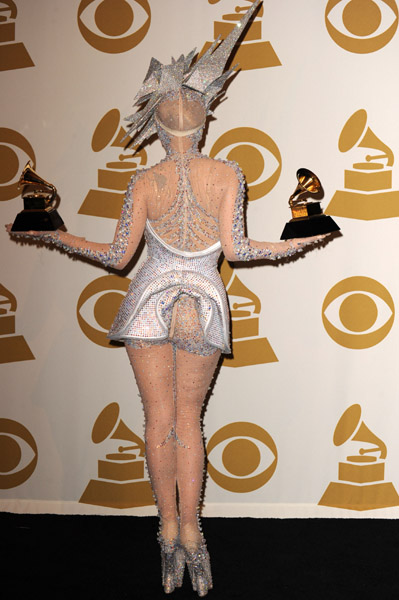 Pages: 1 2See entire article on one page