A long long time ago, we did the First Ever Autostraddle Audience Survey to figure out who the f-ck you are and what the hell you want and how/if, exactly, we can monetize your existence in order to maintain our existence! It went really well — over 3,000 of you responded within the first few days, which our Special Marketing Consultant Meredydd said was an unprecedentedly spectacular result.
Anyhow, so then we got the results, and you wanted us to make a post about it, and so we had all the numbers and we gave them to a new designer person, but then that fell through, and Alex was super busy, and then someone else was supposed to do it but wasn't able to do it either and THEN, finally, HERE WE ARE, ten billion lifetimes later, with the most visually inconsistent post of all time. Just little bits and pieces of what everybody was able to do. I mean seriously, if you're a designer or something, you probably shouldn't even read this, your head might explode.
Anyhow, I'll be writing our second  State of the Autostraddle Union any minute now, in which we'll talk about some of the things you want from Autostraddle as revealed on this survey. Also, we shared some of the results with you already — namely, the "words you used to describe Autostraddle."
Lez do it, homos!
+
WHO ARE YOU?
60.9% are between the ages of 18-24
27.8% are between 25-34
6.5% are under 18
6% are over 35
When I told our den mother, Vikki, in August that there were just as many 35+ readers as there were 18-or-less readers at Autostraddle, she was surprised: "I literally thought it was just me," she said. [Interestingly enough, in the section asking for what you'd like to see more of on Autostraddle, equal numbers of readers requested "older writers" and "younger writers."] I was surprised too — but I thought there would be more 35+ers. And Meredydd thought there would be more under-18ers. Anyhow, to all ye children under the age of 35, I hope you'll still need us and feed us when we're 34, because that's precisely how old Laneia and I will be before you know it!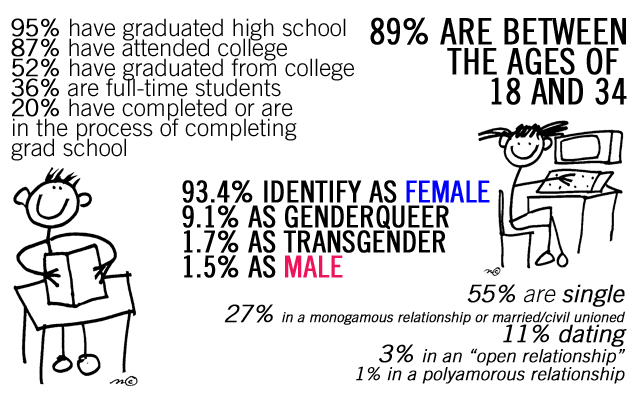 We conducted this survey in June, and we suspect some things have changed since then, like maybe we have more transgender readers.
Also hot damn you aspirational humans — firstly, none of y'all dropped out of high school, apparently (the number of readers who haven't finished high school is equal to the number of readers under 18, so), and most went on to complete at least some college stuff. Nationally, about 9% of the population over 25 has a masters/professional degree, but 20% of Autostraddlers are getting there. You're a very studious bunch.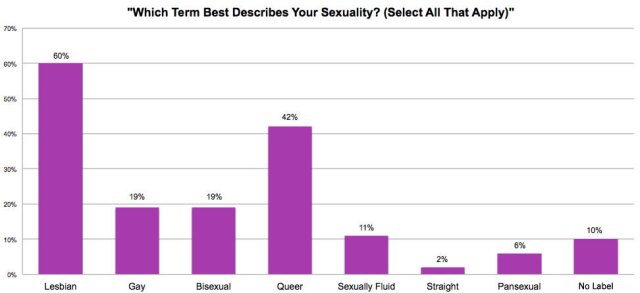 *
60.2% identify with the term "lesbian"
42.% with the term "queer" and 19.3% with "bisexual"
*
Letting you pick multiple labels for your sexual orientation and gender identity probably eradicated any meaningful deductions from this, but I'm wondering how many people picked "queer" on top of another label and how many picked it as their only label, aren't you? I wish I could eat statistics for breakfast.
*
Oh and — where do you live?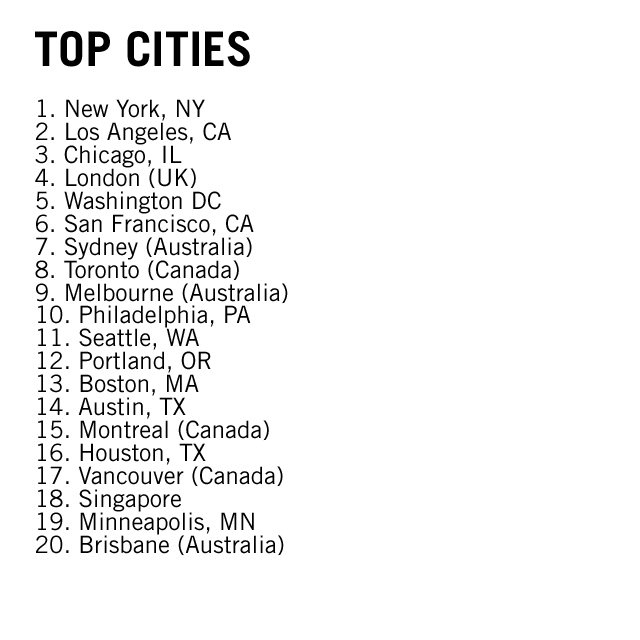 Shit You Like to Do
*
What you like to Read About Online:
LGBT Issues – 96.8%
 General News – 64%
Arts/Entertainment – 32%
Food – 23%
Tech – 21%
Fashion – 19%
*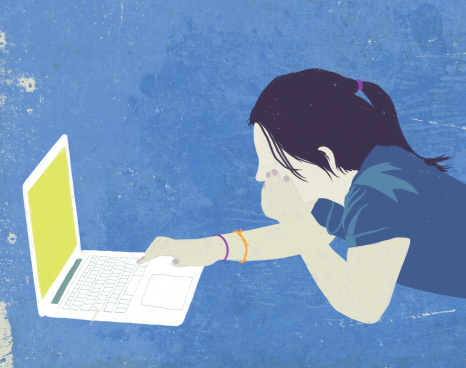 *
Other Blogs/Magazines You Visit Regularly:
AfterEllen
Jezebel
Feministing
Bitch
The Advocate
*
Another interesting result was how many of you participate in some kind of philanthropic activity. (I think donating to Autostraddle counts, doesn't it?) In any event, 77% of Autostraddle Readers participate in some kind of philanthropic activity. That's so many!!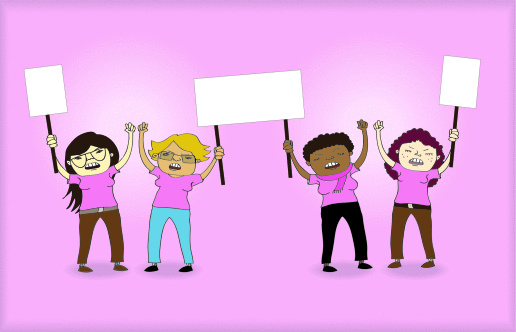 *
Oh Right And Also… You Sure Do Like to Drink!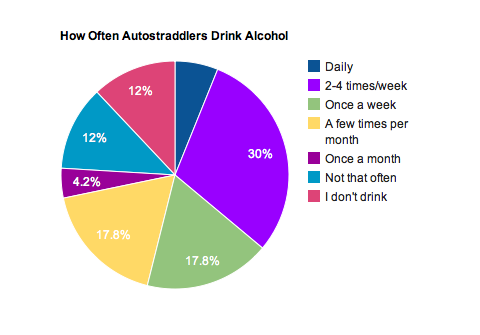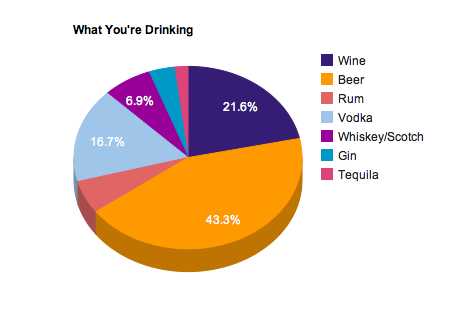 *
When it comes to visual entertainment…
83% enjoy LGBT-themed movies, 74% like indie films and 68% like documentaries
… and 30% of you watch Educational TV programs regularly, 28% watch Sci-Fi, 26% watch Reality TV and 23% Watch Cooking Shows
*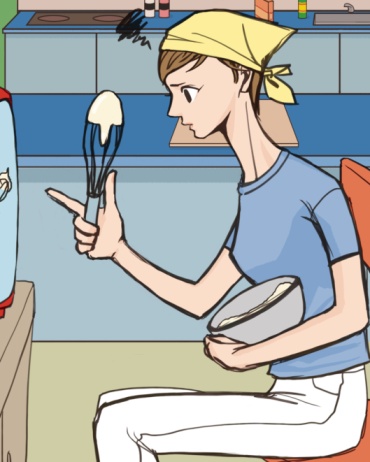 +
How You Feel About Us
49.3% of Autostraddle readers never comment
22% comment weekly or monthly
6% comment every day
*
How Did You Get Here?
38% found Autostraddle by a link from another website or blog
12.4% found Autostraddle via Riese's blogs/recaps
16% were told about Autostraddle by a friend
*
Some of my favorite write-in responses to "how did you get here":
1. "Someone handed me an Autostraddle business card on the subway in NYC. I thought it was porn and was creeped out (straddle?!), but thankfully I was wrong!"
2. "Googled 'lesbian sex'"
3. "Seriously I just googled dyke haircuts"
4. "My girlfriend's Professor suggested it in one of her online media courses"
5. "I was high, but I do remember link hopping around other sites until I came upon Autostraddle."
6. "Looking for other cooch-smoochers south of Northampton."
7. "My mom suggested it (yes, really)"
8. "Someone tweeted about 'catching up on Autostraddle'"
9. "One time Snarker tweeted something about the girls over at autostraddle's heads exploding over something"
10. "Your Tegan & Sara Sainthood review… Well this is off to an embarrassing start."
And there you have it. So basically most of you are super-smart, often drunk and quite compassionate/charitable. We hope our readership will get more diverse as we go on, and we embrace all members of all demographics with open arms! Go get a new t-shirt! Onward Ho!