Way way back in 2011, we told you about Mollie Thomas and Jenelle Hutcherson, the two out lesbians running for Miss California USA. Thomas is a 2013 Autostraddle Calendar girl, and Hutcherson is a former Miss Long Beach contestant with an alternative lifestyle haircut. The Miss Donald Trump California USA pageant was held this past weekend, where Thomas ran as Miss Abbey West Hollywood (duh) and Hutcherson ran as Miss Downtown Long Beach.
I bet you're just dying to know what happened! Well, they didn't place. Womp womp. But that doesn't mean it wasn't still awesome!
More than 400 women ran for Miss California USA and Miss California Teen USA, so they had some stiff competition. Miss Hoag Hospital Natalie Pack won the crown over runner-up Miss Malibu Brie Gabrielle. Regardless of the crown winners, it seems that Thomas and Hutcherson were the real publicity winners for a pageant that would have been barely reported on otherwise. I read the Boston Globe every day and I don't remember the Miss Massachusetts USA winners ever being so widely announced.
Though pageants are traditionally conservative and Miss USA owner Donald Trump supported Miss California USA 2009 Carrie Prejean's anti-equality comments, the Miss California USA 2012 pageant seemed to have been overwhelmingly supportive of the two women. Keith Lewis, co-executive of the contest and an executive producer of the 2007 documentary For the Bible Tells Me So, reportedly said that this year's pageant "will emphasize individuality and push the envelope even further." Lewis went on to say, "This year's event will be bigger and reflect the progressive attitudes of the contestants." Hutcherson spoke to Autostraddle about her experiences where she explained, "I… was shown only support and love from every participant I met."
Though many news agencies were quick to label Thomas or Hutcherson "the first" out lesbian to run for Miss California USA (probably whichever one they heard about first) I think it's way more effective to have two out women running. Being an out gay woman should not be a singular novelty. Additionally, it's a start in terms of addressing the flawed thinking every queer woman looks, acts or dresses the same way. I think it's equally powerful that Thomas's swimsuit and gown were "traditional" pageantwear while Hutcherson wore 1930's inspired swimwear and a tuxedo. Both women were able to dress true to themselves without worrying about setting the standard for how lesbians "should" dress in pageants.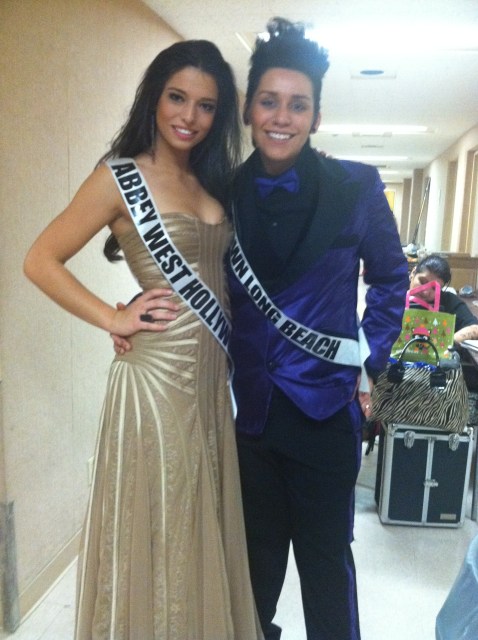 It's clear to me that both Thomas and Hutcherson participated in Miss California USA on their own terms, but I recognize that many still question anyone's participation in a beauty pageant. Yet, these two participants' experiences seem to have been overwhelmingly positive. "I realized a lot of these girls go in to pageants vulnerable and leave empowered," Hutcherson told Autostraddle, "I feel like I've been upgraded opposed to degraded… I am so inspired by all the support and love through this journey and it's only just begun. Who would have thought that being yourself was all it took to empower and inspire others?!"
As for the future, it's hard to know how the two will use their newfound fame. Thomas, who is 19 and still a part-time student at UCLA, is planning on competing again next year. I, for one, am totally rooting for her. As for Hutcherson, she's imaging big things for herself in the LGBTQ community. "I feel I have grown into myself further as an advocate and mentor for the LGBTQ community," she said, "My next project is to look into tuxedo branding– my own reincarnated tux designs custom made and auctioned for a charity focused on the youth– all youth." One thing seems certain; we haven't seen the last of either of these inspiring women.
Continue to watch Thomas's and Hucherson's Facebook pages for updates on their future plans and pageant careers.