A contestant in the Miss Long Beach Pageant is judged according to her performance in a personal interview (25%), evening wear (25%) and swimwear (25%), with the final 25% of the contestant's score coming from ambiguous criteria (energy, confidence, spider-powers and physical fitness, perhaps) determined by the pageant staff and titleholders. The pageant has been held in Long Beach since 1950 and this year will be giving away $24,000 in prize money and contracts to women and girls in various categories (Little Miss, Teen, Miss, Mrs) for the "Long Beach" and "Southern California Cities" titles. The latter seems like a lot of words to fit onto a sash! Both of those things are very long words that honestly seem a bit cumbersome for a sash, you know? But these ladies can clearly do anything:
The contestant must sell $100 in pageant tickets in order to enter. She will then select tasteful swimwear (1 or 2 piece, no thongs) and for the evening wear portion, the contestant will be escorted by her "father, husband, wife or another influential figure in her life."
Sounds like another night at The Abbey!
Well, anyhow, speaking of lesbians, this all brings me to Jenelle Hutcherson, a 25-year-old lesbian hairstylist (aren't they all?) who The LA Times describes as "rocking a Mohawk, tattoos, a pierced nose and small black ear plug-ins." Hutcherson will be competing in this years competition. Hutcherson will be the first out lesbian to participate.
Here's Hutcherson:
And here's last year's winners: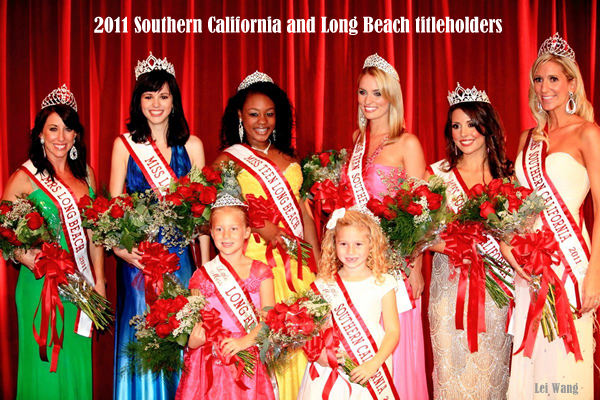 Jenelle told The LA Times that she chose to compete at the suggestion of pageant director Justin Rudd. Rudd was getting his hair cut by Janelle at the Den Salon in downtown Long Beach when the two had "an epic conversation." "He started to tell me about this pageant and for a second I thought, 'Oh wow, a business connection. How does one get involved?"
She reflects that she probably didn't "quite clarify" her intentions because Rudd went on to tell her how she could get involved as a contestant in the pageant, saying "her wild colors, tattoos and her individuality would all be embraced."
The Times says: "[Jenelle] said she hopes that by participating in the pageant she'll help spread a message of equality, diversity and creativity, but also unite Long Beach's large gay community." She competes with the support of the board of the Lesbian, Gay, Bisexual and Transgender Center of Long Beach, where she is also a part-time volunteer."
She's set up a facebook page to solicit donations/sponsorships, keep fans updated on her progress and sewing projects, and share recent press. She's been getting a lot of press. Look at that hair!!
She now also intends to compete in the Miss California pageant.
The most amazing part of this whole situation is that Jenelle is wearing "her handmade boy shorts and tank top inspired by 1930s men's and women's swimwear" for the swimwear competition. For evening wear, she'll be wearing a royal purple tuxedo. I bet that swim situation is mega-hot and when the pageant is over she should sell it on The Bay.
Now, some feminists have had a complicated relationship to beauty pageants for all of time, although the Sandra Bullock film Miss Congeniality seems to have warmed a handful of hearts. Then Toddlers & Tiaras happened, and fuck it all to hell. Did you know Miss America and Miss USA didn't allow women of color to compete until 1970? I just read that on The Internet. Also, two years ago there was a total freakout when Carrie Prejean answered Perez Hilton's question about gay marriage by asserting that she was against it.
And just last week, The "Miss World" competition was picketed by 200 feminists, as hilariously described by The International Business Times:
A feminist demonstration outside the venue panicked the organizers for a while, as approximately 200 campaigners stormed in with placards, banners and chants denouncing the contest as an "appalling offence against women's equality."
"Let the organizers and all those profiting from the event know that we are all angry that such an event is once again being held here in London," said a statement on the group's Web Site.
Carrying signs and posters that read "Miss Deed" and "Miss Ogynist" in opposition to the beauty pageant, the angry protestors made it "loud and clear that this event has no place in London in 2011."
So what does it mean when a lesbo takes the stage? A lot, actually — ultimately what Jenelle is actually doing here by entering is subverting that potentially problematic paradigm altogether. She's doing so on her own terms, wearing what she wants to wear. If pageants promote a sterilized, homogenized idea of female beauty, then allowing Jenelle to dress in a way that reflects her own personal (and non-traditional) gender identity is, in a way, blowing that lid right off. It's not about a gendered beauty standard anymore. We're all just people. I hope she wins!