People have been sharing their personal "Five TV Shows to Get to Know Me" on Twitter, and it led to Autostraddle's TV Team taking a good hard look within ourselves to come up with our own smattering of shows that best embody who we are at our core. Because we are a group of professional television lovers, definitive lists are our enemies!!!!!! What is meant to be a simple tweet format is, for us, a challenge a bit like dissecting our own hearts! Yes, our relationships with television are perfectly fine and healthy THANKS.
Anyway, after some introspection, we each have come up with our list of five shows that people should watch if they want to know us — and I mean really KNOW us. Reminder: These are not necessarily the five television shows that we think are the best of all time or even necessarily our five favorite shows of all time. They are the shows that are, in some way, indicative of Who We Are. With that in mind, we'd love to hear yours in the comments!
---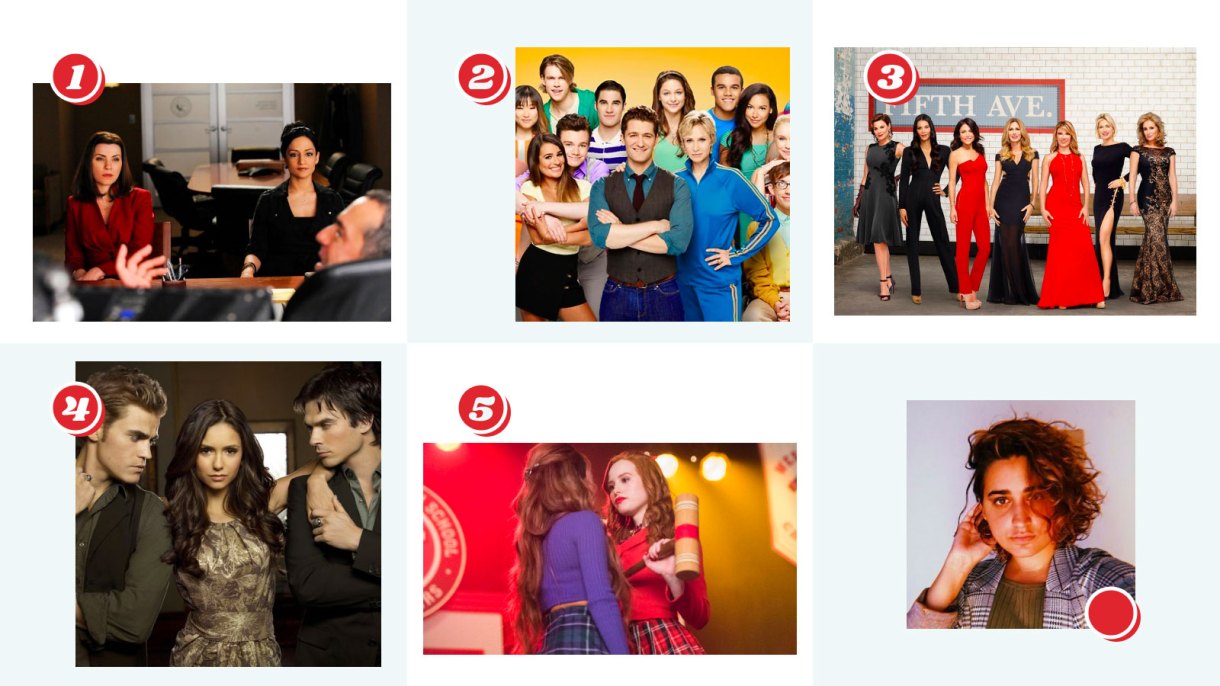 Glee: I used to be a musical theater kid, and once a musical theater kid, always a musical theater kid — sorry!
The Vampire Diaries: This show has a lot of heightened emotions in it, and baby, I'm all over the place emotionally.
The Real Housewives Of New York: I like older women and juicy drama, and yes I absolutely am a Gemini with mommy issues! Also I love my friends fiercely, and ultimATELY? All the Real Housewives shows are about friendship.
The Good Wife: I am intense, extremely passionate about the things I care about, and love to drink red wine while wearing a power blazer.
Riverdale: I'm a lover of mysteries like Betty Cooper (and also have anxiety like her), a daddy's girl like Veronica Lodge (SORRY), a writer like Jughead Jones, a spooky lesbian like Cheryl Blossom, and… ok, I'm nothing like Archie Andrews.
I'm realizing now that all of my answers basically scream CAMP and AESTHETICS, and you know what? Accurate.
---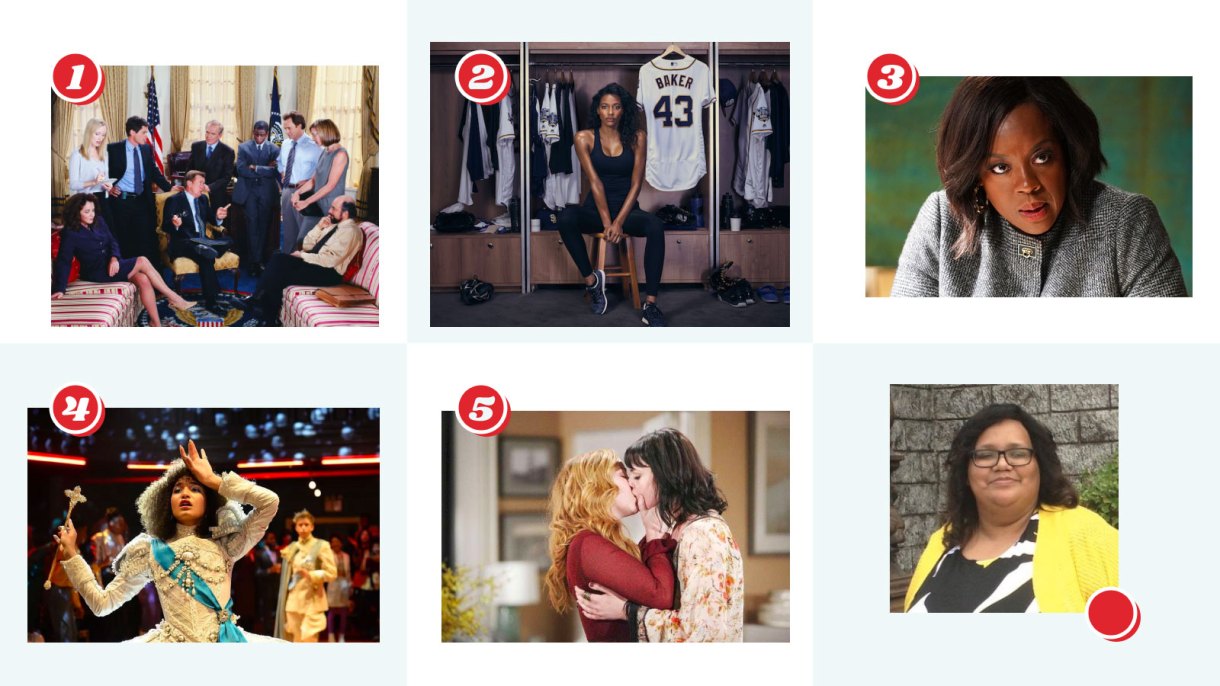 How to Get Away With Murder: Annalise and I are pretty much the same person, minus all the murder stuff.
Pitch: Ginny Baker and I are from the same 'hood and we would share an alma mater, if she hadn't got drafted into the Major Leagues.
Pose: Family first, forever and always.
The West Wing: I'm a political nerd, obvs.
The Young and the Restless: A TV watching legacy shared by generations of Duggins.
---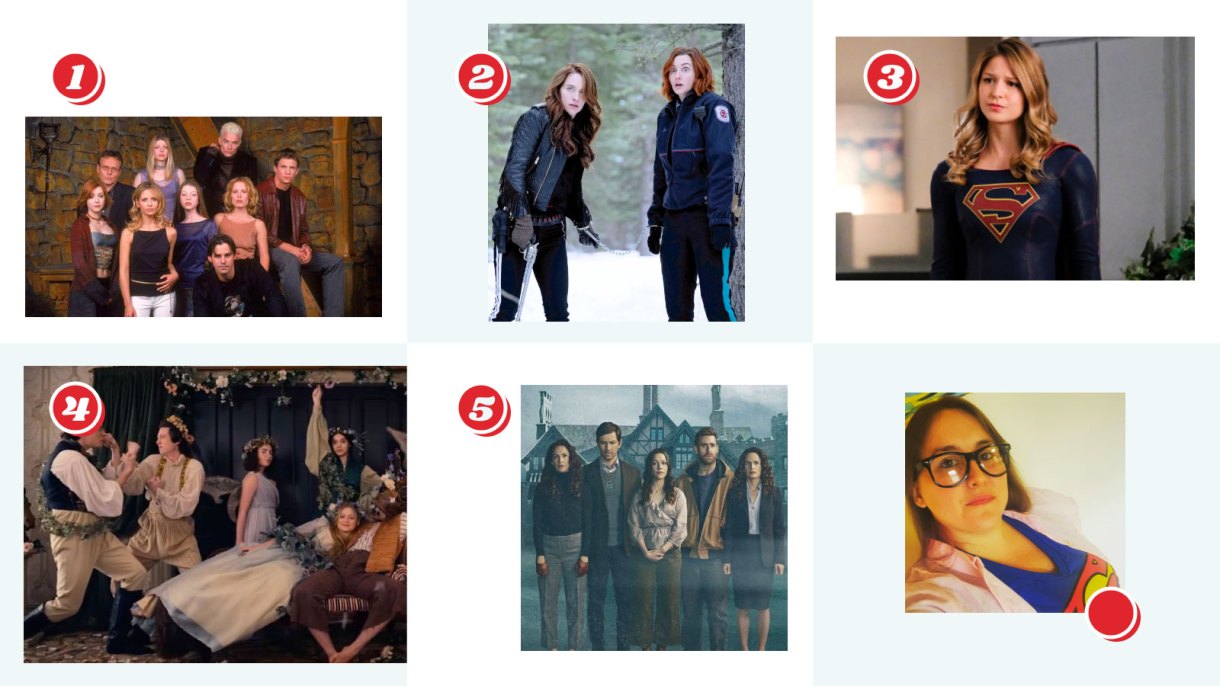 Buffy the Vampire Slayer: I started Buffy when I was 11 and that show shaped my sense of humor and my literal syntax. I still to this day will make up words on the spot if I can't find one to suit my needs quickly enough.
Wynonna Earp: Wynonna uses the same syntax and humor but this leading lady has a little sister I relate to more than Dawn. I see more of who I am and who I want to be in Waverly Earp than I have in any character in a very long time.
Dickinson: The most dramatic corners of my brain have never been represented more accurately than Hailee Steinfeld's Emily Dickinson. From the flop-on-the-bed-over-things-that-don't-matter type of dramatic to the I-think-about-death-an-awful-lot dramatic, it's all there in one smart, hilarious package.
Supergirl: I tried to argue to put "The Arrowverse" as my answer so I could loop Legends of Tomorrow in here for my sillier side, but instead it's Supergirl, because when it's at its best Kara perfectly encapsulates what it's like to be an optimist in the face of a world full of reasons to be a pessimist, and Alex Danvers is the fiercely loyal disaster lesbian I can only hope to be.
Haunting of Hill House: I'm surprised as anyone that Orphan Black wasn't my last choice, but when it comes down to it, Haunting adds the dark and twisty and emotional layer that would be necessary for painting a complete picture of myself with only five shows. It has great storytelling, a lesbian empath, and a constant, quiet undertone that could burst into screams or tears at any time without warning.
---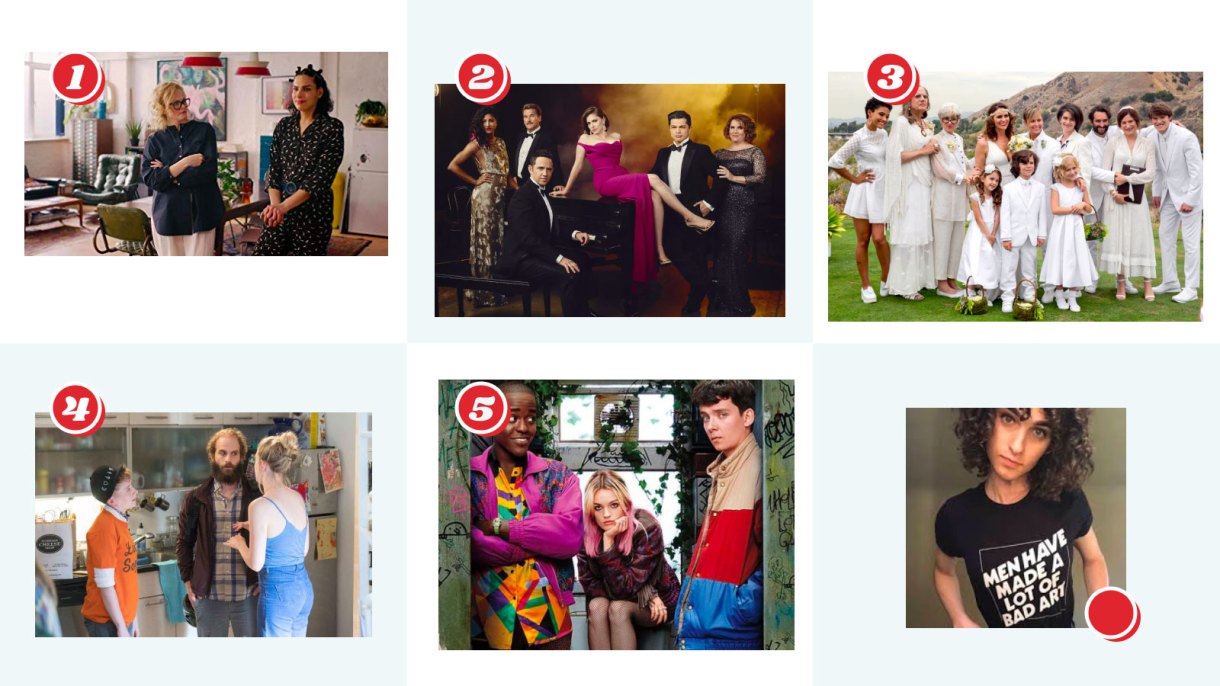 The Bisexual: I almost picked The L Word, but Desiree Akhavan's brand of queer fuck-up-ery is much more similar to my own.
Crazy Ex-Girlfriend: Mental illness, Judaism, obsessed with love. Also. Musicals!
Transparent: Transness, Judaism, bad with love. Also. Musicals!
High Maintenance: Believe it or not I'm actually much more interested in other people than myself. And like this show, I'm very aware that while I'm going about my life everyone else is going about theirs.
Sex Education: If I was asked to describe myself in five words those words could be: "Every Sex Education character combined."
---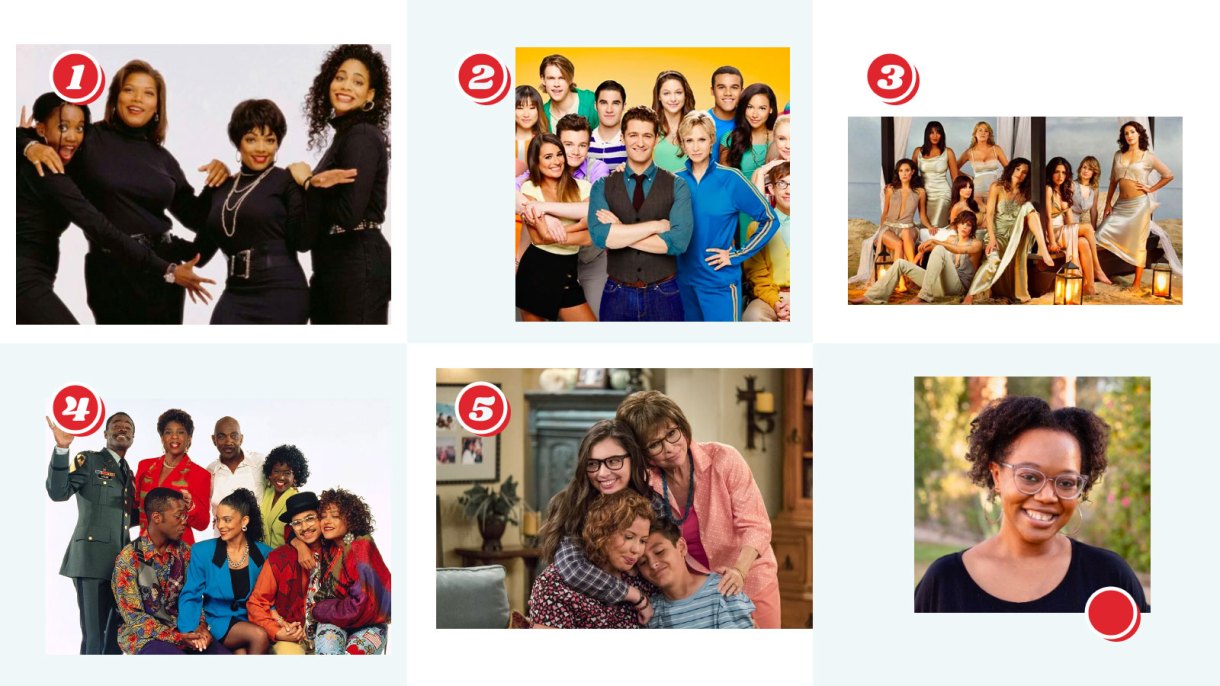 Living Single: Friendship and sisterhood! Oh, and when I was eight-years-old, I had a Queen Latifah themed birthday party. I'm that kind of homo!
A Different World: Damn I love black people and Damn I love books, so surely this isn't a surprise. In my heart, I'm still a Whitley just looking for my Dwayne Wayne. (Except if you know the show at all, I'm actually a Freddie. Never mind.)
Glee: Yes, I was a high school theatre geek. And yes I hate myself probably as much as you do for including this show on the list.
The L Word: TECHNICALLY I wanted to call this the L Word-verse and include Generation Q, but it was decided that was breaking the rules, so I kept it to the mothership. I obviously write about queer women on TV for a living so The L Word is life. BUT ALSO now that I've seen Natalie's list, I really wish I had gone with Pose. Maybe just pretend this says Pose. Thanks!!
One Day at a Time: I've written about this plenty of times. I'm a queer Latina nerd, formerly of Catholic high school uniform fame, who was raised by my single mom. I am Elena Alvarez, and in my heart, she is me.
---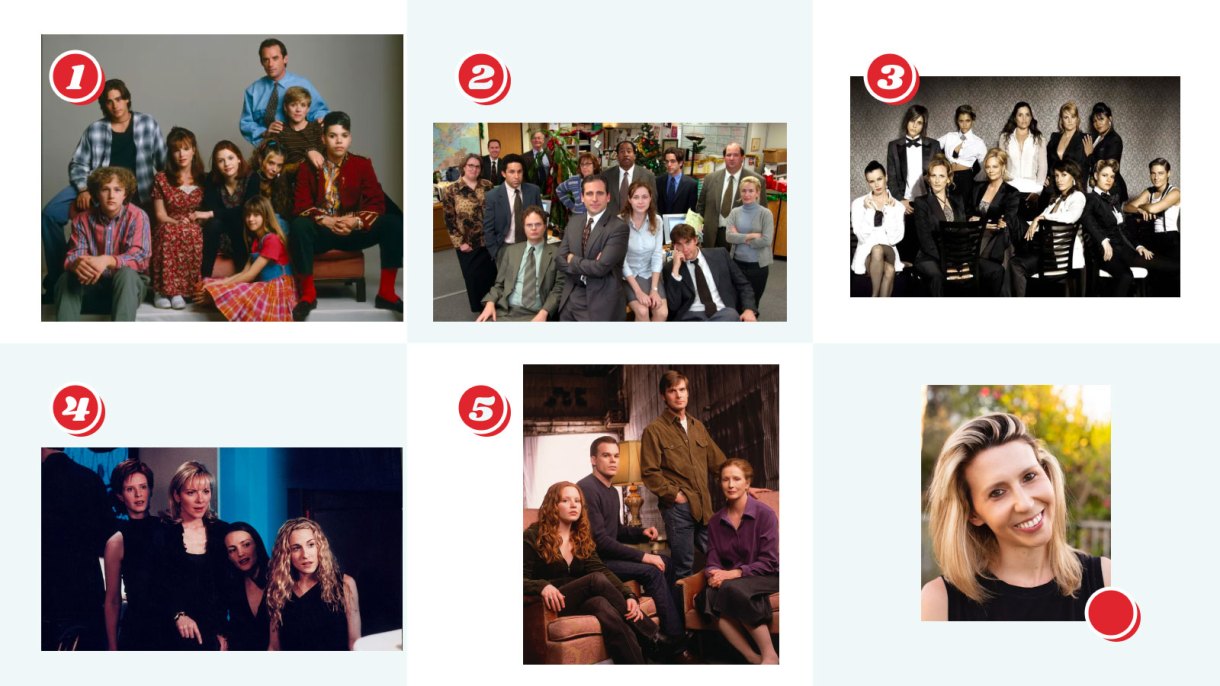 My So-Called Life: I'm Angela Chase and everybody I've ever loved is either my Rayanne, my Jordan, my Sharon or my Brian.
The Office: This is the attitude I like to take into the workplace
The L Word: This is the way that we live because for my job I've watched every episode of this show over and over and over until this show BECAME me, and now it is bigger than me, and I have no choice but to succumb to its wiles, just like all the girls do with Shane.
Six Feet Under: Smart people talking about death — a typical day in my DMs or this brilliant, insightful, challenging, weird television show about a family for whom death is always, always there. And you can do anything with it! Be serious or not, sing and dance or scream.
Sex and the City: (Sorry but this is what I watched, what I wanted to be? on some level? when I was in college. sometimes I'd watch it when I was sad and think, "I'll be there some day!")
---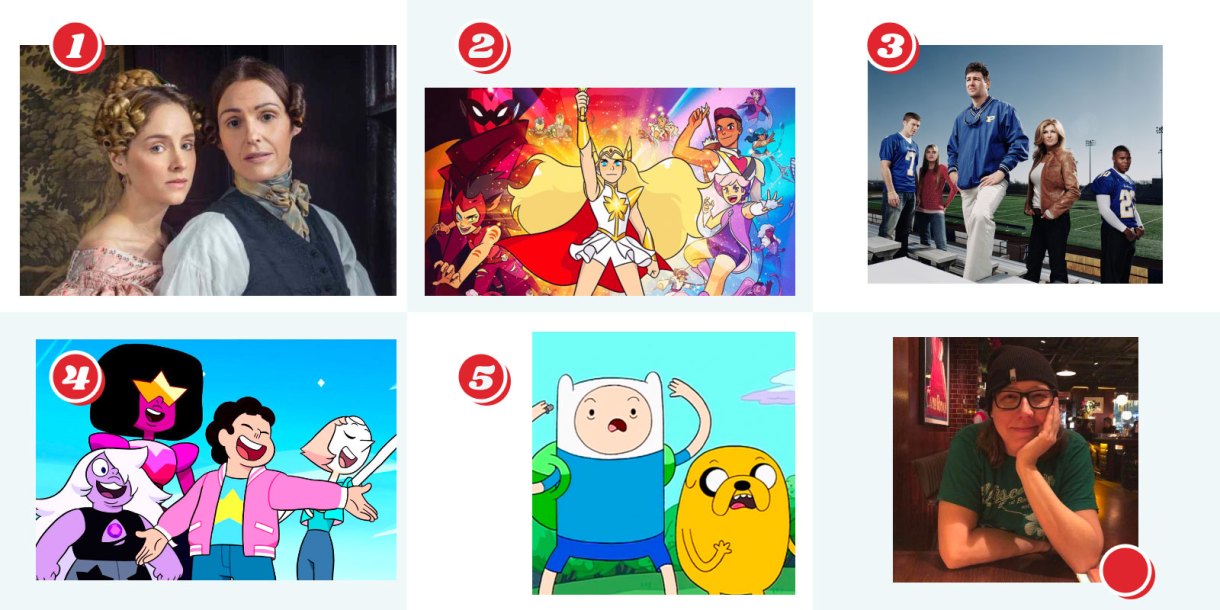 Gentleman Jack: I've just never met someone who embodies my own soft butch mentality as much as this depiction of Anne Lister, tromping around with her masculine gait and ties and hats, making men fear her and women adore her, holding the entire world together with her own hands and sheer willpower, tender and fierce and oh so resilient.
She-Ra: Of course three of my choices are animated TV series because, for one thing, people always underestimate animated TV and write it off as innocent and naive, when, in fact, it's the facade of innocence and naivety that allows it to explore the depths of human experiences and relationships in ways live-action "adult" TV shows do not. And for another thing, I think anyone who's really living is constantly coming of age in new ways. For, She-Ra, it's the path out of fascist evangelicalism and into the prism of light cast by found family, and the never-ending quest of figuring out who you are.
Friday Night Lights: The thing I am more than anything else is southern. I will likely never live in the rural south ever again, but it will never not live in me. Friday Night Lights somehow embraces both the oppression and the comfort that exists in the perpetual cycle of living in a town — where kids grow up playing football and have kids who grow up to play football who have kids who grow up to play football — where everyone knows everything about you and "y'all" can be a term of endearment or an indictment.
Steven Universe: What I said about She-Ra and add in a hard-won ability to hope, an eternal journey of compassion and self-betterment, and the firm belief that love really is the answer.
Adventure Time: "Sometimes life is scary and dark. That is why we must find the light."