A lot of things would have been so much simpler if Simone had sperm. We wouldn't have had to do IVF, of course, but also we wouldn't have had to choose a sperm donor. Oh my goodness was it hard for us. When people ask, which they often do, who he is and how we chose, it's hard to know where to begin. How do I distill two years of conversations down into a column or a video, let alone a conversation over brunch?
You've probably noticed by now that I am a person who cares A LOT about things, especially this future baby of ours, and that I have passionate opinions. Simone, it turns out, does too. I believe that DNA matters, that our genes influence who we are and how we start in the world. I like to geek out on my 23andme results, read every article I can find on prenatal epigenetics, and trace genetic patterns in our large extended families.
When we were first considering our donor options, we looked at a few Bay Area sperm banks and it seemed like every other guy was a filmmaker (maybe because independent filmmakers, like lots of artists, could pretty much always use some extra cash). I kept having this ridiculous vision of, say, five years down the line being at a filmmaker meet up, looking across the room and recognizing my child in a stranger's face, being like holy shit, I think that's our donor. It's a little absurd, I know, but San Francisco is a pretty small town!
I felt weirded out, on so many levels, about using a sperm bank donor. I also felt like we had to use a known donor. So we grabbed our phones, pulled up our social media "friends" lists and proceeded to evaluate pretty much every person we knew with sperm.
What about that cute gay guy I went to college with? Nope, he's a nihilist who doesn't believe in procreating. What about Simone's brilliant old friend from New York? No, his mom is schizophrenic, and so is one of my close relatives. What about the charming anarchist I used to live near? Maybe not, because I also used to sleep with him…
There are so many criteria that can be used to select – or eliminate – a possible donor. Looks, interests, smarts, family medical history, do we want them in our lives FOREVER, are they proximate?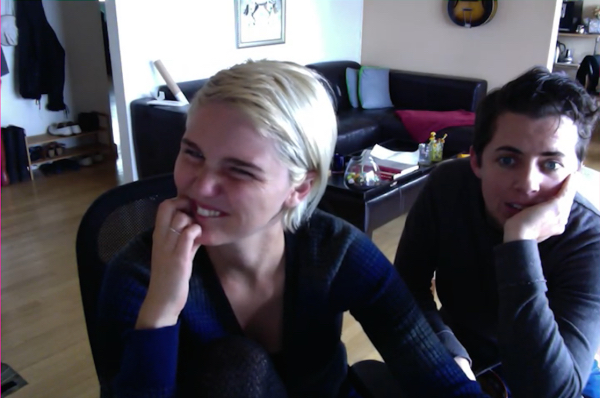 After more conversations than I could possibly recount, we eventually chose our donor. Smart, creative, attractive, emotionally intelligent, someone we would be delighted to have in our child's life (and ours) forever. We approached him, discussing expectations, family history, process, all of it, and everything seemed to be going swimmingly.
Until he went to our fertility clinic to get his semen tested.
I sort of laugh at myself now because the one book I read about "lesbian conception" said, basically, "if you are going to use a known donor, get his sperm tested, right away, first thing, before you've committed or even fully decided." I thought that was presumptuous, like "hey, dude, we're not sure about you yet, but would you mind jerking off into a cup so we can see what we're working with?" It also felt unnecessary. Our donor was young and fit and seemed plenty virile to me.
Turns out (duh) you can't spot infertility by looking at someone. His semen analysis came back with low count, low morphology, and low motility, not good all around. If we'd been planning IUI we would've had to stop right there. But because we were doing IVF anyway, our clinic said we could just use a little process called Intracytoplasmic sperm injection (ICSI) where a single sperm is injected into each egg to assist with fertilization.
What happened next (lots of additional tests and soul searching, mostly) is a story for another day, but to make a very long story oh so much shorter, we had our first IVF cycle, and then I had my miscarriage.
Simone and I could barely tend to our own feelings for a while after that, let alone try to attend to what this might mean for our friend, who we cared deeply about. Simone held onto most everything for a while, really, while I was pulled under by it all, under the covers, typically, hardly leaving our bed for months.
As we very slowly picked up the pieces of our hearts, we had to decide what to do about sperm the next time we tried.
---
In part because of the emotional turmoil we'd felt, in part because of the advice of a new fertility doctor, and in part to try to simplify things as much as we possibly could (a little ridiculous of an attempt, I realize, given that we were undertaking fucking IVF again…), we decided to try with an unknown sperm bank donor this second time — someone with proven pregnancies and impeccable sperm. Someone with tons of vials available for purchase, frozen and ready for our use, whenever and however we wanted to use them. For IVF or IUI, for this child, or any number of future children we might want to have. Nothing to do except pull out our credit cards.
And, of course, decide who this mysterious person would be. I wasn't certain about this shift for some time, and I was still imagining the fictional filmmaker meet up I'd invented. I was thinking about how often people lie in their online dating profiles, about how you can't really know someone without interacting with them through more than forms filled with text and written or even audio or video interviews.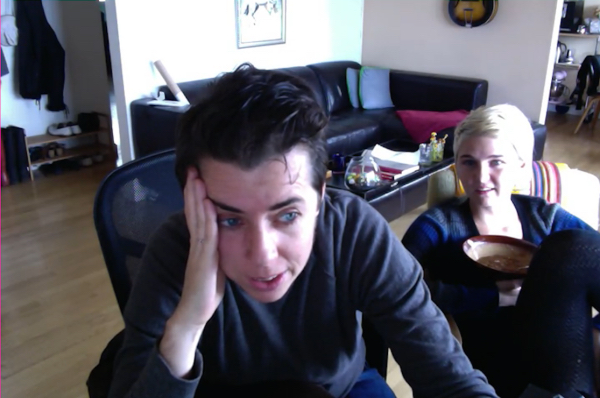 I thought a lot about the child we were trying to create. This new way forward felt right and simple to us, but how would it be for them? We were doing something that felt so much easier in the short term, but would it be harder in the longterm for our family? I looked at every donor conception site I could find. I read studies and personal accounts. How did these kids turn out? Did they hate their parents?
I came to the conclusion that our kid might very well have some questions, but that they would also probably be just fine. They would, in all likelihood, consider the two of us their parents, being the people who not only raised them, but also chose to bring them into the world at all.
We did decide, however, to only look at "willing to be known" donors, so our kid would have the option of contacting their donor at age 18. I'm guessing by then they will have already found a mess of their half siblings online thanks to all the DNA testing services out there, but who knows.
---
Thus began, again, the question of how we would decide. I wanted someone who seemed like us, someone with a creative and intellectual seeming family and similar interests, someone I imagined would fit in with us culturally. This is such an abstract thing to figure out from a series of questions on a form, and it became more absurd the longer we looked.
Hours into looking at yet another bank, I actually suggested ruling someone out because his favorite food is spaghetti. (What's wrong with someone's favorite food being spaghetti? I really can't recall.) I also refused to consider anyone with a police officer in their family. I really don't like cops.
Simone gravitated towards someone a little less like us, someone she thought would balance us out, perhaps someone with a degree in business or more of an interest in athletics. She also just could not choose someone whose voice she found grating (incredibly auditory and musical person that she is). We both had our sticking points, and sometimes they were weird.
It's a weird process, really, this hyper focus on the semi-random details of a person, those details being the only pieces of information you get to form a picture of who they are. It's easy to nitpick in a way I don't think most of us do when choosing a partner. It never once crossed my mind, for example, that Simone would somehow be a less suitable parent because she wears glasses. But if I had a choice between a donor with perfect vision and one without?
You should probably watch the video to get a sense for how it went, how ridiculous and exhausting it really was, but eventually we did it. We found someone we were both excited about, someone who ticked a lot of our boxes but, more importantly, someone we just felt good about. It was a huge relief.
We called the sperm bank, placed the order, and put another $7,400 on our credit card. As you might have guessed, I'm hoping Tiny Dancer isn't our only child.