I never crawled (too fat), but at ten and a half months I stood up and started walking, refusing to be pushed in a stroller ever after. At two I announced I didn't want to wear diapers anymore and never wore another one, not once having an accident. I've always been the same – precocious, decisive, eager to get things going, and determined to do things my own way.
I thought I'd have my first kid by age 26 at the very latest. Simone was two days shy of 35 on our first date, and, even though her biological clock wasn't exactly ticking (she never wanted to carry a child), she didn't want to wait too long to become a parent either.
So one night we decided to stop using condoms and… boom! Well no, not really. Alas, we don't have the right parts for that. Two uteruses and four ovaries but nary a sperm between us.
We had to decide how we were going to grow our family.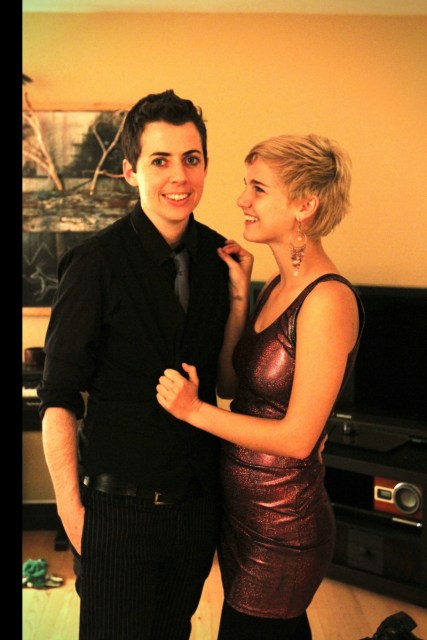 I could say that it's frustrating that we didn't just get to smash some body parts together and hope for the best, that we had to even think about it, because that would be a true thing to say. It was/is/can be frustrating, but it was also a gift. Because there was no obvious path, we had to talk about it, be intentional, think long and hard about what we wanted in a family and how we were going to make it happen.
To me this is one of the greatest gifts of queerness. We don't get that same script that the majority of straight people do about our lives, our relationships, how we have sex or how we procreate. As many commenters noted on my last column, that lack of representation can be scary and lonely. But it also gives us the opportunity to write our own stories. And these stories can be the most wondrous, fantastic stories of our dreams.
---
Four months after Simone and I vowed to spend our lives together, I was crying on the streets of New Orleans, asking angrily why we hadn't started trying to have kids yet. There was a sign that said "For Rent. Not Haunted." on one of the apartments nearby, and our days had been filled with every manner of fried food, drinking wine on medians, and the sort of southern queer delights that made me ache for North Carolina.
There were good reasons we hadn't started trying. We were in debt. We'd had a big (illegal) wedding and released our first feature documentary that past summer, two distracting and expensive endeavors that had derailed our paying work for a couple of months. We had taken too much time off, and we were only in the first full year of business together, still nervous about the sustainability of this fledgling dream.
But the bigger reason, which came out right there in a flood on cobblestones in the French Quarter, was that Simone wanted me to carry her baby, and that was maybe going to be impossible to achieve.
Simone had never wanted to be pregnant herself, but she had always envied the privilege that fertile straight people have. That chance to co-create a child, to know your partner is carrying a piece of you, that biologically together you are making this new life. (There have been so many days on this journey where I've envied this too, the alchemy and ease and free-ness of it all.)
But at some point Simone realized that, through the magic of IVF* and the science of surrogacy, that a female partner of hers could actually carry her baby, that that piece of her dream was possible, and from then on she had wanted that. In some ways it felt like the ultimate romance, her partner (me) carrying her child.
(*Note: In vitro fertilization is a process in which eggs are retrieved, fertilized by sperm in a lab, and then resulting embryo(s) are transferred into a uterus to hopefully implant and grow into a baby.)
We had discussed this previously, and I was keen on the idea – what I really wanted was the experience of being pregnant and the whole being a parent part – but we had eventually ruled it out because of cost. IVF is seriously fucking expensive. $20,000+ expensive, per round.
Under a lamp post, Simone admitted that she wasn't actually ready to abandon the possibility and move on to other, less costly, ways of making a baby, and I, in part earnestness and part desperation, said, "Well let's just do IVF and get on with it, then."
Anyone who has ever gone through IVF can tell you I had no idea what I was getting myself into.
---
Simone was two weeks away from her 38th birthday, so we knew if we wanted to have her biological child we had to get on it, ASAP. There was no time to try another way first and then see if it this dream still mattered to us once a baby came, and then do something different for our second child. It was now or never.
We had talked about, and would again discuss many nights over bourbon on the rocks, every possible way we knew to make a baby – insemination of me at home by a known donor, IUI in a clinic with a sperm bank donor, IVF with her eggs and my uterus, adoption, etc.
I reckoned with how badly I wanted to have a child that shared her DNA. I couldn't stop imagining the child's face, who they could be. As our extended families grew around us, I saw family resemblances in nieces and nephews, the weird way genes combine to make a new face. I wished for that for us, too, in whatever way.
Some people argue that wanting to have a genetic child is a narcissistic desire, and I will admit that I felt that, so strongly, whatever the partner-focused version of that is. I wanted to make a mini-Simone. How could I not, when she is the most incredible person I have ever known? Doesn't our world deserve a little more of that special Simone-ness floating around?
I begged and cajoled her to get pregnant at several points, suggesting we could go live for six months on a farm, say somewhere by the Russian River, to shield her from some of the internal gender dysmorphia and external assumptions she'd experience carrying a baby, watching her body change. We could even run a farm for butch preggos, a little b&b, I'd do all the cooking! She thought long and hard, but she just didn't want to do it. At all. She would rather not have a genetic child if it meant she would be the one carrying it.
For Simone it wasn't simply about passing on her genes, it was also about me carrying her baby.
We wrestled with our privilege, and I had a lot of sleepless, guilty nights. If we could spend this many thousands to create a baby, shouldn't we instead come up with the money and donate it to a prison abolitionist group? Was this the most selfish thing we'd ever done and, because maybe it was, were we okay with that? I'd had a full ride to college, and Simone had partial scholarships and parental assistance, so we had no student loans. I had basically zero credit (I didn't get my first credit card until 25 because fuck capitalism), but Simone had nearly perfect credit and high limits.
We tackled spreadsheets – how much would it cost, really? With the procedures, the drugs, the sperm? (Answer: an estimated $19,209 per round. Significantly more with a known donor.) And how would we come up with the cash? We researched medical loan programs and credit cards, shaved away at every category in our budget, reducing our personal discretionary income (the only money we spend outside of our budgeted categories) to $100 per month, and thought about all the sacrifices we'd be willing to make for this baby, this dream. We were so lucky, then, too, that our business was booming, and Simone's parents offered to help pay as well.
Money is weird. $19,000 felt like both all the money in the world (I used to live off $5,000 per year!) and no money at all in the lifetime spending on a child. This child that I would grow inside my body and love and hopefully know for the rest of my life. This child of ours, this child we would co-create and raise together, with all the love and intention and complexity we approached his/her/their conception with, and so much more.
We ultimately threw our hands up and, in a burst of both foolishness and long-considered decision-making, said, "it's just money, right?!" With the help of a 0% interest credit card, we decided to go for it.
We were going to do what some call "shared maternity" or "reciprocal" IVF, where you harvest the eggs of one partner, fertilize and grow them to embryos, and then transfer an embryo(s) to the hormonally prepared uterus of the other partner. If you are damn lucky, a baby results.
And thus began one of the hardest, most expensive undertakings of my entire life.
So go watch the video to learn a little more about the wild science of IVF and what it was like to actually do it.
If you've done IVF, or are considering it, or want to know more, let me know in the comments. Happy to share knowledge and resources.
And stay tuned for the next column: choosing a sperm donor!