Are y'all following Drew and Shelli's brilliant coverage from Sundance? Shelli's reviews so far include Shortcomings, Rye Lane, The Persian Version, Bad Behaviour, and Eileen. Drew's reviews include Joyland and Slow, Mutt, It's Only Life After All, L'immensità, and The Night Logan Woke Up. And they're not done yet!
This week in TV, Natalie ran down her favorites from season five of The Circle. Kayla reviewed Poker Face. Heather wrote about The Owl House's penultimate episode (sniffle) and Mindy Kaling's Velma (boring). Himani wrote a beautiful longform on the second season of Sort Of. Riese made some hilarious and highly scientific Gen Q charts. A. Tony Jerome shared the joys of Tubi. And Drew recapped Drag Race.
Notes from the TV Team:
+ How I Met Your Father is back, and with the best lesbian Ellen on TV right now. She doesn't have a love interest at the moment but that doesn't stop her from being as delightfully weird as ever. — Valerie Anne
+ The Critical Role animated universe is expanding…and if you can imagine, getting even gayer. Prime Video announced a Mighty Nein animated series, in the vein of The Legend of Vox Machina, and while everyone in Vox Machina is surely queer, the queer activity in the Mighty Nein campaign was turned up to a hundred. So get excited! Pop pop! — Valerie Anne
+ Still awaiting Lucy's return on NCIS: Hawai'i but in the interim the casting department provided us with a gift: a guest appearance by queer actress, Juani Feliz, on this week's episode. — Natalie
---
Truth Be Told 301-302: "Unto the Sweet Bird's Throat" and "Her, Armed with Sorrow Sore"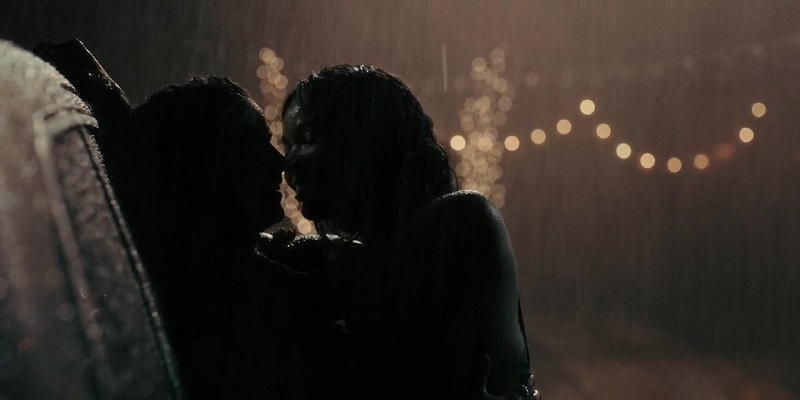 So, can I be honest? I have absolutely no idea what to make of Gabrielle Union's Eva on Truth Be Told. Plus, apparently, Tracie Thoms is playing a straight woman on this show so that only adds to my confusion. But, on the other hand, Gabrielle Union is making out with women on my television screen — a long held dream of mine since I saw Bring It On — so I'm willing to let this mystery play out over the season.
Here's what I do know:
Eva Pierre is the principal of Oak Creek High School in Oakland, nervous about the safety of her students after one of their own goes missing. The cops aren't invested in finding her student, Drea Spivey, though because: 1. she's black, 2. she has a history of drug abuse and 3. a white girl named Emily Mills went missing at the same time. The disproportionate focus on Emily draws Eva's ire and she stands up and demands that prospective mayoral candidates say Drea's name. Needless to say, Eva's boss (the school superintendent) is not amused…but Eva seems like the type to ask forgiveness, not permission, so I imagine his warnings will fall on deaf ears.
Eva leverages her connection to the students to press for information on Drea. She partners with local journalist/podcaster/investigator, Poppy Scoville (Octavia Spencer), to run down leads…but the partnership is tentative, though, because, like me, Poppy thinks Eva's not being totally forthcoming. Eva being at the motel where police find Drea's body and being unwilling to explain her presence only makes her look more suspicious. But when Eva finds out that Drea was murdered, she offers up the truth: she was checking on an undocumented student who lives at the motel with her family. Telling the police would've meant exposing that family to risk.
Though still skeptical of Eva, Poppy continues to work with her. With every interaction, Eva showcases an unparalleled ability to read people, seemingly has a wealth of knowledge about everyone — including Drea's last known contact — and a thinly veiled rage.
Here's what I don't know:
1. Who are these women who Eva lures into her SUV? Who is Alicia, the woman Eva makes out with, and how does she connect to the investigation?
2. Who is Eva Pierre really? I get being a concerned principal but her training sessions and her investigative techniques make me wonder if she's not undercover.
3. How does Eva know everything about everyone?
4. What's driving Eva Pierre? Her intensity is really unmatched.
I'll keep watching in hopes of finding answers to these question…or, at the very least, to watch Gabrielle Union make out with more women.
---
Fantasy Island Episode 204: "Mystery in Miami"
Helene went to the mainland this week, which has Ruby a little blue. Not only because she's missing her new best friend, but also because she realizes she can never go back to the mainland without rapidly aging and dying. But Elena shows her a loophole: when a guest's fantasy takes them off-island, she can go off-island, too. So this week, she goes back to the 80s and follows some gays. She takes them to a Prince performance and tells one of her new friends about Isla and how she doesn't know if she feels the same way. But inspired by Prince, she takes the chance, and as soon as she gets back to the island, she beelines for Isla. She wastes no time and pulls her in for a kiss; Isla is surprised but not upset at all. Ruby knows that a lot of her life is made up of island magic, but she wants the kind of magic that comes from kissing the girls she wants to kiss. And that girl, for Ruby, is Isla. She kisses her again and Isla leans into it, and they wrap their arms around each other and kiss in the beautiful sunset. They make out for not a short amount of time and I, for one, am a fan of how gay this show is turning out to be!
---
The next batch of The Legend of Vox Machina continues to be a gift. This time we not only get to peek into the past of bisexual twins Vex and Vax (including when they met Trinket!) but we also get to glimpse into Keyleth's history, and get a hint of Grog's origins. After a near-miss resurrection brings Vex back to life and links Vax to the Matron of Ravens, they manage a narrow escape of the Sunken Tomb, no thanks to but also sort of thanks to Kash and Zahra. They head to find the next vestige, but are sidetracked by trouble in the land of the fire ashari, where Keyleth is surprised to find not only her father, but also Lady Allura and Lady Kima. The lesbians live! Allura and Kima explain that they have fought Thordak before and that they stopped him with a certain stone they thought would keep him in the fire plane forever. Alas. Keyleth manages to pass the fire chapter of her aramente, becoming a fire elemental and closing the portal between planes.
Vox Machina says goodbye to Kima and Allura, then they head off to chat with another Sphynx, entering his trial. Scanlan ends up being the one to save the day with a song, and admits to the Sphynx that even though he's pansexual and has a lot of loving to give, he has a hard time finding and keeping true love. Their bond grants him the vestige, The Mythcarver, which also reveals where other vestiges are, including a badass bow for Vex and a gauntlet for Grog. (That is, if Grog's sword doesn't consume him first…) They are attacked by another dragon, who wants the vestiges for the Chroma Conclave, and they lose Mythcarver but manage to get away…though not unscathed. Grog had become so overpowered by his sword he accidentally impaled Pike, and because of all the chaos while she was casting her plane shift spell, Keyleth only managed to bring some of them to the same spot in the Feywild. Grog, Scanlan, and the very injured Pike ended up somewhere else.
This batch of episodes kept the same tone as the series, combining humor with heart, making sure you're laughing one minute, gasping the next, laughing again then immediately crying. It also contained more Critter boops like Keyleth saying, "We can certainly try," and Vex finally getting her flying broomstick. The combination of knowing but also somehow not knowing what is going to happen next has me five different types of excited for the rest of the season!