This Bad Behaviour review contains mild spoilers.
Autostraddle is back at Sundance. Drew Burnett Gregory and Shelli Nicole are coming to you daily for the next week with LGBTQ+ movie reviews from one of the most prestigious film festivals in the world. Follow Drew and Shelli on Twitter for more!
---
I thought 2022 was the year of generational trauma in films (Turning Red, The Lost Daughter, and Everything Everywhere All At Once) but maybe we're not done! The theme has shown up in a few films here at Sundance and I'm actually wildly happy about that. It's something that affects many of us deeply and sometimes takes more than a year in therapy to unravel. Seeing it on a big screen for an hour and a half, of course, won't solve it, but these fictional stories can be a catalyst to encourage us to look at our real lives.
Bad Behaviour shows us Lucy (Jennifer Conelly, He's Just Not That Into You) a former child star who is on her way to an enlightenment retreat, and her daughter Dylan (Alice Englert, Ratched — who also wrote and directed the film) a stuntperson in movies on a whole ass other continent who is trying to move up in her career. They don't have the greatest relationship and that is clear from the very start. Lucy calls Dylan as she is pulling up to the retreat (NOW a warning?!) to tell her she is going to be unreachable for a non-specific amount of time, and Dylan could honestly care less.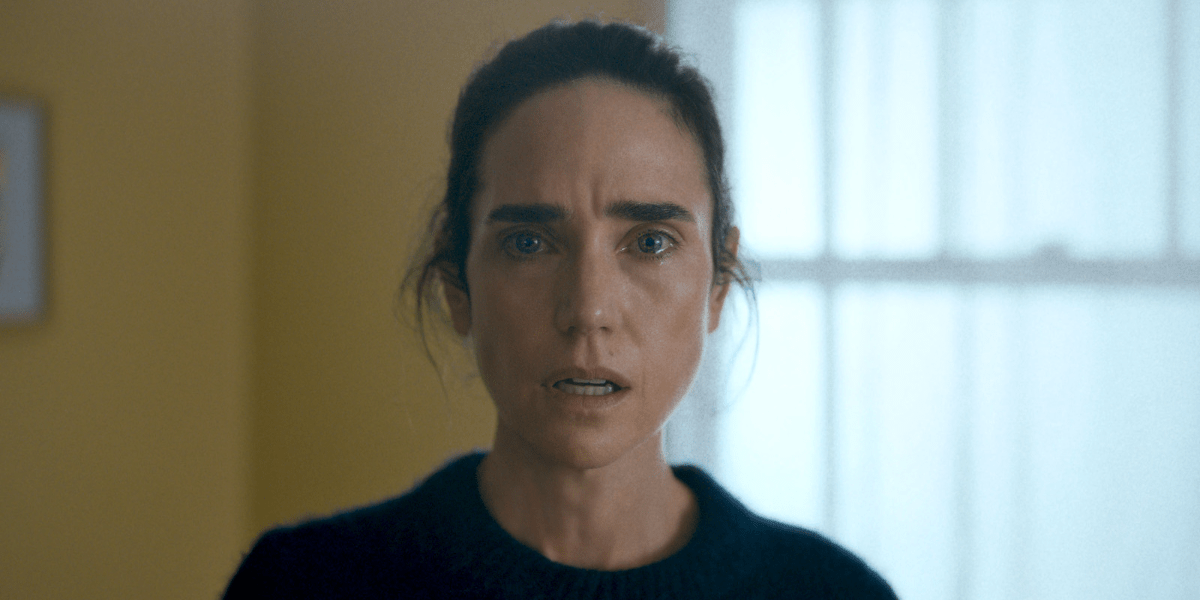 Despite their strained relationship, they have managed to do the thing they probably feared the most — they've turned into their mothers. They make bad decisions, are often unlikeable, and blame some of their responses to life on the unresolved issues of their past. As the film goes on we learn that most (if not all of them) start with their maternal relationships. I should also note that Alice Englert, like her character, has a famous mom, Jane Campion. It's been said this isn't based on their relationship, but some things they've done together served as inspiration for parts of it.
After letting things sit unacknowledged for so long, they will undoubtedly burst out when you don't want them to and anything can be a trigger. When twenty-something famous model/DJ/everything else Beverly (Dasha Nekrasova, Succession) shows up to the retreat, Lucy is triggered just by her being there. She's getting treated better, folks are more understanding of what brings her to there, and because of all of that, Lucy responds in the only way she knows how — rude and mean. Then a bubble bursts during an unexpected mother/daughter exercise during the retreat, and that sets us on the path of Dylan and Lucy figuring out how to navigate — and possibly heal — their relationship.
Seeing our mothers as full people and not just the women who raised us is difficult, especially when the relationship has some hurt. Yes, they had/have the inherent responsibility to teach, love, and care for us since we didn't ask to be here, but she also didn't ask to be here. What if she has some shit she is upset about, and what if she has mommy issues of her own?
It's Englert's directorial debut, and for her to make it one where she dives into an issue so many can connect with was smart. It jumps around a bit here and there, is about 20 minutes too long, and opts to not go deeper on some revelations when it absolutely should, but all in all, it's great.
The film asks a lot of questions: Are some things too far in the past to blame it on? As we age, is it solely on us to fix ourselves, even if so much of what we need to unravel comes from familial relationships? Are we allowed to confront our mothers while they are on their own healing journeys? How much of our learned bad behaviour can we attribute to our past, and how much of it is just who we are?
The biggest for me that it's asking is how much should we just let go in order to move forward? I obviously don't have the answer —  but it's def something I'm asking in my next therapy session.