We're celebrating Autostraddle's Fifth Birthday all month long by publishing a bunch of Top Fives. This is one of them!
---
When Autostraddle first began, a large portion of my music coverage sprung from my dedicated attendance of SXSW, a music festival that eats the entire city of Austin, TX alive each year. Every March, billions of music industry professionals convene upon downtown Sixth Street to pore over the bands who might or might not become the biggest hype acts of the upcoming concert season, and the Lone Star flows like water. I'd leave my hotel room each morning with a digital camera and a dream, and by the end of the night I'd have seen so many bands and gone so many places that I'd actually need to review the day's photos to remember them all.  I haven't been to Austin in a couple of years and unfortunately won't make it this year, but here are some of the most amazing things I remember from years past.
5. Hesta Prynn
The first time I visited SXSW for Autostraddle, we were lucky enough to score our first ever music interview with Hesta Prynn, formerly of Northern State. We were still a brand-new little baby website with really no idea what our music coverage would even look like, so the world was filled with crazy possibilities and we were all terribly excited. Hesta was completely gracious and lovely and told us all about her brand new solo project, her feelings about hip-hop and women in music, and she even let me recruit her for my imaginary riot-grrrl revival band, Tyra Mail.  Hesta, if you're reading this, it's been five years; it's about time we had our first practice.
---
4. Serendipity
Sometimes the random friends you end up splitting a hotel room with happen to be doing publicity for a certain British lesbian rapper who got sick and couldn't perform, so said friends pull through and give you her artist laminates to Perez Hilton's ridiculous showcase.  I was really gunning for the last set of the night, French electro-pop chanteuse Yelle, but everything was running several hours behind — which wasn't helped in any way by a surprise performance by the man of the hour, special guest Kanye West. Some people absolutely lost their minds when Kanye got on stage. Others (like me) were annoyed that Kanye's extra set was pushing the regular schedule back by another hour or so. I checked the time, shrugged, grabbed a cognac sno-cone and wandered into the artist area, where I ended up befriending a very drunk Little Boots and her cute British entourage. It was one of the most serendipitous moments of any festival I've ever attended, so thanks, Kanye!
---
3. Skipping the Hype
SXSW is great for seeing new music, but sometimes when I look over the hype bands I'd been thrilled to have the opportunity to see, I realize that I haven't thought of those bands since that particular showcase.  Sometimes, everybody at SXSW is focused on getting into one particular new band's showcase, and it's amazing to see an artist with a ton of potential riiiight before they explode, but sometimes it's just awesome to see the ridiculously huge bands who play tiny spaces.  Some of my absolute favourite SXSW memories are seeing Echo and the Bunnymen, PJ Harvey and Hole at Stubbs, Peter Murphy from Bauhaus at Elysium and Tricky and Devo at the Austin Music Hall.
---
2. Street Riots
That time Riese and I got into a screaming match on the street outside an Uh Huh Her DJ performance after I'd been drinking shots in the sun and making out with a semi-famous rapper's girlfriend all day like the poised professional I clearly am. We got over it, obvs, but it's a moment that continues to live in infamy. Thanks, Crystal, for capturing this beautiful memory.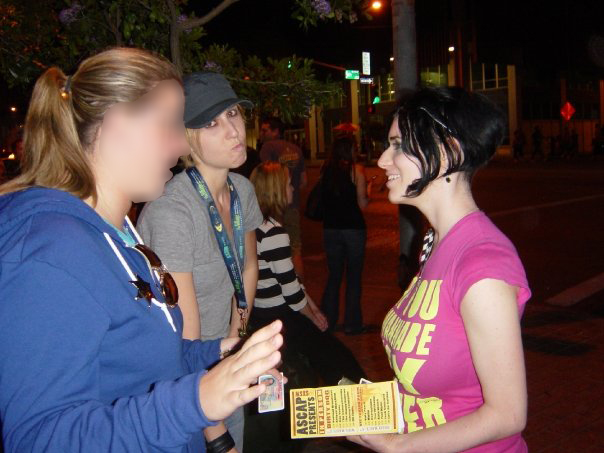 ---
1. Belvedere with a Classic
A woman I'd done an internship for about eleven years ago happened to work at AOL, and since she and I had maintained a pretty excellent relationship, she got me and my girlfriend at the time into AOL Music's SXSW event. There was an open bar, there was BBQ, and most importantly, there was Smokey Robinson.  As I said, you can spend your entire SXSW experience watching up-and-coming unknowns, and you might even have the chance to see a really quality artist who's about to make it big, but there is truly nothing like sipping Belvedere and watching an actual living legend performing all of his timeless classics.  It's nothing we could have planned, but like all of SXSW, the best moments are the ones that come as a total surprise.
---
Header Image by Rory Midhani