Whenever I've watched Adventure Time I've wished that the show featured more of my three favorite characters: Marceline the vampire, Princess Bubblegum and Lumpy Space Princess. Thankfully, two of those wishes were granted when I read the trade paperback of Adventure Time Presents Marceline and the Scream Queens. Marceline and The Scream Queens was a mini-series put out by Boom! Studios back in 2012, and it is exactly as wonderful as you'd expect a comic that focuses on two of the best parts of that show to be. It's one part rock and roll, one part female friendship (or maybe something more?) and one part the weirdness of Adventure Time.
The main storyline is about the titular band, who puts on an initial show in Princess Bubblegum's Candy Kingdom and then is about to embark on their first ever tour. The band consists of Keila, a vampire and lead guitarist, Bongo, the ghost drummer, Guy, the mysterious keyboardist, and of course, Marceline, the bassist, composer and lead singer. Marceline says she's been waiting for this tour for "a thousand years" and she has high hopes for what they can accomplish. She says, "Our band's gonna change lives."
We start the journey in a familiar place, with all of the main characters from the show getting ready for the concert. While Finn and Jake are excited, at first, Bubblegum isn't very happy about it and thinks that the type of music they play lacks any kind of structure or substance. But when she actually sees them play at their concert, her eyes open wide and her heart beats faster. She realizes how incredible rock can be. She also realizes that the band is woefully undermanaged so, Bubblegum joins them on their tour as their manager and they set off on an adventure around the Land of Ooo.
While they're busy rocking out, things aren't totally cool behind the scenes. Marceline keeps getting her hands on gossip magazines that seem to be trashing her band at every corner. Not only that, but she also sees that Bubblegum and Guy, the band's mysterious keyboard player seem to be getting closer and closer. Soon Marceline can't take it any more and she starts to freak out at shows and fighting with Bubblegum. All of this leads up to Bubblegum leaving and the band having a concert where Marceline is pushed past her limits and she transforms into a giant beast. The only thing that can stop her is PB returning to face her friend.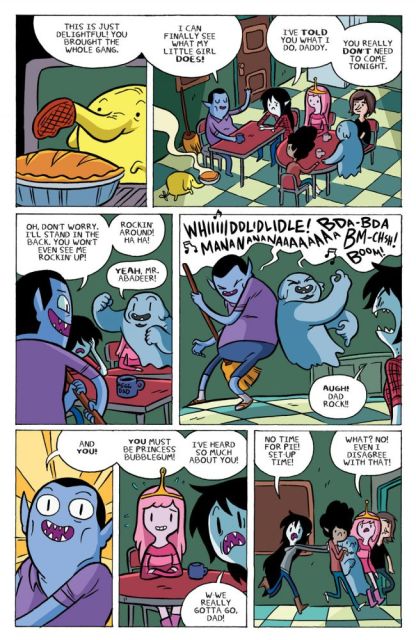 Interspersed within the larger narrative of Marceline going on tour with her band are other stories from within the world of Adventure Time that are about other characters from the show and how they are effected by the band. This is a drastically fun book, and the little stories in between the main story make it even better. These stories, each done by a different writer and artist, are all wonderfully and weirdly funny and will absolutely not disappoint fans of the show.
Long time readers of Autostraddle will probably already know that we love us some Bubbline, well this book has it by the basketfull. There are so many scenes of hidden glances, blushes, reassuring words and nervous reactions that you can't help but root for them to become a couple. Even without the queerness of their relationship, Marceline and Bubblegum still have a great relationship and friendship that seems real and flawed. If you're anything like me, fleshed-out female relationships in comics are one of your favorite things and you try to get your hands on them whenever you can.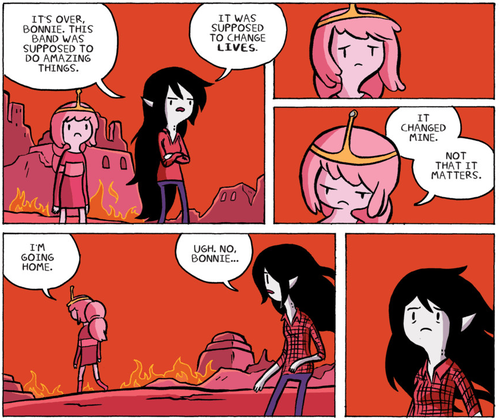 Even while being super punk rock, this comic is able to be remarkably cute. The relationship between Marceline and Bubblegum and the personal growth they each go through leads to some real "aw" moments. Plus, the art style, with Adventure Time's signature gummy arms and dot-eyes, the visuals are always fun. Even though it focuses on characters who are older and more grown up than Finn, it also keeps the youthful attitude of the show. Every single page is enjoyable.
While fans of the show (or just fans of the pairing) will be absolutely delighted by the book, you don't have to watch the show to understand, or even enjoy it. The main story is written and illustrated by Meredith Gran, and she does a great job of matching the style and humor of the show, both with her art and with her storytelling. Other stories in the book are written by some of my favorite comics people, including Faith Erin Hicks, Liz Prince and Yuko Ota. You might be able to find this book as a trade paperback or at bookstores or in single issues at your local comic shop, or you can always purchase it from Amazon.
---
Welcome to Drawn to Comics! From diary comics to superheroes, from webcomics to graphic novels – this is where we'll be taking a look at comics by, featuring and for queer ladies. So whether you love to look at detailed personal accounts of other people's lives, explore new and creative worlds, or you just love to see hot ladies in spandex, we've got something for you.
If you have a comic that you'd like to see me review, you can email me at mey [at] autostraddle [dot] com.
Header by Rory Midhani