I have this book that starts with a great epigraph from Barry Lopez: "It is precisely what is invisible in the land, however, that makes what is merely empty space to one person a place to another." There's never been a lot of empty space in the cities I've lived, but I'm always surprised to find out that shops and restaurants that I've passed by for months without noticing are my friends' favorite places. It's not that we're keeping secrets from each other, it's just that a lot of  the time, there's no need to share where we get coffee or buy groceries with each other.
Enter Everplaces. It's a website and app that lets you make your own maps and — if you want — share them with your friends.  It helps you remember where you've gone so you can find your way back and lets you take note of recommendations in a more useful place than a sticky note.
I was a diehard My Places fan, but with Google phasing it out and pushing for this whole "star the places you like" approach, I needed something to fill the void. Everplaces is seriously pretty — much more attractive than My Places ever was — and can be accessed on  your computer or via mobile app (free for iOS). 
Everplaces is incredibly easy to use: the mobile version has a button that lets you take a picture and then suggests places based on your location, both versions allow you to make individual places private, and you can easily share places or collections with friends.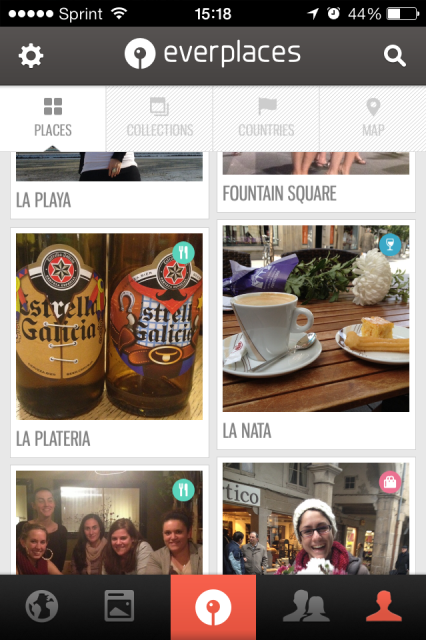 Still, there are a few kinks that need worked out and features I'd love to see in the future. The web version doesn't let you Command+Click for new tabs, there's no good way to search for places or users other than by name, and the categories are limited to 11 that don't encompass everything I'd like to mark.  And I can't help but think that there's got to be a better way to group cities (the current version divides cities strictly by address, meaning that a restaurant in the Bronx won't show up in my "New York" map).  In the meantime, I'm adding city collections and following their blog in hopes of seeing improvements.
So hop over to Everplaces and make your own teeny queer girl city guide. Next time a straddler wants to visit your city, you'll have a whole list of recommendations that you can send to them in just a click.