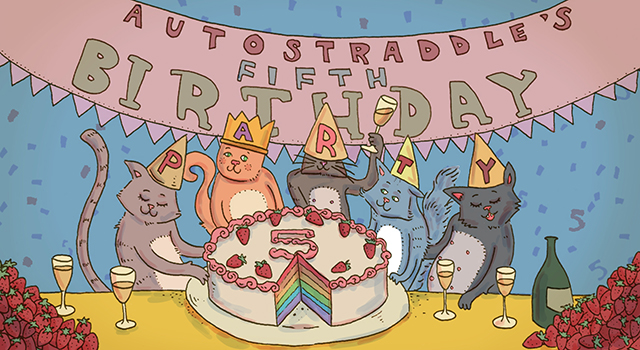 We're celebrating Autostraddle's Fifth Birthday all month long by publishing a bunch of Top Fives. This is one of them!
---
I have an undying love of bagels. It's one of the more prominent elements of my personal brand. I live in Australia, where decent bagels are few and far between, but thankfully I've still been lucky enough to have had many bagel experiences that have rocked my world. Here are the top five.
5. Blueberry Bagel (Sydney)
Almost every cafe in the Sydney CBD sells the exact same two types of bagels: a plain one, and this weird bright purple blueberry bagel-shaped bread item. It doesn't particularly taste like blueberry or bagel; it mostly tastes like the spoonfuls of raw sugar that its coated in. Nonetheless, I live hard and fast by the rule that even the worst bagel is better than no bagel at all. Although this bagel is a fraud and an abomination, it's there. It's available. I can eat it whenever I damn well please. Sometimes that's enough for a top 5 list.
---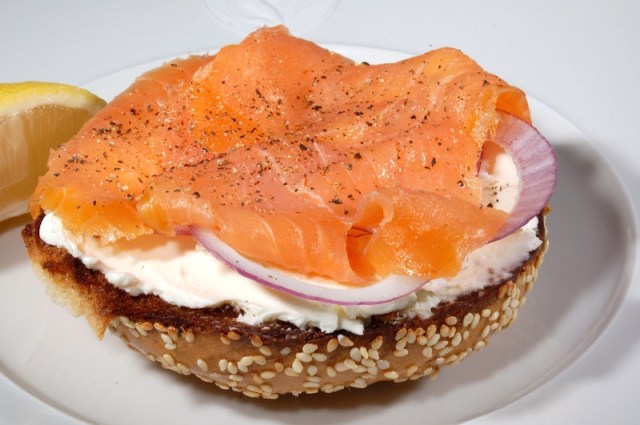 4. Sesame Bagel with Smoked Salmon, Onion and Cream Cheese (Hong Kong)
I started amping up my experimentation with bagels when I was a fifteen-year-old living in Hong Kong. I'd had the plain safe version plenty of times but this was a summer of daring and self-discovery and I was ready to get wild. That year I ate my way through menus of sandwich-style seeded bagels with salad and meat fillings, dessert style bagels with fruits and sugar and chocolate chips, searching for the bagel combination that would be the best fit for my palette and hopes and dreams. Ultimately, I decided on smoked salmon, onion and cream cheese. It was an aspirational selection; deep down I preferred the taste of a basic turkey bagel but the cured fish somehow felt fancy and cultured. I was neither of those things but for a hot minute I wanted to be.
---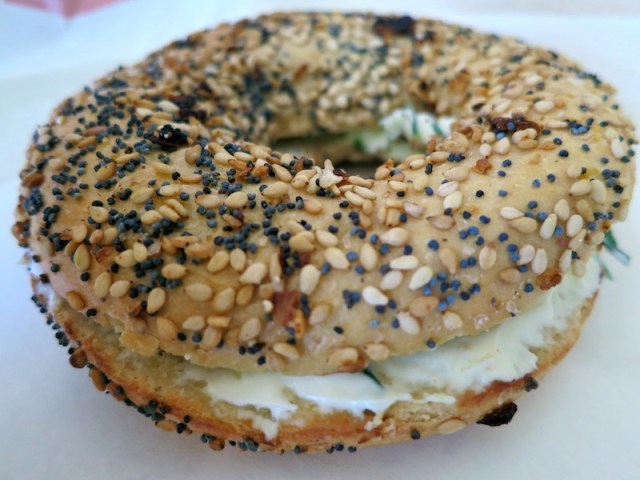 3. Everything Bagel with Low-Fat Cream Cheese (New York)
By the time I reached my twenties, my taste in bagels had somewhat chilled out. I had began shunning more exotic selections like smoked salmon with capers in exchange for the beautiful simplicity of a plain bagel with cream cheese. I never realised the full extent of the seeded bagel and creamy cheesy condiment options in this world until I visited New York City in 2010 for Rodeo Disco, and Riese and Laneia asked me to grab them a sesame bagel with low-fat cream cheese and an everything bagel with regular cream cheese (respectively) on my morning deli run. I was confused. I repeated their orders back three times and got someone to write it down  'cause I'd never heard of an everything bagel and didn't know that more than one kind of cream cheese existed. I ordered the love child of their orders and for the next five days that everything bagel with low-fat cream cheese felt so damn right.
---
2. Poppyseed Bacon and Egg Bagel (Chicago)
This poppy bacon and egg bagel was pretty fucking tasty. But more importantly than that, it was eaten in solidarity, among friends who truly understood the breadth and depth of my bagel love and threw a BAGEL PARTY in my honour when I dropped by their city last week. I hovered around the kitchen counter and adoringly looked on while loved ones worked hot griddles and stoves and assembled breakfast foods onto my preferred seeded selection from my favorite bagel bakery. I still don't really know how to talk about it. It's too soon. But it was pure bliss.
---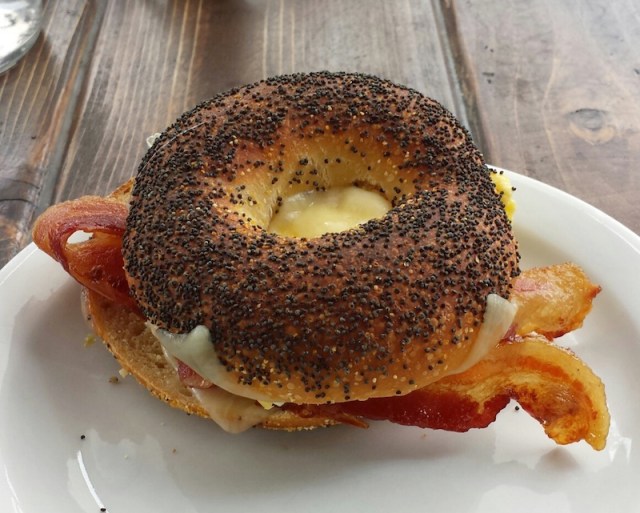 1. Poppyseed Bagel w/ Bacon, Egg and Cheese (Chicago)
I never knew that it would be possible for a bagel to have such a profound impact on my person until I met this particular bacon, egg and cheese poppy bagel from Chicago. It was my first ever breakfast bagel experience and even though it's long gone, I still love it like a person. I miss it every damn day. I carry around photos of it on my phone because I never want to forget how much it changed my life. I owe it that. This bagel set a precedent for all future bagels and I know down in the deepest cockles of my heart that it'll never be eclipsed by any other. And there's no happier or more devastating feeling than that.
What's the best bagel you've ever eaten? Tell me everything.
---
Header Image by Rory Midhani