Hello, panther cubs! Did you know that it takes almost a week for a sunburn to heal? Here's the news we missed while I was away on spring break.
---
The GOP is Still Clueless, Sexism is Still a Problem
+ Apparently, fair pay legislation isn't a "real-world solution" to the gender wage gap. When asked what a solution would be, the GOP didn't know.
During a Sunday interview with local news station WFAA, RedState Women Executive Director Cari Christman said that the GOP does not support laws like the Lilly Ledbetter Fair Pay Act, which extends the window of time during which women can file pay discrimination claims, because "women want real-world solutions to this problem, not more rhetoric."
+ Eight female journalists share their stories of everyday sexism in the media industry.
---
Queer Identities are Beautiful, Complex, Painful, and Legally Challenging
+ Bay Area photographer Sarah Deragon celebrates queer expression and identity in her photo series "The Identity Project."  I love everything about the premise of these pictures and the gorgeous humans in them.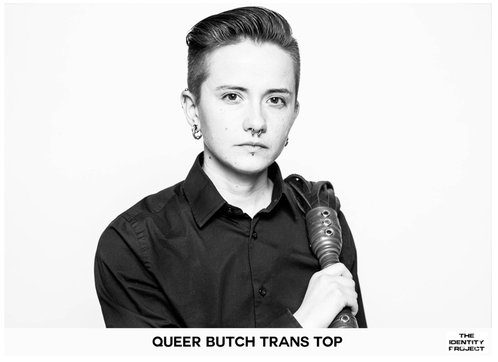 + Anti-gay backlash in Nigeria has led "not just to violence, but to homelessness, unemployment, harassment, and a steep drop-off in HIV/AIDS treatment."
+ We need better queer representation in video games:
Rather than depicting a character as gay outright, Soulban worries companies will retcon sexuality or issue surprise reveals once they've already been embraced by the masses, in a similar manner to what some argue JK Rowling did with Dumbledore. This arguably isn't true progress, but rather a refusal to stick one's head above the parapet and then turning up post-battle to collect a medal. In fairness though, I'd argue it doesn't really matter. In fact, if anything, in many cases subtle depictions of a character's orientation is a testament to the strength of writing; at long last we're seeing characters that happen to be gay, rather than stereotypically gay characters.
+ Can an attorney in a lawsuit dismiss one particular juror because of that juror's sexual orientation?
---
Maddow Schools Obama Critics
When President Obama gave a comedic interview on "Between Two Ferns," critics were quick to accuse him of tarnishing the image of the Presidency. Rachel Maddow was quick to point out why that accusation was ridiculous.
---
International Women's Day: One Day is Not Enough
+ March 8th was International Women's Day, but it takes more than a day for all women to earn the respect, rights, recognition, and protections they deserve.
While bills to ban shackling pregnant women in custody were being discussed in both Maryland and in Massachusetts, a Virginian lawmaker declared, "Once a child does exist in your womb, I'm not going to assume a right to kill it just because the child's host (some refer to them as mothers) doesn't want it." After being roundly criticized, he said that his words were taken out of context and what he really meant was bearer instead of host.

Meanwhile, in Maryland at the hearing of HB 27 Healthy Births for Incarcerated Women Act, lawmakers pondered how to "manage pregnant womenwp_postsin prison. They focused on security issues for guards and the general public and what possible incidents could occur if pregnant inmate walk without shackles. Responding to a delegate's question on the history of escape by pregnant inmates, one witness for the Department of Public Safety said, " We are not aware of any incident like this but we want to make sure."
---
Farmworkers Organize, Struggle, Celebrate
+ Farmworkers in Immokalee, Florida organized a march and vigil for farmworker's rights as part of the Coalition of Immokalee Workers' Now is the Time Tour. I was there for the vigil in Lakeland, and it was an incredibly powerful experience. Among the key issues discussed were sexual assault and the rights of female famworkers.
"We want to say to Publix that as women, we will not even consider allowing sexual violence to continue in Florida's fields or the agricultural industry.  We will not take one step backward.  We will only continue forward."
---
 You Should Go: Sister Spit 2014
+  Tour dates have been announced for Sister Spit 2014. Check out some insanely talented performers, coming soon to a venue near you!