Welcome to the seventh recap of the second season of The L Word: Generation Q, brought to you by the same network that brought you the original L Word, a show about a devious and vaguely Eastern European au pair named Hazel who seduces noted folk musician / "manny" Angus (despite his romantic commitment to our very own Kit Porter) by turning an innocent guitar lesson into a forum for sexual entendres and an eventual blow job, and subsequently is unceremoniously fired when their sexual activities are observed by a peeping Tina Kennard, thus leading to Kit Porter ending a musical performance at versatile venue "The Planet" by screaming "you lying lowdown nanny-fucking motherfucker, fuck you!" and throwing a mixed cocktail directly into Angus's terrible and inadequate face.
Ah here we are, everybody is ready to let the light in for this recap of The L Word: Generation Q Episode 207, "Light." The episode truly had its ups and its downs, with plenty of room in between for me to experience anxiety and second-hand embarrassment!!!
---
We open with a deep dive into an ancient Lesbian Mating Ritual, best practiced by a newly partnered pair of human subjects with howevermuch free time the kiddos have these days.
Lesbian Sexy Moment #9: Do It Like They Do on the Discovery Channel
The Pick-Up: I think it was "All I wanna get is a little bit closer" because I'm p sure they've been boning ever since.
In this particular instance, it's easy to observe how our lovers are enabled to hold a sex-a-thon not solely by geography, but also by shared high sex drive and a bounty of unreleased sexual tension built up over an extended period of time. Our mating partners are, in other words, in a near-constant state of fingerbanging, muff-diving, sexy kissing and heavy petting, in multiple locations throughout the home.
They cannot hydrate, they cannot eat, they cannot sleep. They must only fuck! And I am in full support of this adventure. Wonderful way to start the episode! My ship is sailing with its flags flapping in the wind! I watched it more than once! I love this for them!
---
We then cut to a serene restaurant where everybody is wearing clothing but memories of sexual activities linger in the air as two dear friends, Bette and Alice, share lunch while noting that somehow, Gigi and Nat are having lunch in the same damn restaurant. Bette says Gigi is now "playing mind games with someone else," to which I can only ask: qwhat???
We once again revisit the eternal question of: do Bette and Alice remember that they are also each other's exes??? Anyhow, regarding Nat and Gigi:
Alice: You know what's super weird? It's like together they're one big giant ex, but then one of them is my ex and one of them is your ex. Well, actually the other one is also my ex.
Bette: It's really some of your finest work.
Alice creeps outside to share polite small talk with Nat about things that are of no immediate concern to them or me or you.
Most importantly, this little reunion turns promptly into another kind of reunion….  A SEXUAL REUNION. This will definitely end badly.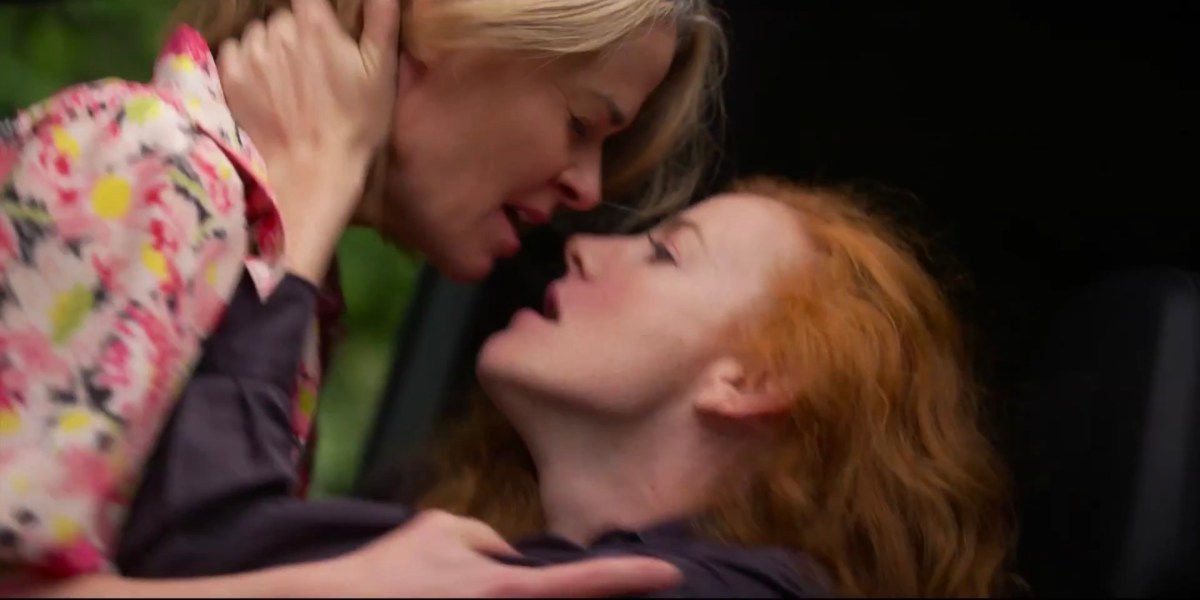 Lesbian Sexy Moment #10: Baby You Can Ride Me In My Car
The Pick-Up: Ummmmmm probs like, "wanna bang in my car"?"
Hot Or Not? I just want to share this screenshot with you if I may?
---
In yet another car in another section of our fine city, Shane's dropping Tess off at her AA meeting and discussing their upcoming Poker Event for The M.S. Society. Tess is thrilled about it!
Shane is surprised to spot the one and only Carrie also entering the building where Tess has gone to "meet with her anonymous friends."
---
Angie's in her bedroom deciding which questions she will ask Marcus Allenwood if this show ever stops teasing us and truly grants them an actual in-person encounter, but Jordi just wants to talk about prom queen and her "look" and how they're gonna hang in the park tomorrow.
Angie feels unsupported, because for some reason I cannot comprehend, Jordi is clearly not supporting her.
---
Art lovers, join me as we venture to the offices of Bette Porter, where she's got something pretty special up her consistently innovative sleeves for Pippa: a show at the legendary CAC on the topic of Black Lives Matter, built around the one and only Pippa Pascal.
We also hear a little background from Bette Porter regarding her connection to Pippa's work, and it's good stuff!
Bette: "Nothing has ever made me feel so seen as your work. And that includes the new work. I mean you are reckoning with your own queerness and your own blackness in ways that i have barely begun to unpack for myself."
Pippa's nervous to take the opportunity 'cause she was fucked over as a young artist, but Bette convinces her that her work will be safe and honored in Bette's experienced hands. WINK WINK.
Bette calls someone — maybe Mr. Gallery, maybe James, maybe Tina, maybe Mr. Peanut, maybe me — to express her excitement regarding Pippa signing with the gallery, but her joy is interrupted by a phone call from her nemesis, Carrie Future-Kennard.
---
It's time for everybody's favorite weekday snack, The Aloce Show!!!! More specifically, it's time for Sophie's Segment to premiere and the crowd is hungry for some elder lesbian love.
A very nervous Sophie is watching her segment premiere from the green room when her beloved Finley arrives, straight from soccer, ready to be there for her. "They're gonna love it," Finley insists. "You're the bestest and the smartest… and the sexiest… and the best kisser"
The Boss Man adores the segment and wants to say so straight to Sophie's face!
Unfortunately, Sophie's face is occupied! It's our first Cringe Moment of the episode!
Alice luckily spots the two horndogs before Barry does, and quickly covers for them, telling Barry that Sophie's soul is too naked for a face-to-face right now. But maybe later? Maybe soon, even!
---
Dani and Gigi are lunching at a food truck and Gigi, bless her communicative heart, would like to discuss emotional events that transpired in the past. She's surprised by Dani's response: after her horrible night and seeing Finley and Sophie together, she found Gigi's revelation to have "shitty" timing. She needed a friend. Unfortunately I disagree, she needs to be Gigi's girlfriend ASAP. However, props to Dani for speaking her mind!
Dani feels like things are moving too quickly because What About Bette!?!?!!?! Gigi's confident Bette won't care. Dani's afraid to make Bette feel like she did with Sophie. Gigi insists Bette does not have strong feelings for her. Dani finds that hard to believe.
Gigi scooches on over to be right up close to Dani's body and says if that's what this is really about, then Dani should talk to Bette.
---
Back on the scandalous set of The Aloce Show, Alice is scolding her young charges: '"Hey you guys," says a very heated Alice. "What the fuck??!!" She relays that Barry wanted to meet Sophie but obviously could not because Finley's hand was inside Sophie's body at that time.
Finley: Can this just be my fault? I don't even work here anymore.
Alice: What is it about that couch?
Finley: I think it's less about the couch and more about the… location of the room?
[Alice glares, Finley glances at Sophie for help, Sophie grits her teeth]
Finley: I'll stop talking.
Alice turns on her heels and then reveals that she is Sinley Shipper #36. "I like you two together, I do," she admits. "Big fan. I just wanna see less of it." She demands they Febreeze the couch, and Finley's gonna get right on that instead of getting right on Sophie. Probably?
---
Kayla and Angie are enjoying smoothie beverages together and discussing Angie's relationship with Jordi, which as we know, is crumbling in our hands. Jordi's too obsessed with prom to run over sample questions for Angie's Very Chill Meet-Up with Marcus Allenwood. Kayla says Angie can talk to her about those things if she wants.
Unfortunately, Angie has determined, without even talking to Jordi about the problem they're currently having, that it's time to call it off altogether!!!! She's taking a page right out of a book that would not be shelved anywhere near the Porter Playbook, because Chapter One of that book is entitled "How To Remain In a Relationship Long Past Its Expiration Date."
Angie asks Kayla, "Have you ever broken up with somebody before?" Kayla has not. Because she is like, 15 years old.
---
We arrive home at FiSoMi's after a long day of segment premieres and sexual scoldings to find Sophie in a special mood, and that mood is "let's address Finley's myriad faults that she's been aware of for their entire friendship but now suddenly has a more vested interest in." She's curious if Finley knows how to cook. Finley says she absolutely can and will, what would Sophie like to eat?
"I just wanted to know if you can feed yourself," sighs Sophie, as if she has not witnessed Finley feeding herself other people's cereal on multiple occasions.
Finley: You think I'm a big kid, dontcha?
Sophie: Well… you kinda sorta are.
Finley: Look, I know I'm not as grown up as Dani or whatever, but my parents kicked me out when I was 18, so it's sorta different circumstances.
It is a stark contrast — Dani's Stanford and USC degrees, Dani's paid-for apartment, Dani's high-paying job at her Dad's company — but also, we have no idea what Finley has done between the ages of 18 and 25. Or Sophie! We know Sophie made some documentaries?
Sophie insists she wasn't comparing Finley to Dani, but Finley wants to know the doubts Sophie is harboring. Sophie retreats, claiming, "we know each other in one way and I'm trying to get to know you in a different way." A great save! Finley gamely accepts this re-orientation of her interrogation and opens herself up for questioning. First of all, children: For or against? Finley wants many!
Second of all, career ambitions? Finley's dreams of being a soccer coach from two weeks ago have evolved into low-key dreams of becoming a full-time soccer referee, but she's also "down to be a stay-at-home baby daddy" with Sophie, who has previously expressed desires to be a stay-at-home baby mommi. Finley says she's happy for Sophie to be her "Sugar Momma." Yikes!
While expressing a willingness to get an online degree and become a nurse if that's what Sophie would prefer, Finley's hands travel down Sophie's pants and well, we've been here before!
Pages: 1 2 3See entire article on one page