We then, regretfully, return to Poker Night for what I think is my least favorite scene of the entire series! Carrie approaches Bette and asks if she can join her, and Bette, oozing self-assurance and Pippa-induced glee, says she's here with a friend, and Carrie is… not taking no for an answer?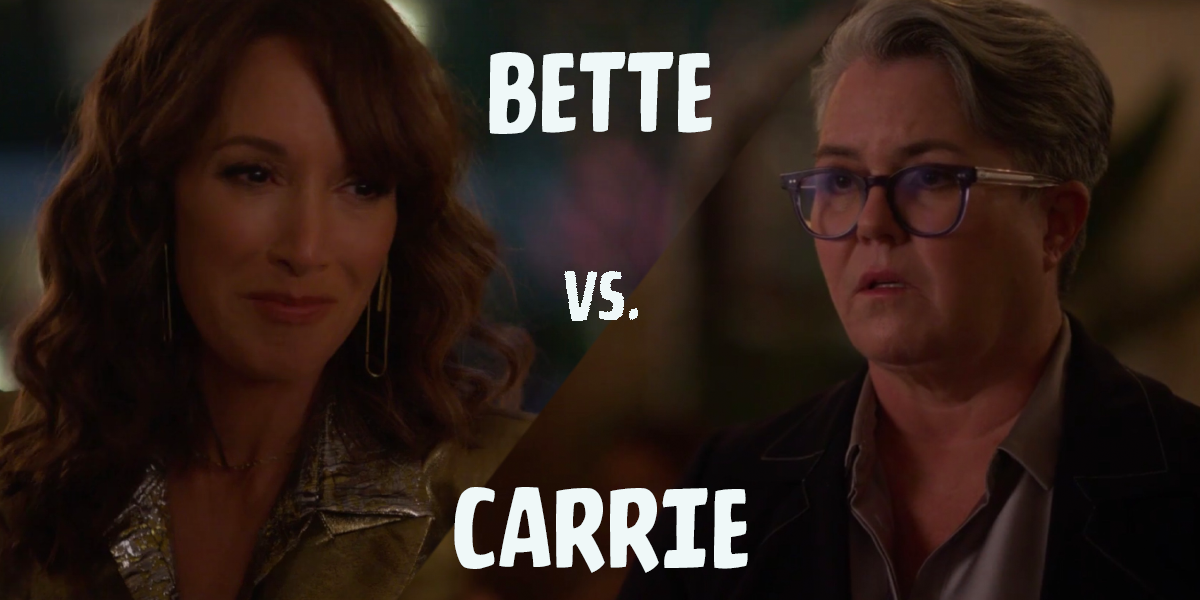 Lesbian Squabble #25: This Used to Be My Playground
In the Ring: Bette vs. Carrie
Bette rejects Carrie as her seated companion, Carrie says wow she just had a flashback to Ye Olde Staten Island High School when all the cool girls called her a dyke when she asked to sit with them at lunch, and Bette says she's so sorry, that was not her intention, and then shares a "similar experience" she had at soccer camp with two girls who would say "n—— dyke" and made her sit in the back of the bus as a joke, but "we don't need to play oppression Olympics." These are very heavy and traumatic admissions happening in this squabble and my head is spinning!
Carrie would like to hang out and maybe bond but Bette reminds her that it's not the best night for this."Seriously?" Carrie asks. "Really?" Bette says she's down to be civil but anything beyond that feels unnecessary.
Carrie: You know what, Bette? On the way here I was feeling really good, I had like a bounce in my step, I got this new outfit on, and I was up there and I saw you, and I just want you to know, it does not feel good to be around you. It feels like I'm a kid in some kind of trouble.
Bette: That, to me, feels like that's your baggage.
Carrie: Okay, that's a good point. That's a really good point. I guess that I just wanted your blessing? Or your acceptance, would be nice?
Bette: If you think what you have with Tina is working and you feel really good about it then I don't see why you would care what i think about you.
Who Wins? Nobody has ever lost more than both of the parties in this conversation. However, Bette did have the clear upper hand in this convo and did not need to say what she said at the end.
---
Welp, another person on an unfortunate track this evening is Dani, who has come to The Event to ask for Bette's blessing to date Gigi. Everybody wants Bette's blessing tonight and nobody is gonna get it! Of course, the first thing Dani sees upon entering is Sophie and Finley canoodling. So she beelines for the bathroom, where Nat and Alice are finishing up a little Stall Sex.
Nat and Alice emerge from the stall, radiant from their recent sex act and unable to play it cool. Dani tells them she wants to ask Bette how Bette would feel about her dating Gigi, and Alice and Nat are wildly insistent that Bette would not mind at all, which Dani remains a bit confused about. Then, because somebody has to be mean to Gigi in every episode, Alice adds: "In fact, if you think Gigi's gonna work for you, I'd be grateful, you know?"
"And for what it's worth, she's really into you," Nat says as she leaves."I had lunch with her the other day and she hasn't seemed this into someone in a while." A locked vault, that Nat!
---
To ensure Dani's night only gets worse from here, we proceed to the episode's next BIG CRINGE Encounter: Finley accosting Dani to say she's "so fucking sorry." Dani, on the fucking ball, is like "no you're not." Which brings us to…
Lesbian Squabble #26: No Ma'am
There are exactly zero (0) universes in which Finley broaching this convo is remotely appropriate, and yet here we are! This is the exact person Finley should NOT be seeking advice from, re: handling her girlfriend.
Finley: I'm trying to be an adult and you're like, the most adult person I know.
Dani: I think that says more about you than it does about me.
Finley: But we're like, the same age.
Dani: And I think the similarities end there.
Finley: But you're also scary, like really scary, but I mean that as a complement—
Dani: Finley. What?
Finley: I mean, I wanna be better, like how do I get it together?
Dani: Get a job? Don't steal people's fiancées?
Finley: Yeah, I don't think that's it…
Dani: Okay, I don't fucking know then. I am so sick of people thinking I have it all together. Because all that means is that unlike you, people aren't inclined to hold me when I need it most. And if you ever use that against me so help me god, will actually kill you.
Finley: Can I hug you?
Dani: No!
Who Wins? Dani. That line about all that means is that people don't hold her like they hold Finley? I adore it. Gold Medal in Squabbling Goes to Dani Nunez. (ETA: As some commenters have pointed out, Dani has refused multiple offers in multiple episodes to Be Held. But it's still a great line!)
---
Pippa's glad this poker game is for charity 'cause she lost so much of her money, but Bette feels a deep sense of relief to discover that Pippa is bad at something. The sexual tension, IT IS HIGH.
At last, these two power lesbians lock lips and decide to depart the venue,
---
Alice glares as Nat flirts with an extra at the bar, realizing relatively quickly in the life cycle of this reunion that nope, this is not gonna work.
Nat wants to gab about how her new flirting buddy asked if Alice was Alice from the show and also would like to have more sex with Alice. Alice says she's not into the sneaking around thing they're doing, but this also isn't going to work. Nat says it feels good, so why on earth should they stop doing it? "You know why," Alice declares. Nat tears up. Alice tells her to butch up a little.
Well and that is where that ends.
---
Angie and Jordi are processing the promposal. Angie says Jordi was acting SO WEIRD but now she's kinda relieved, because it was coming down to the wire and she thought she'd have to go to prom alone! I thought you like, automatically go to prom with your girlfriend, right?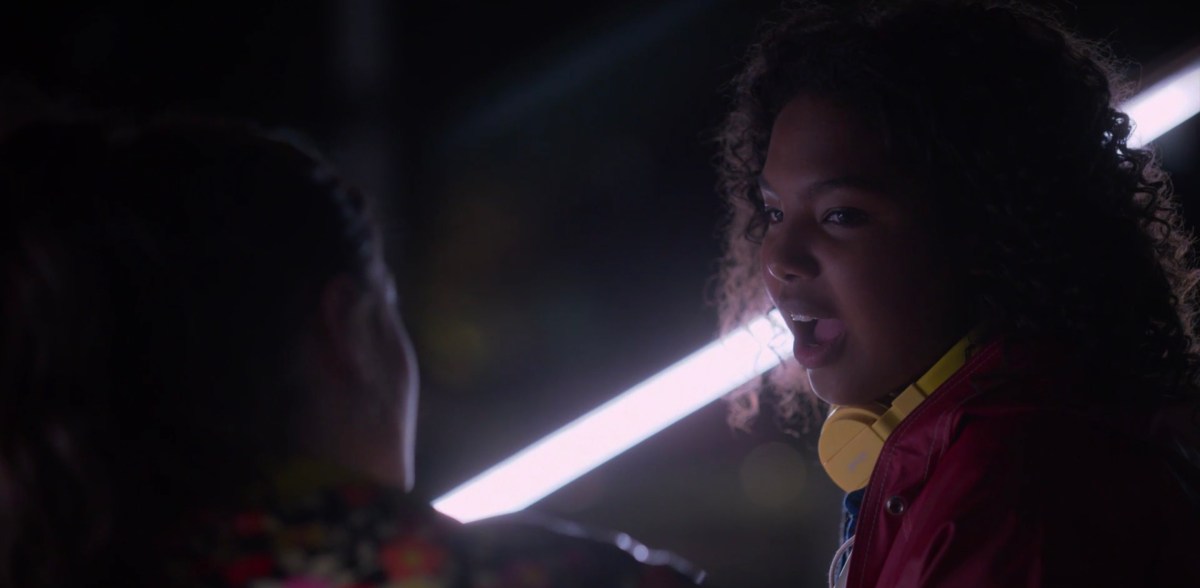 This does not feel like a resolution to the issues that were plaguing them!
---
Well, my fine feathered friends, Carrie is smashed and would like to play more poker. Unfortunately her phone isn't working 'cause she doesn't know the password even though she's a lawyer who passed the bar in two states but she bumped into Bette Porter and it didn't go great.
Tess: Maybe we should take her home, I mean i don't want her throwing up in a Lyft.
Shane: Okay, so she can throw up in my car?
Tess: I mean….
Carrie: Phone can you tell me my password?
Shane: Why don't we go home?
---
Exterior: EVENT VENUE. Finley and Sophie are drunkity drunk drunk. Sophie is drunkity drunk drunkest. Finley tells Sophie that she asked Dani for adulting and Loving Sophie advice and Sophie cracks up as if Finley did not just disclose something GENUINELY HORRIFYING. Sophie says Dani doesn't know shit about how to love her, Finley is the one who loves her the best, and she's also so impressed with how easily Finley charmed Barry's pants off.
Sophie: "I lose myself all the time. I lose myself at work and I lost myself with Dani. With you… I can just be myself with you and I don't have to think about it. You're perfect."
Sophie keeps going for the makeout while Finley reminds her that she is drunk! Sophie pulls out the nearly-empty flask from her pants, shaking it in the night air, revealing how little liquid remains inside. Finley tests its contents by pouring the remainders directly into her mouth as Sophie asks her if she is okay to drive. As I wrote in my notes: "ARE YOU OKAY TO DRIVE SHE SAYS AS FINLEY CHUGS FROM A FLASK"
They get into the car and even though I've had zero drinks, I immediately black out.
---
Dani's decided to take her evening into her own hands and go visit someone who probably won't make her feel really terrible! She knock-knock-knocks on Gigi's door and then immediately retreats when Gigi doesn't answer. But before she can creep off into the bushes in search of some bread for toast, Gigi emerges to declare that Dani is "a lot more dramatic than [she] thought." Dani said she was unable to ask Bette for her blessing upon their union, and Gigi says okay, bad timing. She's being so patient with Dani's desire to pursue this silly line of reasoning!
Dani is terrified to let herself like Gigi so soon after having her heart broken, which drives her to slut-shame Gigi for being "with everyone I know." Gigi says that's an exaggeration, and Dani consents that indeed it is. Look at these two resolving their conflicts so quickly so soon into their courtship!
Dani: But can I trust you?
Gigi: I'd like to think so.
Dani: Cause I've been hurt.
Gigi: What do you want?
Dani: Is this real? Are you real?
HELL YEAH IT'S REAL DANI BABY LEZ SEAL THIS WITH A KISS!!!!!!!!!!
Gigi asks her to come inside but Dani wants to take it slow, instead they will just kiss in the rain, a noted romantic activity popular amongst lesbians in TV shows and men in Verizon commercials.
---
The rain continues its merciless onslaught against our everyday queer heroes as Shane and Tess arrive home with Carrie, who is slurring about how she loves Tina and she loves Angie. "Everyone else is I don't know, you people are so beautiful and I'm not like you guys," she continues, in the voice of a drunkity drunk drunkerpants.
Shane and Tess promise her everything's gonna be okay, the problem is not that she doesn't deserve Tina, it's that she consumed too many vodka-sodas. "I just can't live like this the rest of my life," Carrie sobs. "I don't think I can marry Tina."
---
Bette and Pippa have found themselves at the legendary Zacharian Gallery Of Art, where Kizmet Russel's installation is good to go. Also good to go? Bette and Pippa on the train to tuna town!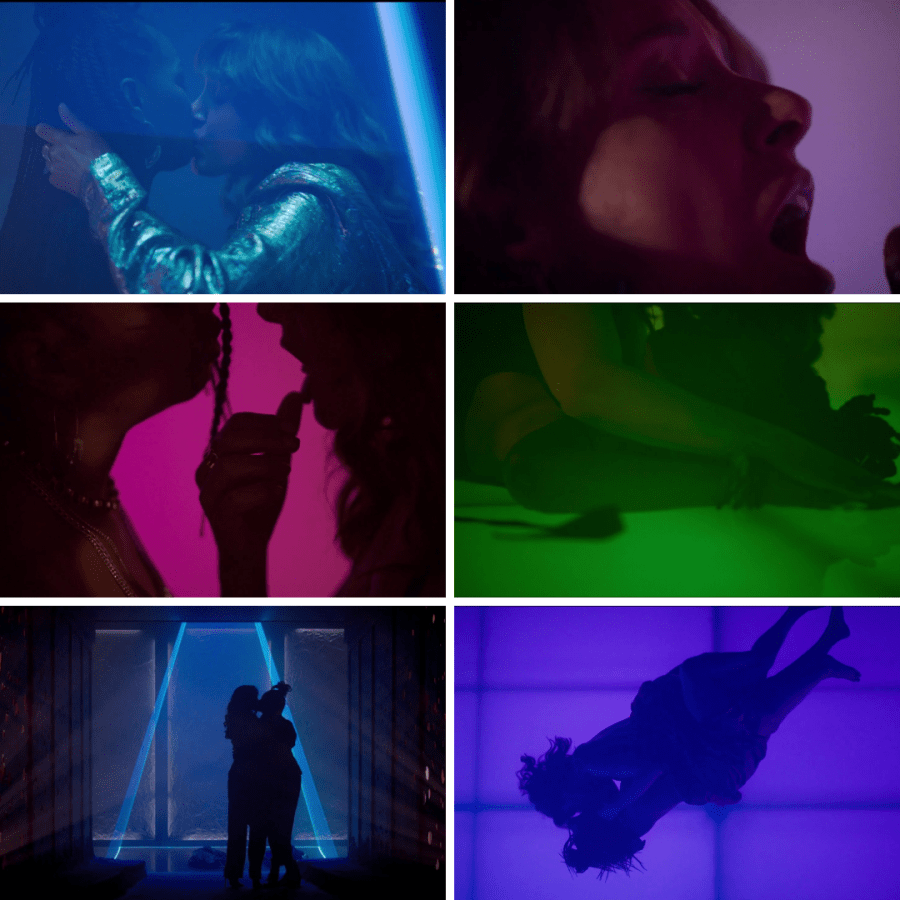 Lesbian Sexy Moment #11: Guiding Light
The Pick-Up: "Let there be light, yo"
Hot or Not? Bette fires up the art exhibition and moves her body around Pippa's. Pippa loves the art. I love Bette removing that blazer, but maybe all that gold sparkle was necessary for this scene, 'cause now it's silver, and now there's Pippa's hand against the intricate racerback lingerie we overanalyzed in the trailer. Bette grabs Pippa's head in yellow light, lies atop her in lime light, their lips dance in blue light, they breathe a lot in every color of light, they fuck in purple blue yellow white light, she comes in pink light, and they lie down on top of every color of light, folding into each other in a shot that I hope made the cinematographer scream with DELIGHT.
---
After putting Carrie to bed, Shane and Tess bundle under the umbrella like baby birds as the rain continues pelting the citizens of Los Angeles.
Shane: Were you that kind of drunk?
Tess: Oh no, I was much worse than that.
Shane: Really?
Tess: I mean she didn't break a bone… or a dish.
Shane thanks her — she couldn't have done it alone! They're a great team and should have children. It's time for them to make out in the rain! EVERYBODY'S KISSING TONIGHT LETS FUCKING GOOOOOO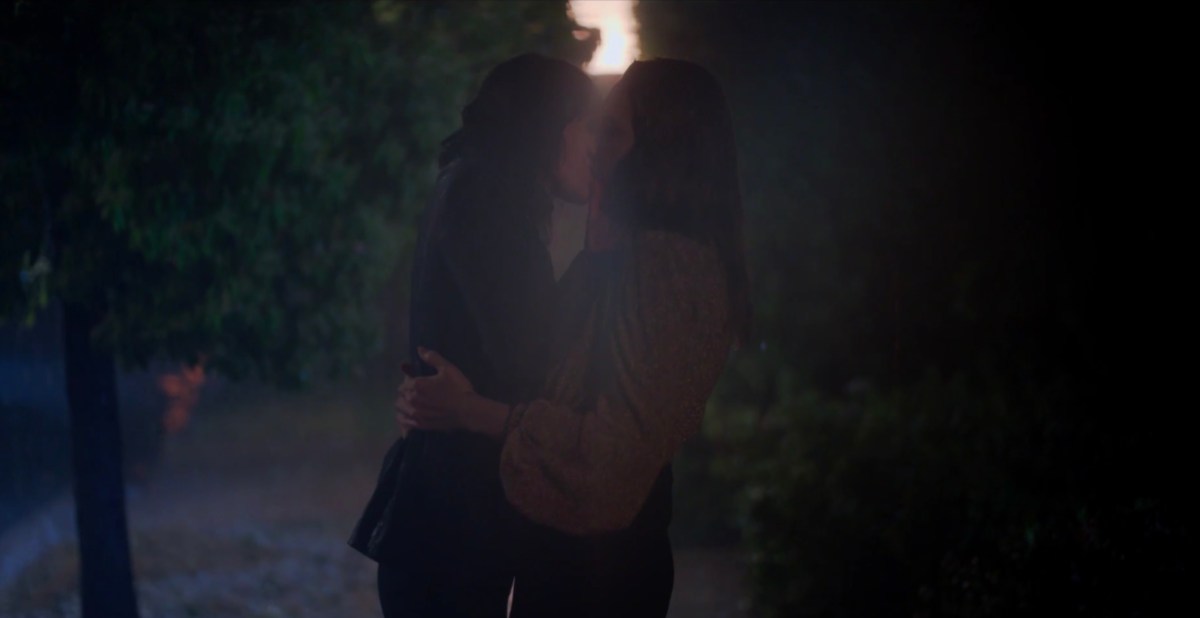 ---
At last, we return to the source of my anxiety, which is about to hit the roof! Sophie's teasing Finley's hair, telling her how handsome she is, how charming she is, and Finley's Intense Drunk Driver posture is softening, bit by bit, even moreso when Sophie unbuttons her pants and shoves Finley's hand in there. Finley takes her eyes off the road again. She's likely swerving. I am afraid someone is about to die.
As soon as the lights start flashing, Finley goes rigid, terrified, unable to speak. "You can talk your way out of anything," Sophie says as Finley takes a deep breath. "You're okay, right? Right?"
Sorry let me just check something really fast….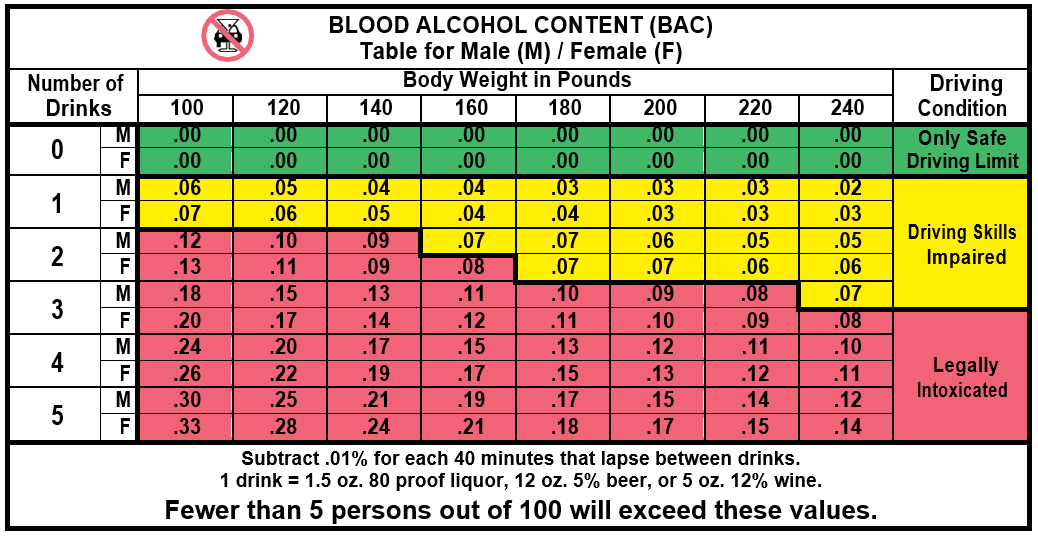 NOPE SHE'S DEFINITELY NOT OK!!!!!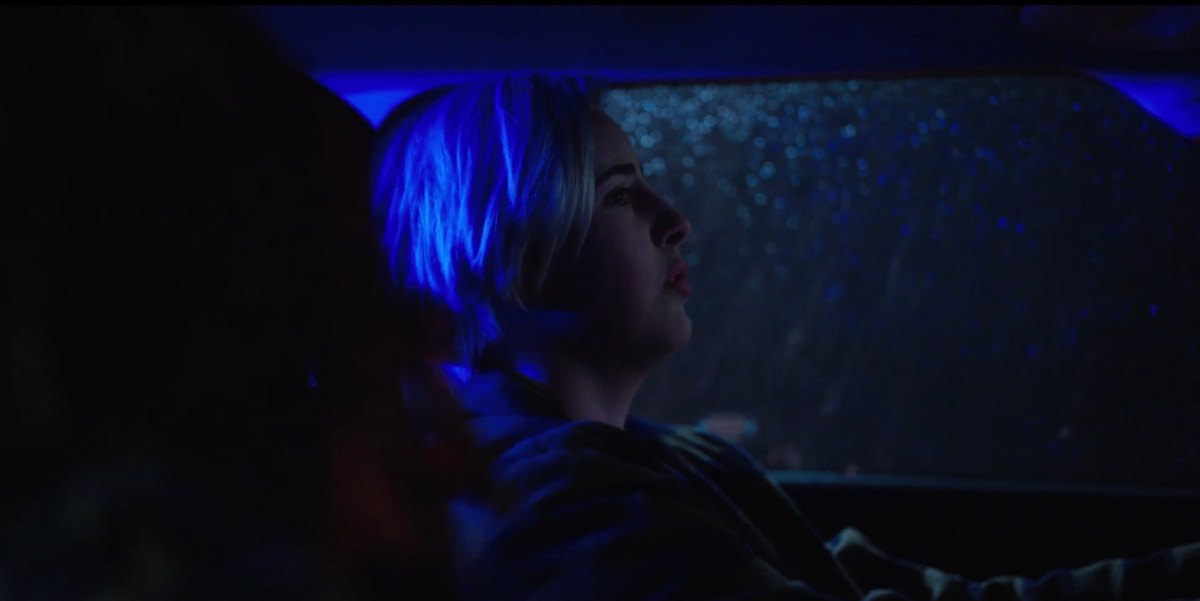 ---
The Round-Up
Sexy Moments: 3 this episode, 11 total
Squabbles: 3 this episode, 26 total
Quote of the Week: "I am so sick of people thinking I have it all together. Because all that means is that unlike you, people aren't inclined to hold me when I need it most." – Dani
Pages: 1 2 3See entire article on one page