Welp it is time for SHANE AND TESS'S BIG EVENT at an unknown VENUE which is once again focused on the imaginary lesbian pasttime of poker. Tess is VERY stressed out. She wants everything to be perfect, yet also she invited the cast of this television program, which undoubtedly will lead to imperfection. Just ask Nana "No Drama" Shane.
Tess: "I just wanna move to an island somewhere, you know?"
Shane: "I've always thought about moving to the mountains in Colorado."
Tess: "That's the exact opposite of an island."
A charming exchange between Finley & Sophie and Nat & Alice ensues in short order as the former couple is on time and the latter is present, together, as dates, despite their recent breakup and Alice's new romance with Tom the book Editor. Who is in charge of Finley's hair? I have some feedback.
Sophie and Finley depart to get a drink, because Finley "lives to mingle," leaving Shane alone with her dear friend Alice to ask her Nana questions about her little sexual fling with Nat. She asks what Tom thinks and Alice is like, "who are ya, Oprah?" And that is not the only talk show host we will reference this evening! Shane and Alice are immediately distracted by the arrival of Pippa and also Bette Porter, who's outfit this evening is giving me party on top and funeral on the bottom, which is basically my dream life.
Alice and Shane tease Bette about her obsession with Pippa and how she's been yabbering on about her for months/years and then welp! Shane spots Carrie, the Fiancée of our one and only Tiny Tina, here on a solo date. Good for her! Bad for Bette, of course, who between gritted teeth reveals that Carrie called and asked if she could come even though Tina was out of town. Alice and Shane have a great feeling about Pippa. Then, Shane asks if Alice has ever seen Dumb and Dumber and I laughed but I don't think it's fair for that movie to ruin light blue suits for everyone forever!
Carrie and Alice then share some absolutely delightful meta-dialogue that speaks directly to us as lesbians.
Carrie: I just wanted you to know I love the show this season, it's fantastic.
Alice: Aw, that's really sweet.
Carrie: I mean, a lesbian talk show host?
Alice: That's me!
Carrie: It's unprecedented.
Alice: I know. Well, there's Ellen.
Carrie: (neutral) Yeah. Yeah.
Alice: But after that, I can't think of anyone. it's like road wide open.
Carrie: Yeah, you're paving the way for everybody, it means a lot to a lot of people. It means a lot to a lot to me.
Get it??? Because ROSIE O'DONNELL was actually the first major lesbian talk show host even though she wasn't allowed to come out at the time? Alice says she'll get Carrie tickets to a show! And a mug! Carrie would LOVE a mug! This is a throwback to all the other scenes with mugs in them.
---
Sophie and Finley are debating if Alice is the top or not when Barry busts in for a clothed encounter. He loves the segment! Sophie fails to introduce her girlfriend Finley, so Finley introduces herself and says that just like me, she has an Uncle Barry.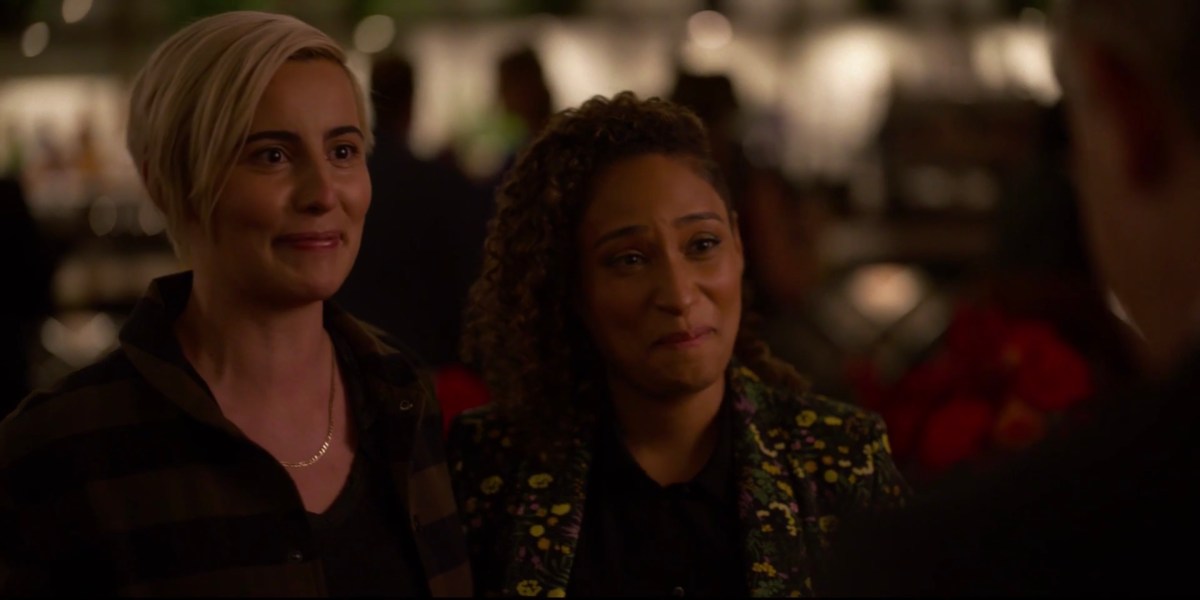 Finley, who has gotten through life thus far on the strength of her charisma, immediately charms the pants right off of our dearest Barry, and Sophie is impressed by her girlfriend's social skills. Barry's gonna buy them a round!
---
And now. My dearest friends. Now we embark upon the pathway of pain and suffering that is unfurling before us this episode, threatening my good cheer and hope for the future.
Shane spots Carrie at the bar. Having recently seen Carrie walking into a Building of AA Experience, Shane takes the initiative to stop by and ask her about it directly.
Carrie says in fact she was not visiting the Community Center for an AA meeting but rather for an OA (Overeaters Anonymous) meeting, and Shane apologizes for getting it wrong. Carrie says it's okay, and in fact continues to share details of her life that Shane is uninterested in hearing: "I would've thought the same thing I mean come on, I'm a 60 year old woman who's been on anti-depressants all her life, it's gotta be booze or food. It's not gonna be sex, you know? Although I've seen that bunch and they are not what you would expect." Shane says Carrie's mental health is not really her business, but Carrie's secret's safe with her!
Carrie … keeps talking about her mental health problems, for some reason!!!! CARRIE STOP ("Is this me at parties?" – me to myself throughout this scene) It's not really a secret, she explains. She says her life is an open book and then she pulls out that book and opens it right up and continues: she's struggling to adapt to Shane's world and Tina's friends. "It won't surprise you to hear that I'm still sort of struggling with Bette Porter," Carrie adds. Shane squirms, and gives Carrie the apt advice to not push it and just give Bette some time.
---
Elsewhere in this sweet small town of Los Angeles, Angie arrives to The Park to break up with Jordi, only to find herself accosted by a massive PROMPOSAL that involves a whole little team of tiny girls in raincoats!
This made me want to watch the Tom Holland Lip Sync Battle video again and so I did and you can too.
Believe it or not, Angie says yes! TBD on whether or not she added "Prom?" to her list of questions for Marcus Allenwood, which would give Jordi credit for conversation participation on some level.
---
Pages: 1 2 3See entire article on one page