Welcome to the seventh recap of the second season of The L Word: Generation Q, brought to you by the same network that brought you the original L Word, a show about a devious and vaguely Eastern European au pair named Hazel who seduces noted folk musician / "manny" Angus (despite his romantic commitment to our very own Kit Porter) by turning an innocent guitar lesson into a forum for sexual entendres and an eventual blow job, and subsequently is unceremoniously fired when their sexual activities are observed by a peeping Tina Kennard, thus leading to Kit Porter ending a musical performance at versatile venue "The Planet" by screaming "you lying lowdown nanny-fucking motherfucker, fuck you!" and throwing a mixed cocktail directly into Angus's terrible and inadequate face.
Ah here we are, everybody is ready to let the light in for this recap of The L Word: Generation Q Episode 207, "Light." The episode truly had its ups and its downs, with plenty of room in between for me to experience anxiety and second-hand embarrassment!!!
---
We open with a deep dive into an ancient Lesbian Mating Ritual, best practiced by a newly partnered pair of human subjects with howevermuch free time the kiddos have these days.
Lesbian Sexy Moment #9: Do It Like They Do on the Discovery Channel
The Pick-Up: I think it was "All I wanna get is a little bit closer" because I'm p sure they've been boning ever since.
In this particular instance, it's easy to observe how our lovers are enabled to hold a sex-a-thon not solely by geography, but also by shared high sex drive and a bounty of unreleased sexual tension built up over an extended period of time. Our mating partners are, in other words, in a near-constant state of fingerbanging, muff-diving, sexy kissing and heavy petting, in multiple locations throughout the home.
They cannot hydrate, they cannot eat, they cannot sleep. They must only fuck! And I am in full support of this adventure. Wonderful way to start the episode! My ship is sailing with its flags flapping in the wind! I watched it more than once! I love this for them!
---
We then cut to a serene restaurant where everybody is wearing clothing but memories of sexual activities linger in the air as two dear friends, Bette and Alice, share lunch while noting that somehow, Gigi and Nat are having lunch in the same damn restaurant. Bette says Gigi is now "playing mind games with someone else," to which I can only ask: qwhat???
We once again revisit the eternal question of: do Bette and Alice remember that they are also each other's exes??? Anyhow, regarding Nat and Gigi:
Alice: You know what's super weird? It's like together they're one big giant ex, but then one of them is my ex and one of them is your ex. Well, actually the other one is also my ex.
Bette: It's really some of your finest work.
Alice creeps outside to share polite small talk with Nat about things that are of no immediate concern to them or me or you.
Most importantly, this little reunion turns promptly into another kind of reunion….  A SEXUAL REUNION. This will definitely end badly.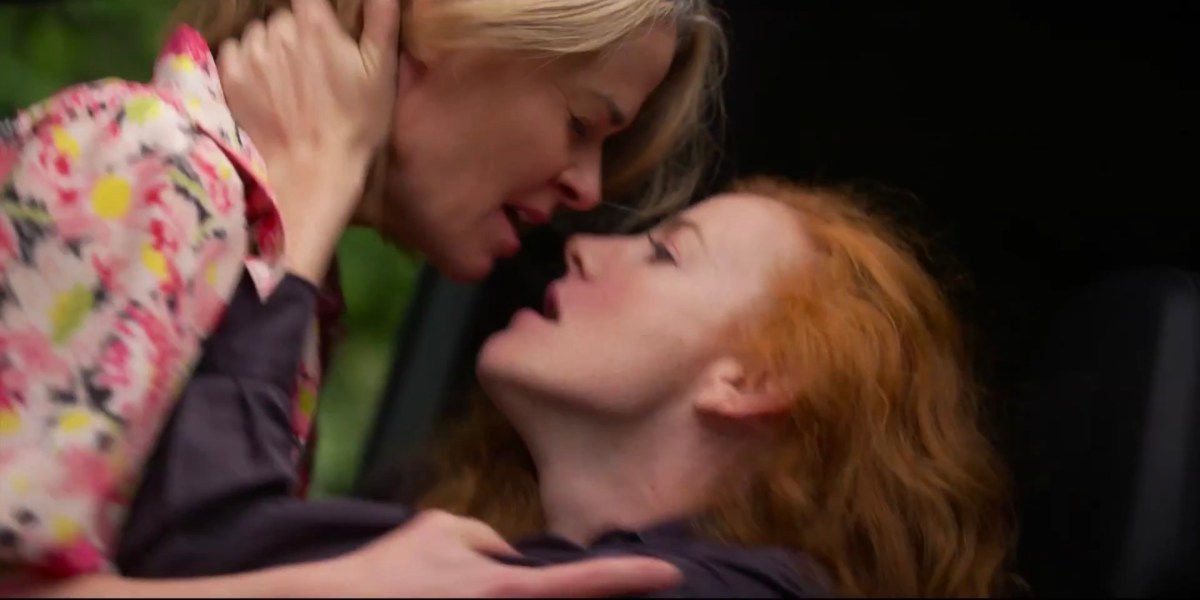 Lesbian Sexy Moment #10: Baby You Can Ride Me In My Car
The Pick-Up: Ummmmmm probs like, "wanna bang in my car"?"
Hot Or Not? I just want to share this screenshot with you if I may?
---
In yet another car in another section of our fine city, Shane's dropping Tess off at her AA meeting and discussing their upcoming Poker Event for The M.S. Society. Tess is thrilled about it!
Shane is surprised to spot the one and only Carrie also entering the building where Tess has gone to "meet with her anonymous friends."
---
Angie's in her bedroom deciding which questions she will ask Marcus Allenwood if this show ever stops teasing us and truly grants them an actual in-person encounter, but Jordi just wants to talk about prom queen and her "look" and how they're gonna hang in the park tomorrow.
Angie feels unsupported, because for some reason I cannot comprehend, Jordi is clearly not supporting her.
---
Art lovers, join me as we venture to the offices of Bette Porter, where she's got something pretty special up her consistently innovative sleeves for Pippa: a show at the legendary CAC on the topic of Black Lives Matter, built around the one and only Pippa Pascal.
We also hear a little background from Bette Porter regarding her connection to Pippa's work, and it's good stuff!
Bette: "Nothing has ever made me feel so seen as your work. And that includes the new work. I mean you are reckoning with your own queerness and your own blackness in ways that i have barely begun to unpack for myself."
Pippa's nervous to take the opportunity 'cause she was fucked over as a young artist, but Bette convinces her that her work will be safe and honored in Bette's experienced hands. WINK WINK.
Bette calls someone — maybe Mr. Gallery, maybe James, maybe Tina, maybe Mr. Peanut, maybe me — to express her excitement regarding Pippa signing with the gallery, but her joy is interrupted by a phone call from her nemesis, Carrie Future-Kennard.
---
It's time for everybody's favorite weekday snack, The Aloce Show!!!! More specifically, it's time for Sophie's Segment to premiere and the crowd is hungry for some elder lesbian love.
A very nervous Sophie is watching her segment premiere from the green room when her beloved Finley arrives, straight from soccer, ready to be there for her. "They're gonna love it," Finley insists. "You're the bestest and the smartest… and the sexiest… and the best kisser"
The Boss Man adores the segment and wants to say so straight to Sophie's face!
Unfortunately, Sophie's face is occupied! It's our first Cringe Moment of the episode!
Alice luckily spots the two horndogs before Barry does, and quickly covers for them, telling Barry that Sophie's soul is too naked for a face-to-face right now. But maybe later? Maybe soon, even!
---
Dani and Gigi are lunching at a food truck and Gigi, bless her communicative heart, would like to discuss emotional events that transpired in the past. She's surprised by Dani's response: after her horrible night and seeing Finley and Sophie together, she found Gigi's revelation to have "shitty" timing. She needed a friend. Unfortunately I disagree, she needs to be Gigi's girlfriend ASAP. However, props to Dani for speaking her mind!
Dani feels like things are moving too quickly because What About Bette!?!?!!?! Gigi's confident Bette won't care. Dani's afraid to make Bette feel like she did with Sophie. Gigi insists Bette does not have strong feelings for her. Dani finds that hard to believe.
Gigi scooches on over to be right up close to Dani's body and says if that's what this is really about, then Dani should talk to Bette.
---
Back on the scandalous set of The Aloce Show, Alice is scolding her young charges: '"Hey you guys," says a very heated Alice. "What the fuck??!!" She relays that Barry wanted to meet Sophie but obviously could not because Finley's hand was inside Sophie's body at that time.
Finley: Can this just be my fault? I don't even work here anymore.
Alice: What is it about that couch?
Finley: I think it's less about the couch and more about the… location of the room?
[Alice glares, Finley glances at Sophie for help, Sophie grits her teeth]
Finley: I'll stop talking.
Alice turns on her heels and then reveals that she is Sinley Shipper #36. "I like you two together, I do," she admits. "Big fan. I just wanna see less of it." She demands they Febreeze the couch, and Finley's gonna get right on that instead of getting right on Sophie. Probably?
---
Kayla and Angie are enjoying smoothie beverages together and discussing Angie's relationship with Jordi, which as we know, is crumbling in our hands. Jordi's too obsessed with prom to run over sample questions for Angie's Very Chill Meet-Up with Marcus Allenwood. Kayla says Angie can talk to her about those things if she wants.
Unfortunately, Angie has determined, without even talking to Jordi about the problem they're currently having, that it's time to call it off altogether!!!! She's taking a page right out of a book that would not be shelved anywhere near the Porter Playbook, because Chapter One of that book is entitled "How To Remain In a Relationship Long Past Its Expiration Date."
Angie asks Kayla, "Have you ever broken up with somebody before?" Kayla has not. Because she is like, 15 years old.
---
We arrive home at FiSoMi's after a long day of segment premieres and sexual scoldings to find Sophie in a special mood, and that mood is "let's address Finley's myriad faults that she's been aware of for their entire friendship but now suddenly has a more vested interest in." She's curious if Finley knows how to cook. Finley says she absolutely can and will, what would Sophie like to eat?
"I just wanted to know if you can feed yourself," sighs Sophie, as if she has not witnessed Finley feeding herself other people's cereal on multiple occasions.
Finley: You think I'm a big kid, dontcha?
Sophie: Well… you kinda sorta are.
Finley: Look, I know I'm not as grown up as Dani or whatever, but my parents kicked me out when I was 18, so it's sorta different circumstances.
It is a stark contrast — Dani's Stanford and USC degrees, Dani's paid-for apartment, Dani's high-paying job at her Dad's company — but also, we have no idea what Finley has done between the ages of 18 and 25. Or Sophie! We know Sophie made some documentaries?
Sophie insists she wasn't comparing Finley to Dani, but Finley wants to know the doubts Sophie is harboring. Sophie retreats, claiming, "we know each other in one way and I'm trying to get to know you in a different way." A great save! Finley gamely accepts this re-orientation of her interrogation and opens herself up for questioning. First of all, children: For or against? Finley wants many!
Second of all, career ambitions? Finley's dreams of being a soccer coach from two weeks ago have evolved into low-key dreams of becoming a full-time soccer referee, but she's also "down to be a stay-at-home baby daddy" with Sophie, who has previously expressed desires to be a stay-at-home baby mommi. Finley says she's happy for Sophie to be her "Sugar Momma." Yikes!
While expressing a willingness to get an online degree and become a nurse if that's what Sophie would prefer, Finley's hands travel down Sophie's pants and well, we've been here before!
Welp it is time for SHANE AND TESS'S BIG EVENT at an unknown VENUE which is once again focused on the imaginary lesbian pasttime of poker. Tess is VERY stressed out. She wants everything to be perfect, yet also she invited the cast of this television program, which undoubtedly will lead to imperfection. Just ask Nana "No Drama" Shane.
Tess: "I just wanna move to an island somewhere, you know?"
Shane: "I've always thought about moving to the mountains in Colorado."
Tess: "That's the exact opposite of an island."
A charming exchange between Finley & Sophie and Nat & Alice ensues in short order as the former couple is on time and the latter is present, together, as dates, despite their recent breakup and Alice's new romance with Tom the book Editor. Who is in charge of Finley's hair? I have some feedback.
Sophie and Finley depart to get a drink, because Finley "lives to mingle," leaving Shane alone with her dear friend Alice to ask her Nana questions about her little sexual fling with Nat. She asks what Tom thinks and Alice is like, "who are ya, Oprah?" And that is not the only talk show host we will reference this evening! Shane and Alice are immediately distracted by the arrival of Pippa and also Bette Porter, who's outfit this evening is giving me party on top and funeral on the bottom, which is basically my dream life.
Alice and Shane tease Bette about her obsession with Pippa and how she's been yabbering on about her for months/years and then welp! Shane spots Carrie, the Fiancée of our one and only Tiny Tina, here on a solo date. Good for her! Bad for Bette, of course, who between gritted teeth reveals that Carrie called and asked if she could come even though Tina was out of town. Alice and Shane have a great feeling about Pippa. Then, Shane asks if Alice has ever seen Dumb and Dumber and I laughed but I don't think it's fair for that movie to ruin light blue suits for everyone forever!
Carrie and Alice then share some absolutely delightful meta-dialogue that speaks directly to us as lesbians.
Carrie: I just wanted you to know I love the show this season, it's fantastic.
Alice: Aw, that's really sweet.
Carrie: I mean, a lesbian talk show host?
Alice: That's me!
Carrie: It's unprecedented.
Alice: I know. Well, there's Ellen.
Carrie: (neutral) Yeah. Yeah.
Alice: But after that, I can't think of anyone. it's like road wide open.
Carrie: Yeah, you're paving the way for everybody, it means a lot to a lot of people. It means a lot to a lot to me.
Get it??? Because ROSIE O'DONNELL was actually the first major lesbian talk show host even though she wasn't allowed to come out at the time? Alice says she'll get Carrie tickets to a show! And a mug! Carrie would LOVE a mug! This is a throwback to all the other scenes with mugs in them.
---
Sophie and Finley are debating if Alice is the top or not when Barry busts in for a clothed encounter. He loves the segment! Sophie fails to introduce her girlfriend Finley, so Finley introduces herself and says that just like me, she has an Uncle Barry.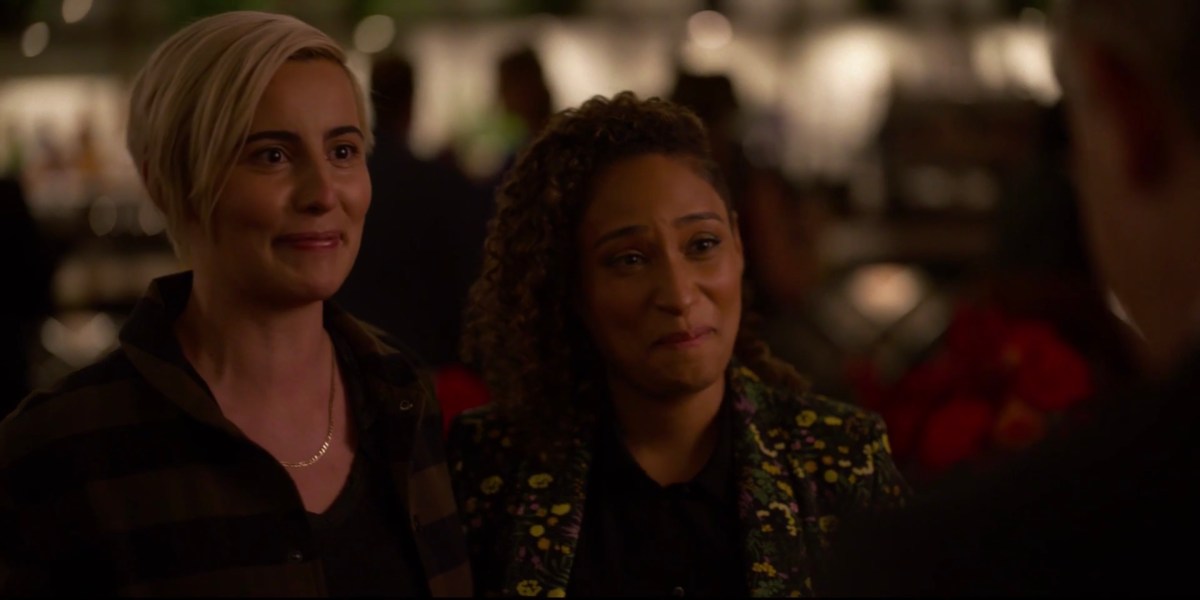 Finley, who has gotten through life thus far on the strength of her charisma, immediately charms the pants right off of our dearest Barry, and Sophie is impressed by her girlfriend's social skills. Barry's gonna buy them a round!
---
And now. My dearest friends. Now we embark upon the pathway of pain and suffering that is unfurling before us this episode, threatening my good cheer and hope for the future.
Shane spots Carrie at the bar. Having recently seen Carrie walking into a Building of AA Experience, Shane takes the initiative to stop by and ask her about it directly.
Carrie says in fact she was not visiting the Community Center for an AA meeting but rather for an OA (Overeaters Anonymous) meeting, and Shane apologizes for getting it wrong. Carrie says it's okay, and in fact continues to share details of her life that Shane is uninterested in hearing: "I would've thought the same thing I mean come on, I'm a 60 year old woman who's been on anti-depressants all her life, it's gotta be booze or food. It's not gonna be sex, you know? Although I've seen that bunch and they are not what you would expect." Shane says Carrie's mental health is not really her business, but Carrie's secret's safe with her!
Carrie … keeps talking about her mental health problems, for some reason!!!! CARRIE STOP ("Is this me at parties?" – me to myself throughout this scene) It's not really a secret, she explains. She says her life is an open book and then she pulls out that book and opens it right up and continues: she's struggling to adapt to Shane's world and Tina's friends. "It won't surprise you to hear that I'm still sort of struggling with Bette Porter," Carrie adds. Shane squirms, and gives Carrie the apt advice to not push it and just give Bette some time.
---
Elsewhere in this sweet small town of Los Angeles, Angie arrives to The Park to break up with Jordi, only to find herself accosted by a massive PROMPOSAL that involves a whole little team of tiny girls in raincoats!
This made me want to watch the Tom Holland Lip Sync Battle video again and so I did and you can too.
Believe it or not, Angie says yes! TBD on whether or not she added "Prom?" to her list of questions for Marcus Allenwood, which would give Jordi credit for conversation participation on some level.
---
We then, regretfully, return to Poker Night for what I think is my least favorite scene of the entire series! Carrie approaches Bette and asks if she can join her, and Bette, oozing self-assurance and Pippa-induced glee, says she's here with a friend, and Carrie is… not taking no for an answer?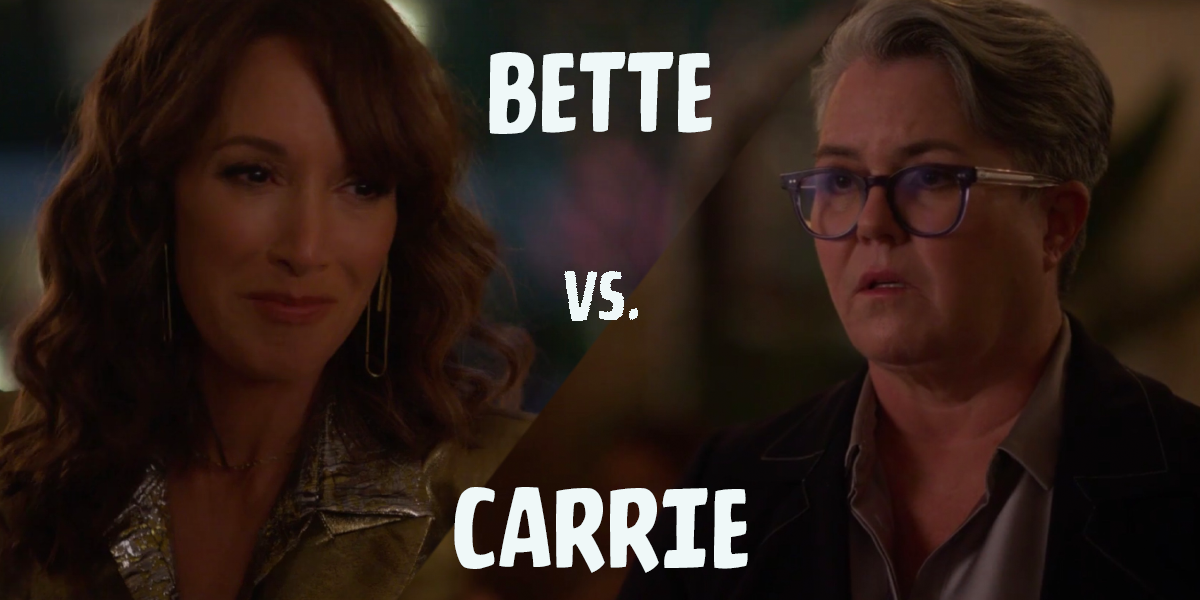 Lesbian Squabble #25: This Used to Be My Playground
In the Ring: Bette vs. Carrie
Bette rejects Carrie as her seated companion, Carrie says wow she just had a flashback to Ye Olde Staten Island High School when all the cool girls called her a dyke when she asked to sit with them at lunch, and Bette says she's so sorry, that was not her intention, and then shares a "similar experience" she had at soccer camp with two girls who would say "n—— dyke" and made her sit in the back of the bus as a joke, but "we don't need to play oppression Olympics." These are very heavy and traumatic admissions happening in this squabble and my head is spinning!
Carrie would like to hang out and maybe bond but Bette reminds her that it's not the best night for this."Seriously?" Carrie asks. "Really?" Bette says she's down to be civil but anything beyond that feels unnecessary.
Carrie: You know what, Bette? On the way here I was feeling really good, I had like a bounce in my step, I got this new outfit on, and I was up there and I saw you, and I just want you to know, it does not feel good to be around you. It feels like I'm a kid in some kind of trouble.
Bette: That, to me, feels like that's your baggage.
Carrie: Okay, that's a good point. That's a really good point. I guess that I just wanted your blessing? Or your acceptance, would be nice?
Bette: If you think what you have with Tina is working and you feel really good about it then I don't see why you would care what i think about you.
Who Wins? Nobody has ever lost more than both of the parties in this conversation. However, Bette did have the clear upper hand in this convo and did not need to say what she said at the end.
---
Welp, another person on an unfortunate track this evening is Dani, who has come to The Event to ask for Bette's blessing to date Gigi. Everybody wants Bette's blessing tonight and nobody is gonna get it! Of course, the first thing Dani sees upon entering is Sophie and Finley canoodling. So she beelines for the bathroom, where Nat and Alice are finishing up a little Stall Sex.
Nat and Alice emerge from the stall, radiant from their recent sex act and unable to play it cool. Dani tells them she wants to ask Bette how Bette would feel about her dating Gigi, and Alice and Nat are wildly insistent that Bette would not mind at all, which Dani remains a bit confused about. Then, because somebody has to be mean to Gigi in every episode, Alice adds: "In fact, if you think Gigi's gonna work for you, I'd be grateful, you know?"
"And for what it's worth, she's really into you," Nat says as she leaves."I had lunch with her the other day and she hasn't seemed this into someone in a while." A locked vault, that Nat!
---
To ensure Dani's night only gets worse from here, we proceed to the episode's next BIG CRINGE Encounter: Finley accosting Dani to say she's "so fucking sorry." Dani, on the fucking ball, is like "no you're not." Which brings us to…
Lesbian Squabble #26: No Ma'am
There are exactly zero (0) universes in which Finley broaching this convo is remotely appropriate, and yet here we are! This is the exact person Finley should NOT be seeking advice from, re: handling her girlfriend.
Finley: I'm trying to be an adult and you're like, the most adult person I know.
Dani: I think that says more about you than it does about me.
Finley: But we're like, the same age.
Dani: And I think the similarities end there.
Finley: But you're also scary, like really scary, but I mean that as a complement—
Dani: Finley. What?
Finley: I mean, I wanna be better, like how do I get it together?
Dani: Get a job? Don't steal people's fiancées?
Finley: Yeah, I don't think that's it…
Dani: Okay, I don't fucking know then. I am so sick of people thinking I have it all together. Because all that means is that unlike you, people aren't inclined to hold me when I need it most. And if you ever use that against me so help me god, will actually kill you.
Finley: Can I hug you?
Dani: No!
Who Wins? Dani. That line about all that means is that people don't hold her like they hold Finley? I adore it. Gold Medal in Squabbling Goes to Dani Nunez. (ETA: As some commenters have pointed out, Dani has refused multiple offers in multiple episodes to Be Held. But it's still a great line!)
---
Pippa's glad this poker game is for charity 'cause she lost so much of her money, but Bette feels a deep sense of relief to discover that Pippa is bad at something. The sexual tension, IT IS HIGH.
At last, these two power lesbians lock lips and decide to depart the venue,
---
Alice glares as Nat flirts with an extra at the bar, realizing relatively quickly in the life cycle of this reunion that nope, this is not gonna work.
Nat wants to gab about how her new flirting buddy asked if Alice was Alice from the show and also would like to have more sex with Alice. Alice says she's not into the sneaking around thing they're doing, but this also isn't going to work. Nat says it feels good, so why on earth should they stop doing it? "You know why," Alice declares. Nat tears up. Alice tells her to butch up a little.
Well and that is where that ends.
---
Angie and Jordi are processing the promposal. Angie says Jordi was acting SO WEIRD but now she's kinda relieved, because it was coming down to the wire and she thought she'd have to go to prom alone! I thought you like, automatically go to prom with your girlfriend, right?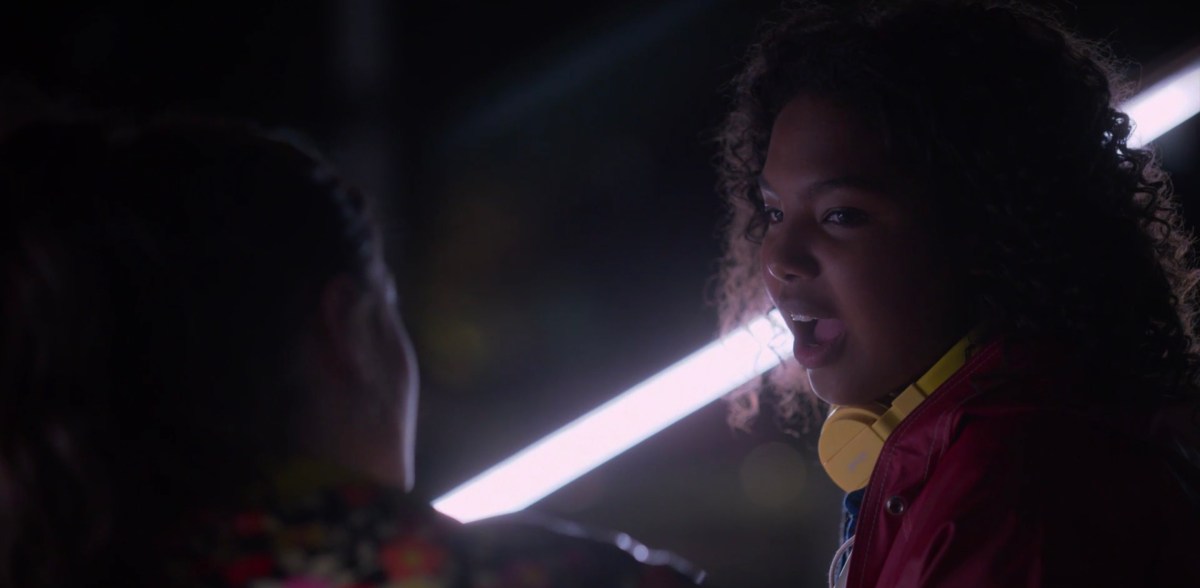 This does not feel like a resolution to the issues that were plaguing them!
---
Well, my fine feathered friends, Carrie is smashed and would like to play more poker. Unfortunately her phone isn't working 'cause she doesn't know the password even though she's a lawyer who passed the bar in two states but she bumped into Bette Porter and it didn't go great.
Tess: Maybe we should take her home, I mean i don't want her throwing up in a Lyft.
Shane: Okay, so she can throw up in my car?
Tess: I mean….
Carrie: Phone can you tell me my password?
Shane: Why don't we go home?
---
Exterior: EVENT VENUE. Finley and Sophie are drunkity drunk drunk. Sophie is drunkity drunk drunkest. Finley tells Sophie that she asked Dani for adulting and Loving Sophie advice and Sophie cracks up as if Finley did not just disclose something GENUINELY HORRIFYING. Sophie says Dani doesn't know shit about how to love her, Finley is the one who loves her the best, and she's also so impressed with how easily Finley charmed Barry's pants off.
Sophie: "I lose myself all the time. I lose myself at work and I lost myself with Dani. With you… I can just be myself with you and I don't have to think about it. You're perfect."
Sophie keeps going for the makeout while Finley reminds her that she is drunk! Sophie pulls out the nearly-empty flask from her pants, shaking it in the night air, revealing how little liquid remains inside. Finley tests its contents by pouring the remainders directly into her mouth as Sophie asks her if she is okay to drive. As I wrote in my notes: "ARE YOU OKAY TO DRIVE SHE SAYS AS FINLEY CHUGS FROM A FLASK"
They get into the car and even though I've had zero drinks, I immediately black out.
---
Dani's decided to take her evening into her own hands and go visit someone who probably won't make her feel really terrible! She knock-knock-knocks on Gigi's door and then immediately retreats when Gigi doesn't answer. But before she can creep off into the bushes in search of some bread for toast, Gigi emerges to declare that Dani is "a lot more dramatic than [she] thought." Dani said she was unable to ask Bette for her blessing upon their union, and Gigi says okay, bad timing. She's being so patient with Dani's desire to pursue this silly line of reasoning!
Dani is terrified to let herself like Gigi so soon after having her heart broken, which drives her to slut-shame Gigi for being "with everyone I know." Gigi says that's an exaggeration, and Dani consents that indeed it is. Look at these two resolving their conflicts so quickly so soon into their courtship!
Dani: But can I trust you?
Gigi: I'd like to think so.
Dani: Cause I've been hurt.
Gigi: What do you want?
Dani: Is this real? Are you real?
HELL YEAH IT'S REAL DANI BABY LEZ SEAL THIS WITH A KISS!!!!!!!!!!
Gigi asks her to come inside but Dani wants to take it slow, instead they will just kiss in the rain, a noted romantic activity popular amongst lesbians in TV shows and men in Verizon commercials.
---
The rain continues its merciless onslaught against our everyday queer heroes as Shane and Tess arrive home with Carrie, who is slurring about how she loves Tina and she loves Angie. "Everyone else is I don't know, you people are so beautiful and I'm not like you guys," she continues, in the voice of a drunkity drunk drunkerpants.
Shane and Tess promise her everything's gonna be okay, the problem is not that she doesn't deserve Tina, it's that she consumed too many vodka-sodas. "I just can't live like this the rest of my life," Carrie sobs. "I don't think I can marry Tina."
---
Bette and Pippa have found themselves at the legendary Zacharian Gallery Of Art, where Kizmet Russel's installation is good to go. Also good to go? Bette and Pippa on the train to tuna town!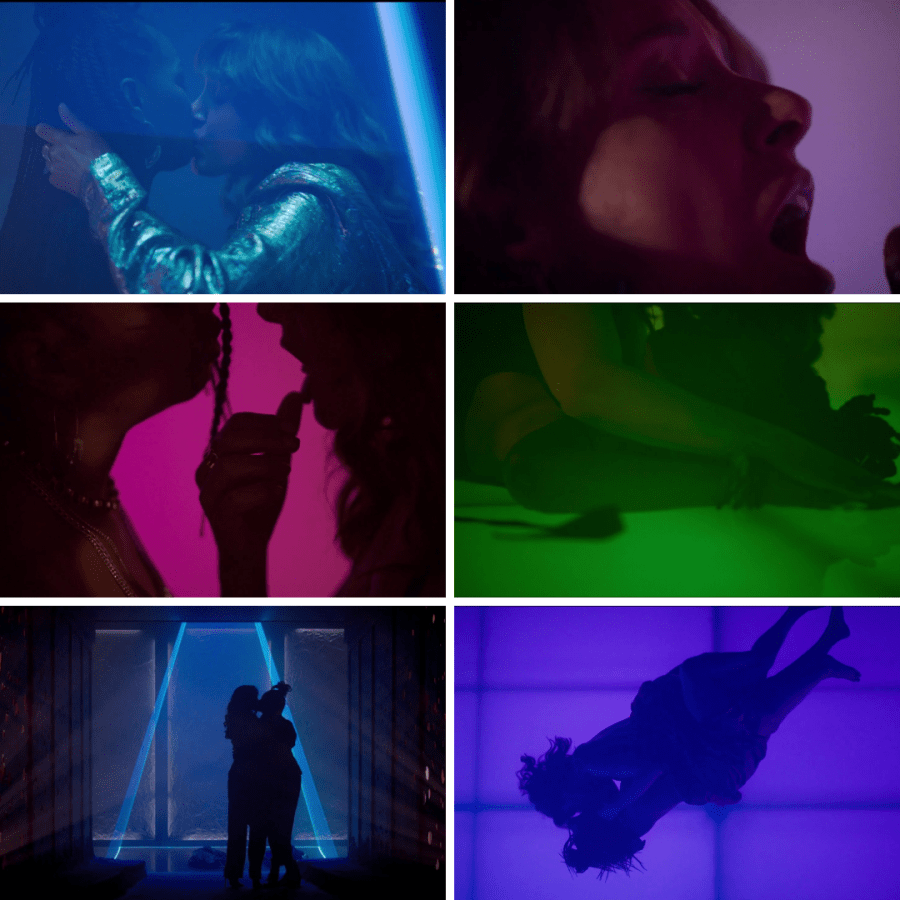 Lesbian Sexy Moment #11: Guiding Light
The Pick-Up: "Let there be light, yo"
Hot or Not? Bette fires up the art exhibition and moves her body around Pippa's. Pippa loves the art. I love Bette removing that blazer, but maybe all that gold sparkle was necessary for this scene, 'cause now it's silver, and now there's Pippa's hand against the intricate racerback lingerie we overanalyzed in the trailer. Bette grabs Pippa's head in yellow light, lies atop her in lime light, their lips dance in blue light, they breathe a lot in every color of light, they fuck in purple blue yellow white light, she comes in pink light, and they lie down on top of every color of light, folding into each other in a shot that I hope made the cinematographer scream with DELIGHT.
---
After putting Carrie to bed, Shane and Tess bundle under the umbrella like baby birds as the rain continues pelting the citizens of Los Angeles.
Shane: Were you that kind of drunk?
Tess: Oh no, I was much worse than that.
Shane: Really?
Tess: I mean she didn't break a bone… or a dish.
Shane thanks her — she couldn't have done it alone! They're a great team and should have children. It's time for them to make out in the rain! EVERYBODY'S KISSING TONIGHT LETS FUCKING GOOOOOO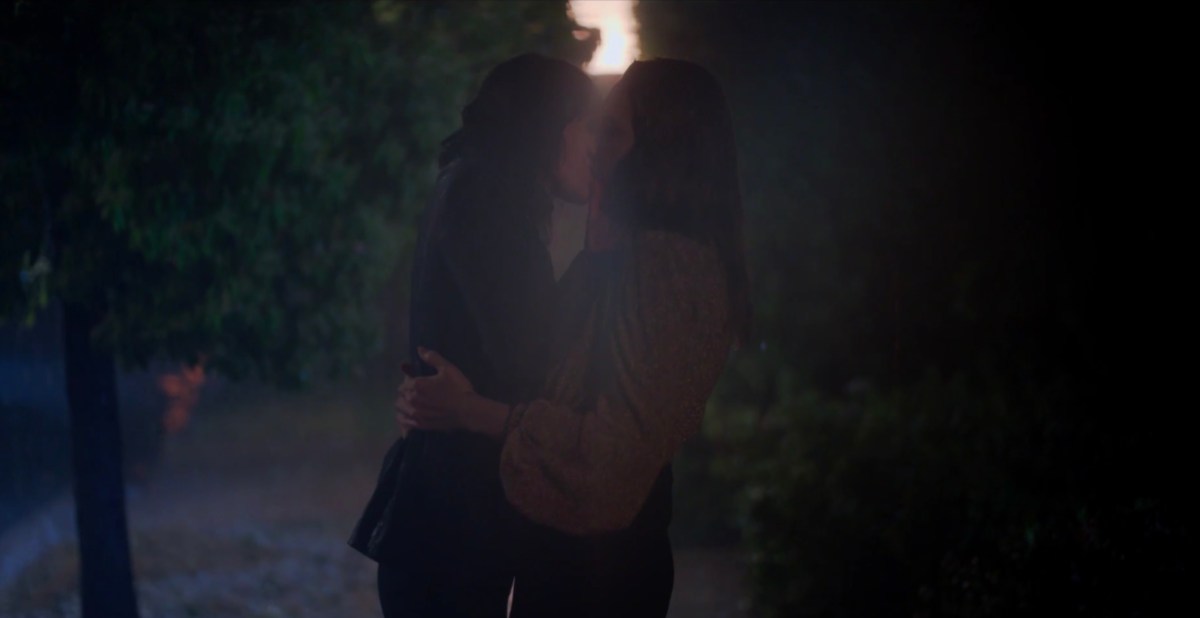 ---
At last, we return to the source of my anxiety, which is about to hit the roof! Sophie's teasing Finley's hair, telling her how handsome she is, how charming she is, and Finley's Intense Drunk Driver posture is softening, bit by bit, even moreso when Sophie unbuttons her pants and shoves Finley's hand in there. Finley takes her eyes off the road again. She's likely swerving. I am afraid someone is about to die.
As soon as the lights start flashing, Finley goes rigid, terrified, unable to speak. "You can talk your way out of anything," Sophie says as Finley takes a deep breath. "You're okay, right? Right?"
Sorry let me just check something really fast….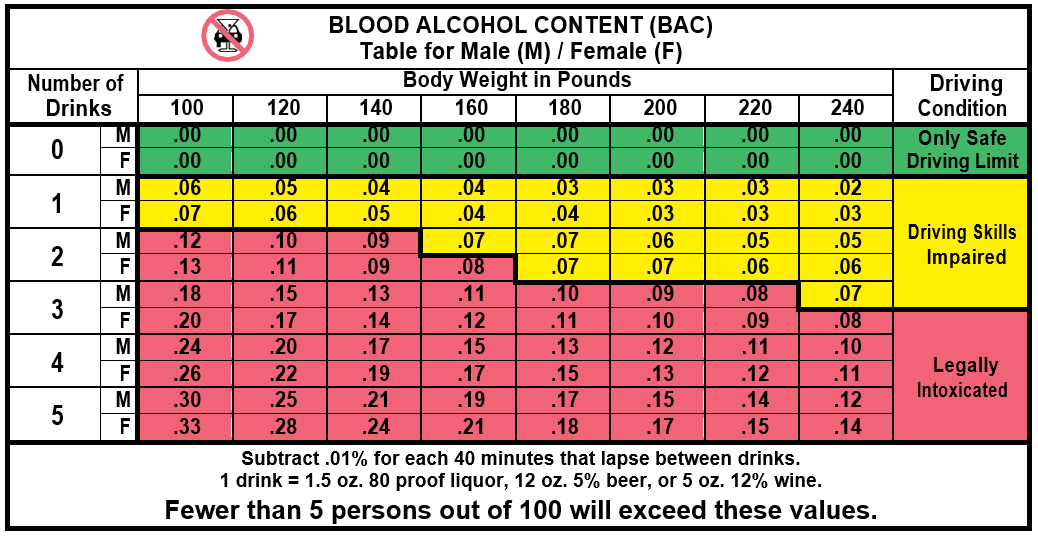 NOPE SHE'S DEFINITELY NOT OK!!!!!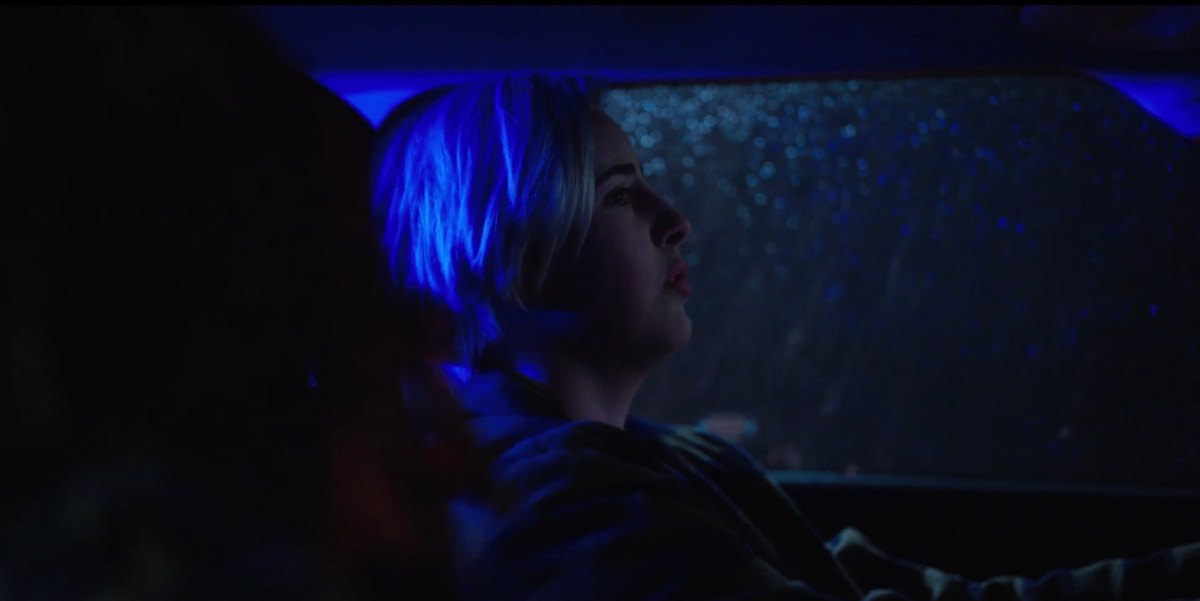 ---
The Round-Up
Sexy Moments: 3 this episode, 11 total
Squabbles: 3 this episode, 26 total
Quote of the Week: "I am so sick of people thinking I have it all together. Because all that means is that unlike you, people aren't inclined to hold me when I need it most." – Dani
Pages: 1 2 3See entire article on one page