It's college application season, and last week some stressed out parents of a queer kid wrote in to the New York Times Civil Behavior advice column to ask a question of utmost parental concern: Should a student disclose or conceal her lesbian identity in college application essays?
Our daughter is a senior in high school and quite comfortable with her lesbian identity. We support her 100 percent, but we know the world is not always so tolerant. As she's writing her college application essays this fall, she's "coming outwp_postsin them — and we think that's a bad idea. You just never know who's reading these essays, so why risk revealing your orientation to someone who might be biased against you? We've strongly suggested she think over the ramifications of what she's doing, but she doesn't seem to have any doubt about it. Deadlines are approaching and we are at an impasse. How can we persuade her to keep some things private if they might hurt her chances of admission?
Here's what Steven Petrow, author of Steven Petrow's Complete Gay & Lesbian Manners and Mr. Civil Behavior for the NYT, advised:
Clearly you've given your daughter a strong sense of self and the confidence to be who she is, even if the world is not as tolerant as we'd all hope. Sure, one of a parent's jobs is to worry, but after 17 or so years you can't be there for every important decision in life. So, please reconsider what message you are sending to her when you ask her to conceal her identity.
It's worth noting that Civil Behavior is an etiquette column written specifically for the "boomer-age audience" and published every other Tuesday in Booming, a section in the NYT specifically for and about baby boomers — the 78 million Americans born between 1946 and 1964. As Petrow points out in his response, times have changed since the "boomers" were applying for college. But could it be that they actually have a point? While it would be perfect if we could all be out and proud at every juncture of our lives, truthfully that's not yet always the case. After reading the column the Autostraddle team started talking about this question in our daily email, and it soon became clear that we'd all had very different experiences coming out (not always by choice) in college, at our jobs, and in our daily lives.
---
Maddie

I usually end up coming out to people within like thirty seconds of meeting them just by nature of the things that I would say to qualify as "small talk." And as for jobs and college apps, my resume is basically a page of queer/women/queer women related things, so if I didn't include those things, I would have no resume. This seems to have been working for me pretty well so far (because usually the things I apply for are more queer/women/queer women related things. Hi, Autostraddle). What makes me most uncomfortable is when the people hiring me or accepting me to their university want me for Diversity and Being Progressive, but only actually support me/other queer people if we do queer the way they want us to. This is a huge issue at Vassar, and other universities, that stress things like need-blind admission and feature students of color and queer people in their admissions materials. They're still elitist institutions with institutionalized racism, sexism, homophobia and ableism. They are invested in Diversity because it reflects well on them, but when it comes down to making their campuses safe and inclusive, they aren't taking the necessary steps.
Cara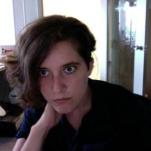 I've been lucky enough to spend most of my life in a very liberal state. For this reason, I've always been a fan of the subtle signal. When I'm applying for jobs, I'll make sure there's something really obviously queer somewhere in my application, whether it's an Autostraddle clip in my portfolio or an eye-catching ink splotch on my resume right next to "GSA Member." If I make it to an interview, I'll try to refer back to these flags so I can gauge their reaction in person. This way my potential boss knows exactly who they're bringing in, and I know what kind of work environment to expect.
It's kind of like dropping "my girlfriend" or "Autostraddle" into a conversation — if you're in savvy surroundings, people will pick up what you're putting down and send out their own signals accordingly. And if they're bad signals you still have time to walk away.
On the other hand, when I applied for my college study abroad program — which happened to involve traveling and living in several countries where same-sex relationships are criminalized — I kept myself pretty deliberately closeted. I didn't fear direct discrimination from the program directors, but I wanted to avoid being seen as any kind of liability ("Out and proud American student arrested in Uganda!" = bad press). In this case, the experience seemed worth it (and it was!). I can imagine certain jobs, in certain circumstances, seeming the same way.
Mey

For a lot of queer people, coming out is a pretty big part of life. Of course there's your first time, then you come out to your family, or maybe your best friend or those closest to you. But there are also a bunch of other times when you get to decide if you want to come out. Choosing whether or not to come out can have huge effects on your life, your well being and your relationships. For trans women like me, it's not quite the same. We do usually get a big coming out moment, but when we do come out as transgender, we don't really get the option of who we want to come out to. When we start living as our real selves, we are coming out to everyone who knew us previously. A lot of queer women can come out to their family and friends, but choose to not come out at work. That's not really an option for people like me. When I bump into an old schoolmate or cousin I haven't seen in ten years, they definitely know that I'm transgender. Additionally, most trans women are also forced to come out every time we need to show a legal document or medical form. Of course, there are some exceptions. If you're lucky enough to live somewhere that lets you change your documents and you've been able to get to that point in your life, you have more options. And if choosing to be stealth is the safest option for you, then go for it. Trans people, and especially trans women of color, need to do whatever we can to survive.
When I apply for a job, I don't have the option to hide my queerness from a prospective employer. Even when I do "pass," I still know that my birth certificate and even my driver's license will out me without my consent. It feels weird for me knowing that these pieces of paper have enough power to take away some of my agency. I'm no longer in total control of my relationships with other people, the opportunities that I'll have or even my own story. And that sucks, and that's scary. There are lots of people who, when they notice that I'm queer, that doesn't exactly endear me to them. I don't like that I don't get to come out on my own terms. Even more, I don't like that I currently don't have the option to not come out. There are some places where it's really scary being a visibly queer woman and knowing that I had the option to be safer would give me some comfort, even if I still chose to not take that option.
Personally, I'd probably keep on coming out even if I had the option to go stealth. I'm proud of my identity as a queer woman and as a trans woman of color. There's a strength and beauty there that I gladly and enthusiastically embrace. Even more than that, there's a community unlike I've been able to find anywhere else. Still, sometimes I feel like I'm missing out on one of the quintessential parts of what it means to be queer. I mean, I still do get to come out as a lesbian, but when I'm doing that, the people I'm coming out to already see me as a member of the "LGBTQ community." Me being a lesbian is just icing on the cake and sometimes I feel like this second coming out is ignored. People know that I'm trans and that's enough for them; I'm already queer in their eyes, so this added information doesn't necessarily matter. I'd like to be able to choose when I come out, to be in control of that part of my life. Being in charge of that part of my story would be great, even though I would probably choose to come out every single time.
Pages: 1 2 3See entire article on one page