Hello, Scholars!
This week "based on titles you have watched and more" my Amazon Prime account has recommended Fart: A Documentary. Not too sure what that says about me or the direction my life is headed, but its sure to be a gas.
Things on Autostradle dot come this week were pretty amazing. And that's not just hot air.
Heather has found out that Anne, the one that lives in Green Gables, is bisexual. And Heather didn't stop there. She also found 18 gay ladies from classic literature that you loved so so much. Now you know why your love was so pure.
Carrie found some cool disable-owned businesses that you'd probs love to check out.
The only thing hotter than books about women are books about women being awesome in the sciences, IMO.
It's the start of school for lots of folks. Ali found some things those people might like. It's also relevant to your interests if you are really really into office supplies. Let's face it, who isn't?
Also Kaylah Cupcake! And Comments!
---
On Every Way To Find A Date, Ranked By A Shane:
The Reader's Choice Award to queer girl and amidola: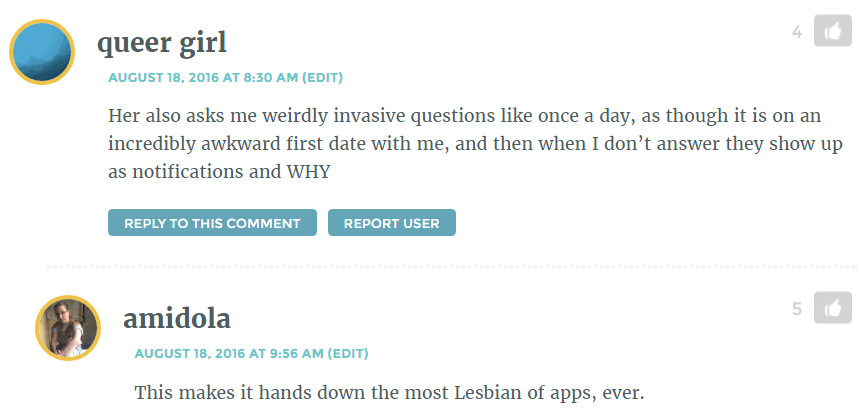 On Helping You Help Yourself #33:
The Reader's Choice, Part 2 Award to Heather Hogan:

On Pop Culture Fix: The Great British Bake Off Returns Tonight And That's All You Need To Know:
The The Lion, The Witch and the Food Globe Award to OrangeCaitlin:

On No Filter: Ellen Page Is Consistently Canadian:
The Top Dog Award to Jessie:

On Anne of Green Gables Is Obviously Bisexual:
The Thank You for Being a Friend Award to queer girl:

On NSFW Lesbosexy Sunday Is Using A Vibrator Alarm Clock:
The Rude Awakening Award to Maree:

On 18 More Classic Literature Characters Who Will Bamboozle You With Their Gay Gayness:
The The Great Gaysby Award to thatottergirl:

---
See a clever, hilarious or thought provoking comment around this website-ship? Email it to me at: bren [at] autostraddle [dot] com!